All Archived Posts in Design Essentials
---
Post Last Updated:
March 28th, 2017
| First Published:
March 28, 2017
| Subscribe to
Blog
with
or
Always love seeing these random design snippet's from the ever increasing fountain-of-knowledge, in this case the 'snippet' is the Pantone Colour References for Star Wars Character Boba Fett.
Came across this snippet, as usual found on my daily Reddit purge, courtesy of a blog post on Daniel Gray's website. I love his open questions, especially: Is the dark side coated or uncoated?"
Daniel Gray: "Flicking through the enormous and fantastic The Making of The Empire Strikes Back, I stumbled upon this little curio: Pantone references for Boba Fett's costume, provided by ILM for the licensing branch of Lucasfilm.

Presumably similar guidelines were drawn up for other characters.

What specific shade is Yoda?

What are the colour refs for all of the lightsabers?

Is the dark side coated or uncoated?"
The Pantone Colour References for Star Wars Character Boba Fett
---
Post Last Updated:
March 23rd, 2017
| First Published:
March 23, 2017
| Subscribe to
Blog
with
or
This infographic, designed by Market Inspector, presents 9 simple logo tips to consider in order to create a great logo design for your business.
An innovative and memorable logo design is one of the most valuable graphic design assets a company can ever have.
Due to the fact that business success relies on it's customers and their loyalty, it is important to create a design correctly the first time around.
Rebranding is undoubtedly a long and complicated process, so brand identity should be reflected clearly and transfer the core message to the audience from the first encounter.
---
Guest Post by Ruta Jokubaityte:
"9 Simple Logo Tips for Designing a Successful Logo for Your Company"
---
9 Simple Logo Tips for Designing a Successful Logo for Your Company
1. Brand identity knowledge
The logo should be based on the vision, values and goals of your business.
Alignment with the marketing communication strategy and target audience's needs is crucial in order to match the actual positioning on the market.
These considerations should be the starting point of the design creation process.
2. Turn to basics
As many graphic designers would advise, the primary attention should be kept on clarity of the design.
Qualities like simplicity, consistency, recognition and persuasiveness should be reinforced. Avoidance of overly complicated design is a good strategy to follow in this case.
The same applies to your brand's web design which needs to be user friendly and enhance customer experience with the company.
3. Key to success - being authentic
Competitor analysis and knowledge about the trends is always beneficial but should not be the main focus.
If you want your business logo to stand out and shine through the cluster of brands, then  try to have something that others do not.
Instead of following a certain trend, one can break the rules and create something unique that fits well with the company identity.
Being just a follower will always leave your brand a couple steps behind.
4. Personal design process
Pursuit of creative ideas and implementation is never done in a straightforward way.
Adjusting the design process to your own working style and way of thinking has the benefit of efficiency.
For inspiration, the steps of the process can be:
Briefing and setting the direction
Online research for visuals
Keyword research
Sketches
Reflection and revision
Final drawing.
5. Be comprehensive and detail-oriented
Make sure to check the look of the design in different formats, even the ones you might not even plan to print.
For example, on t-shirts, websites, banners or business cards, they might provide a very different look from what you may have expected.
Additionally, the color psychology and its application are also one of the aspects to consider.
Catchy, and at the same time balanced design, color choices have certain effects on people's perception and expectations of the brand.
6. Avoid banalities
The most innovative and interesting ideas do not come in the first brainstorm session.
The initial filtering and deeper exploration process is necessary to have something truly unique.
Such popular visuals, for example, use the thought bubble for 'chat', or shopping cart for 'retail'.
These are definitely over exploited ideas, which in the consumers' mind no longer have an element of surprise, they have also lost their memorability factors.
Due to clichés, logo design does not bring any extra value that is expected, and the brand blends into the big pool of other similar visuals.
7. Conduct online research
A good old-fashioned keyword research should be implemented to generate ideas.
Nevertheless, make sure you know the limit and stop the research once the 10 of the most relevant and appealing designs are gathered.
Those designs should be collected having the brand values and identity in mind.
8. Mind map technique
Mind-mapping technique is used for filtering and expanding ideas further until they are fully developed.
A range of different idea combinations can be found after the keywords are moved to the mood board - an arrangement of images, text or materials to evoke a certain style.
This way something completely new may emerge.
After mind-mapping,  try to run a quick search and check whether a similar logo already exists.
9. Sketching
Pen and paper: your best friend for quick ideas.
Do not start working on a computer right away since it will be less flexible.
Furthermore, keep all the sketches since these are a great source for ideas. This is especially relevant for creative people such as designers.
If you are not an artist or designer, after sketching out your logo ideas, it may be good to hire a professional graphic logo designer, or a skilled logo artist to help you make your final logo.
---
Guest Post by Ruta Jokubaityte
"9 Simple Logo Tips for Designing a Successful Logo for Your Company"
---
---
Post Last Updated:
March 23rd, 2017
| First Published:
March 23, 2017
| Subscribe to
Blog
with
or
A classy Graphic Design 'Meme', using Da Vinci's Last Supper painting as the bait, nicely designed by Saint Hoax. 
I originally found this on Imgur, then Tweeted it without realising who the 'author' was, so now putting that right by blogging it with appropriate credits and links:
The struggle is real... pic.twitter.com/LKPTi4ScBA

— Graham 'Logo' Smith (@thelogosmith) March 22, 2017
It's a major insult actually, to call this a Meme, but I can't help but feel this is exactly how it'll end up being.
Have to say that this is REALLY well done, and is not your usual internet Meme; this is quality, and @SaintHoax is always about the quality.
This is certainly going to be on peoples' radar, as the unique expressions, and captions, are just hilarious.
When your Tasteless Graphic Design Colleagues Give you Feedback by
The Original Tweet
Here's the original Tweet. Definitely worth Liking and Retweeting this original Tweet, just so show solidarity with the designer:
When your tasteless colleagues give you feedback 😒 pic.twitter.com/XXmTomQXZ4

— Saint Hoax (@SaintHoax) March 20, 2017
---
Post Last Updated:
February 26th, 2017
| First Published:
February 26, 2017
| Subscribe to
Blog
with
or
Need to Sharpen Design Skills? Been getting stuck-in-a-rut of late; maybe tied down with a long grinding project that just never seems to finish? Need a fresh injection of something new and random to spend a few hours on?
Then Arman Nobari, and Anthony Gibson, have created just the the thing! 
"These practice design prompts are intended to challenge you to think outside the box."
Head on over to the Sharpen Design Generator, and flick through a serious of Graphic Design related challenges: or side-project, exercises, self initiated tutorials, call it what you will.
Once you have completed one or more of the challenges, then you can send them a copy of your work, and/or Buy Them a Beer!
Put it in your Design Portfolio
If you actually end up designing something pretty special, then there's no reason why you can't put this in your design portfolio.
I have a mixture of client, and self initiated, logo and brand identity design projects in my Logo Portfolio.
Your design portfolio is ultimately about showing what you are capable of, not just about how many 'real' clients who have worked for.
Sharpen Design: Random Graphic Design Challenge Generator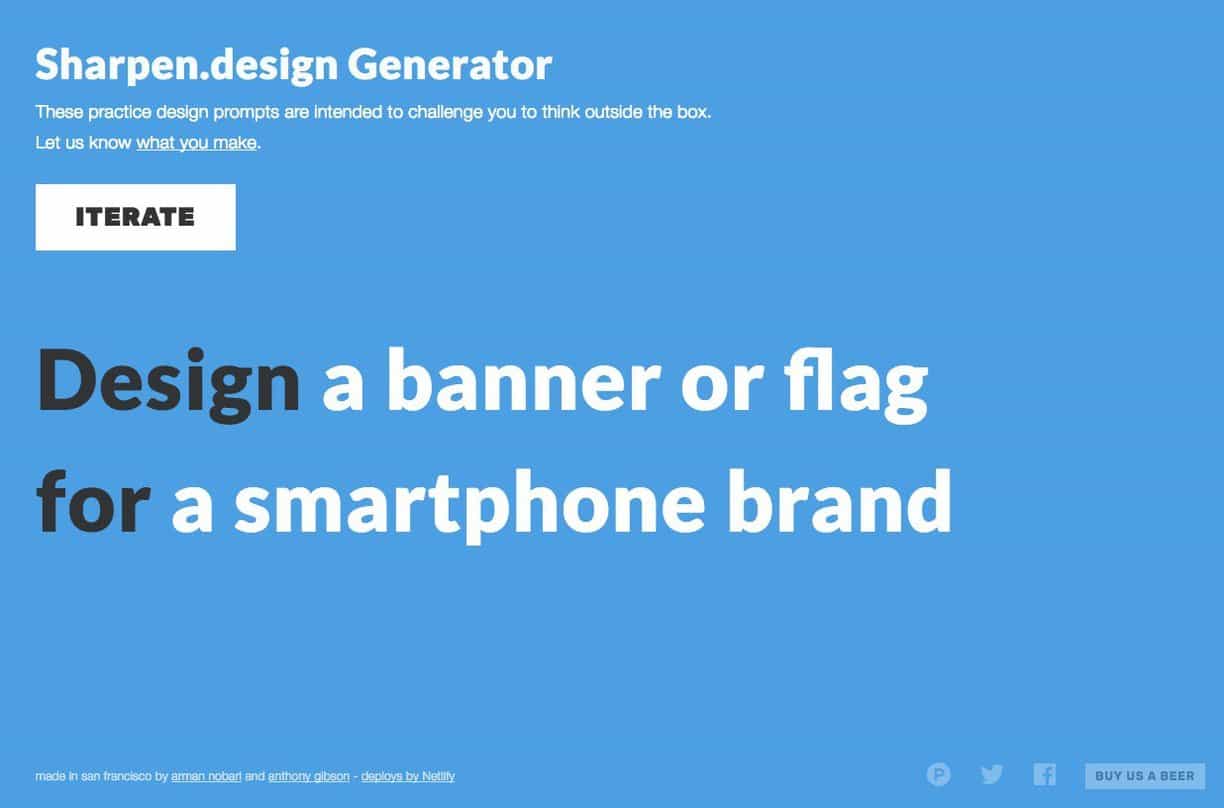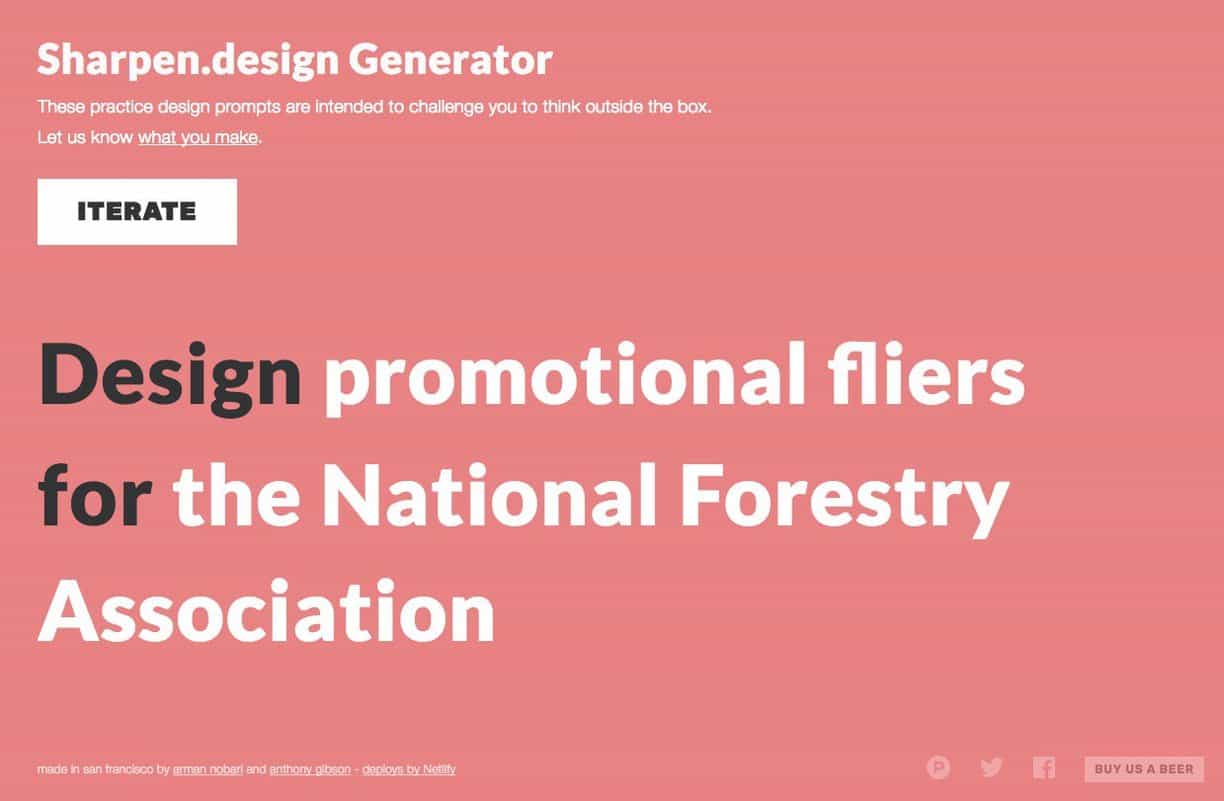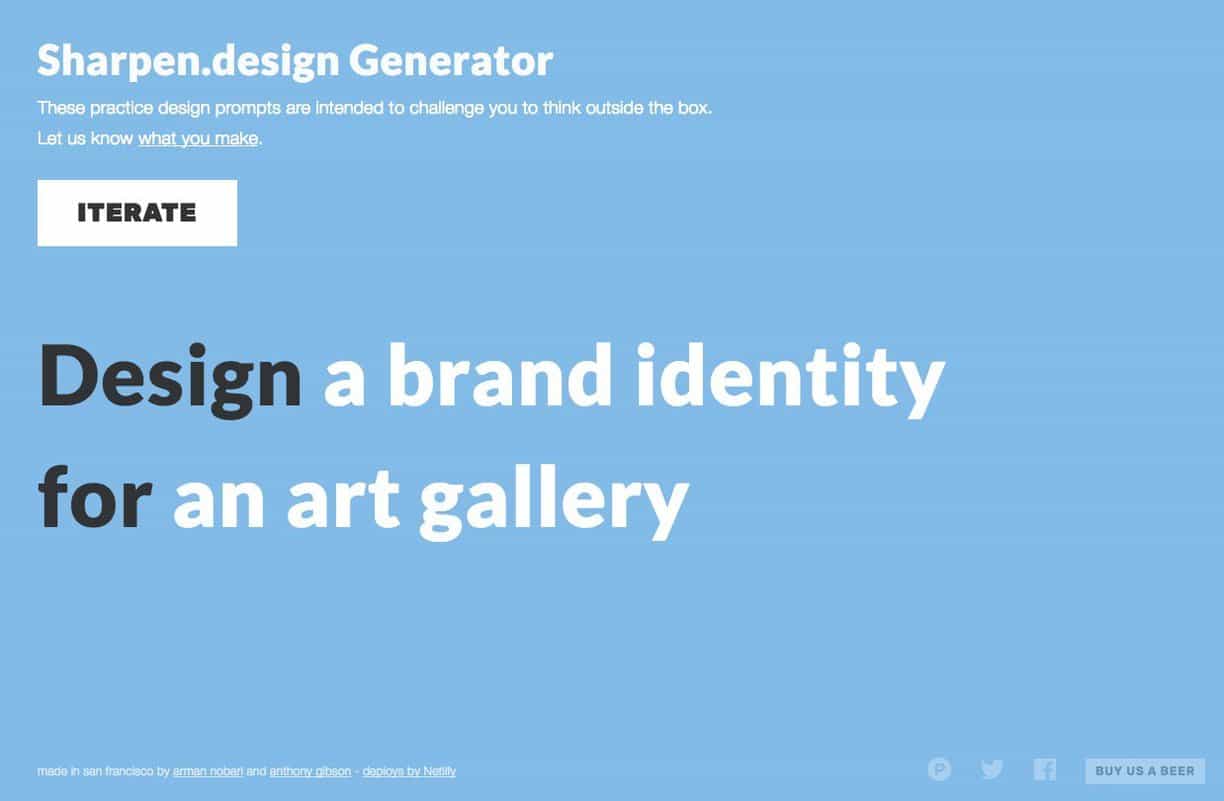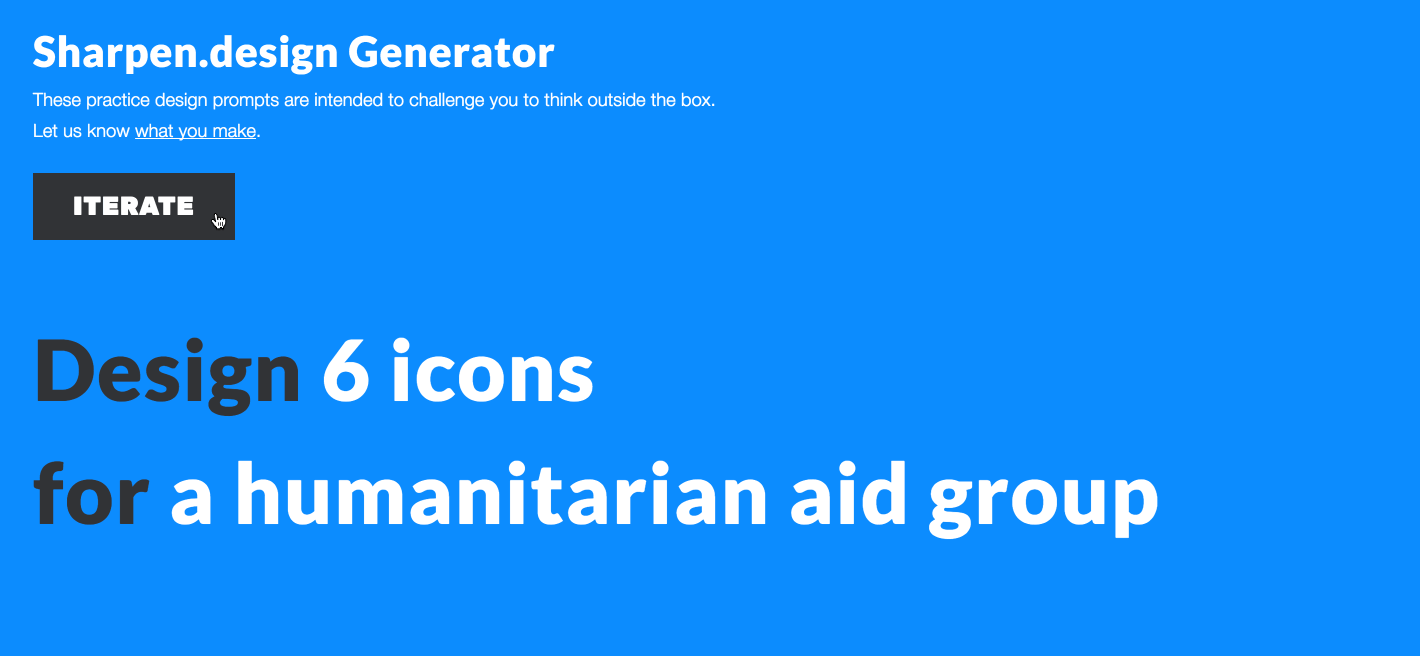 ---
Post Last Updated:
February 26th, 2017
| First Published:
February 25, 2017
| Subscribe to
Blog
with
or
I've always been under no illusion, that freelance contracts are mostly worthless when it comes down to having to enforce it, as it costs money to hire legal help in order to do so.
A lot of freelance designers, simply can't afford to go down that route.
However, what the freelance contract does provide is a clear set of: rules, guidelines, specifics, and overall expectations, that help both client and designer agree on what exactly is being agreed upon.
A freelance contract, for the most part, is like a glorified Check-List; simply helps manage those expectations during the course of a project.
It helps keep both designer and client honest, and helps prevents those, "you said this, and you promised that" scenarios, that without a contract are hard to argue against.
Bonsai Freelance Contracts
My life has been so much easier since using Bonsai freelance contracts, and I can't really ever see a time when I'd now not use one.
With a few PayPal cases that I've have to deal with in the past, being able to show PayPal the contract that the client signed, has inevitably saved my bacon.
So, even though I'd likely never be able to legally enforce a contract (I know many other freelancer designers in similar situation), having a contract simply reduces overall anxiety, as it feels like a nice safety blanket, or reserve parachute.
It's there if you need it…
The Freelance Contract - A Free Design Contract Service by And Co
As well as Bonsai offering freelance contracts, there is also another offering from And Co.
The Freelance Contract is super easy, and very customisable , so it'll be something that I will try in the near future.
It also has some features that Bonsai doesn't yet have, and these are features I'd like Bonsai to implement.
It's free, so no real reason to not give it a try.
---
Post Last Updated:
January 30th, 2017
| First Published:
January 30, 2017
| Subscribe to
Blog
with
or
Having come from the traditional side of commercial printing, whilst serving out my apprenticeship, I found this simple demonstration of 4 colour CMYK printing to be pretty useful.
If you've not had the opportunity to work in a printers, or watch a 4 colour printing press at work, it's not always so clear as to how the CMYK process of layering each ink: Cyan, Magenta, Yellow and Black.
This simple GIF: larger version at this link: http://i.imgur.com/DrLJmHf.gifv really does do a great job of showing how each progressive layer of CMYK builds up to the final CYMK composite.
Demonstration of 4 Colour CMYK Printing with Acrylic Slides
I've saved an individual frame, as each acrylic slide is about to be put down, in the images below, starting with Black (often referred to as the letter 'K').
Cyan Acrylic Slide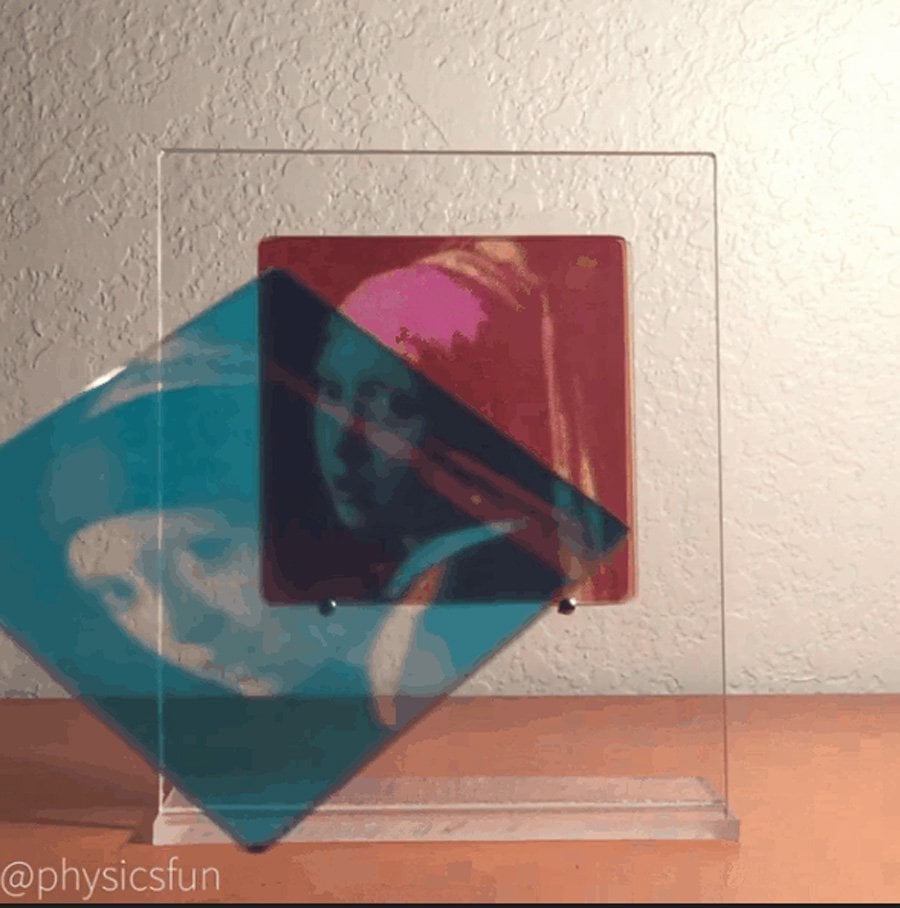 Magenta Acrylic Slide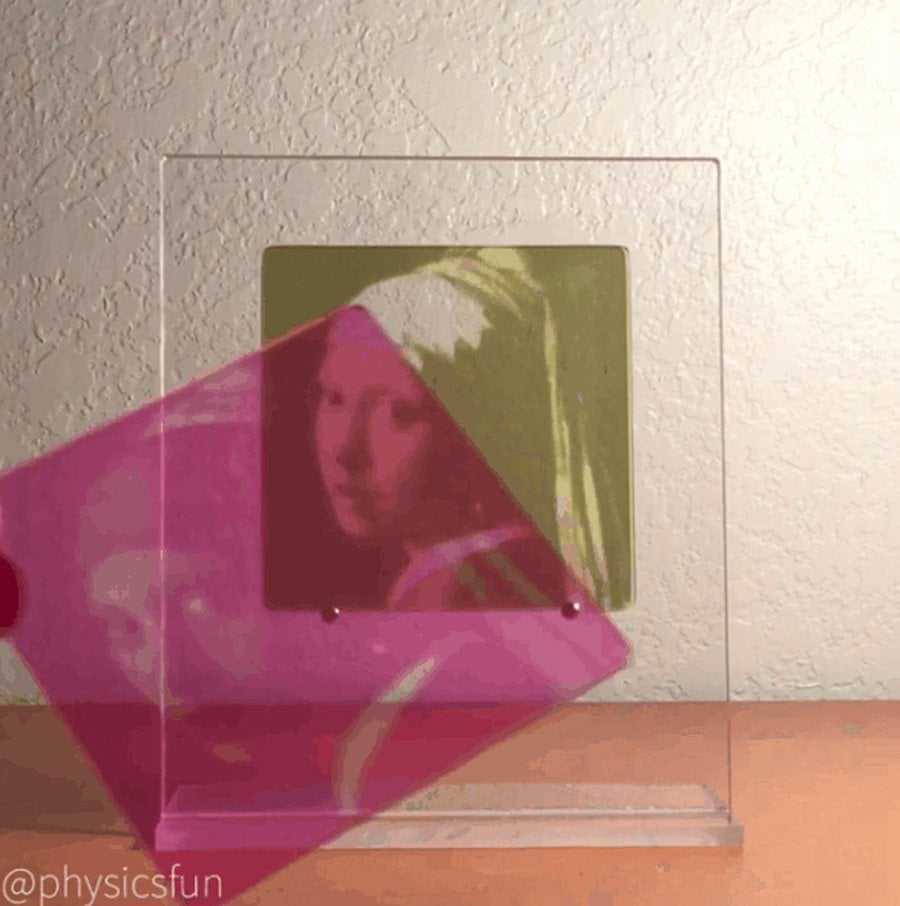 Yellow Acrylic Slide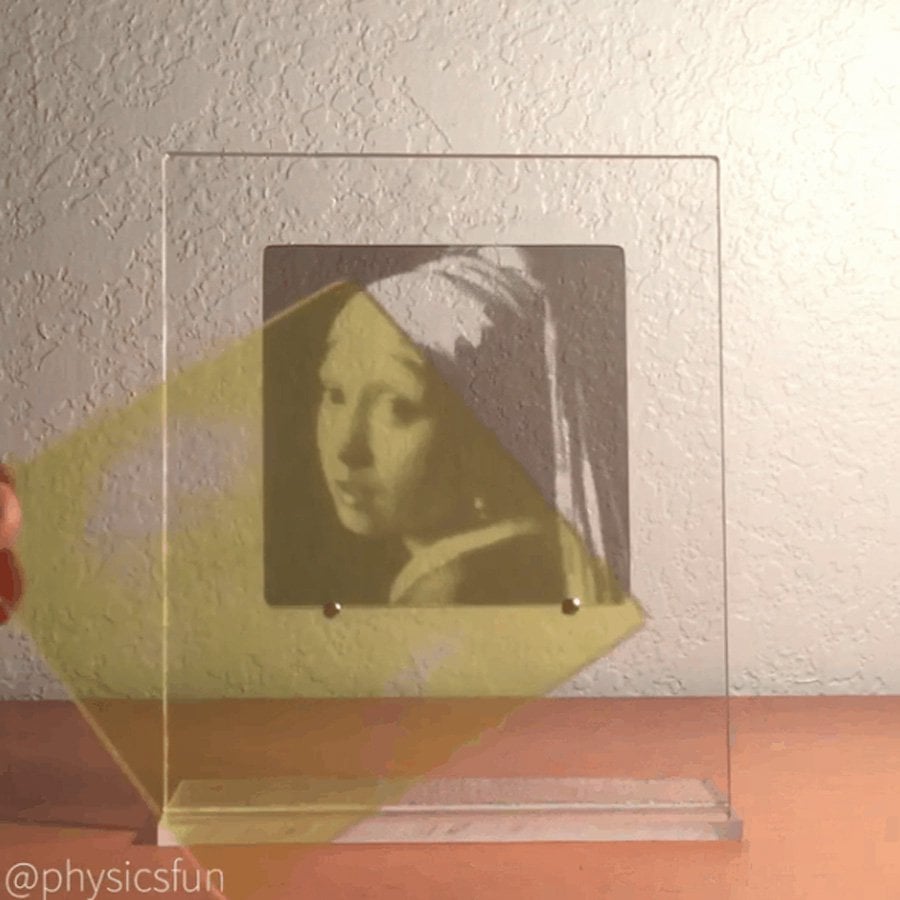 Black Acrylic Slide
Composite of all CMKY Acrylic Slides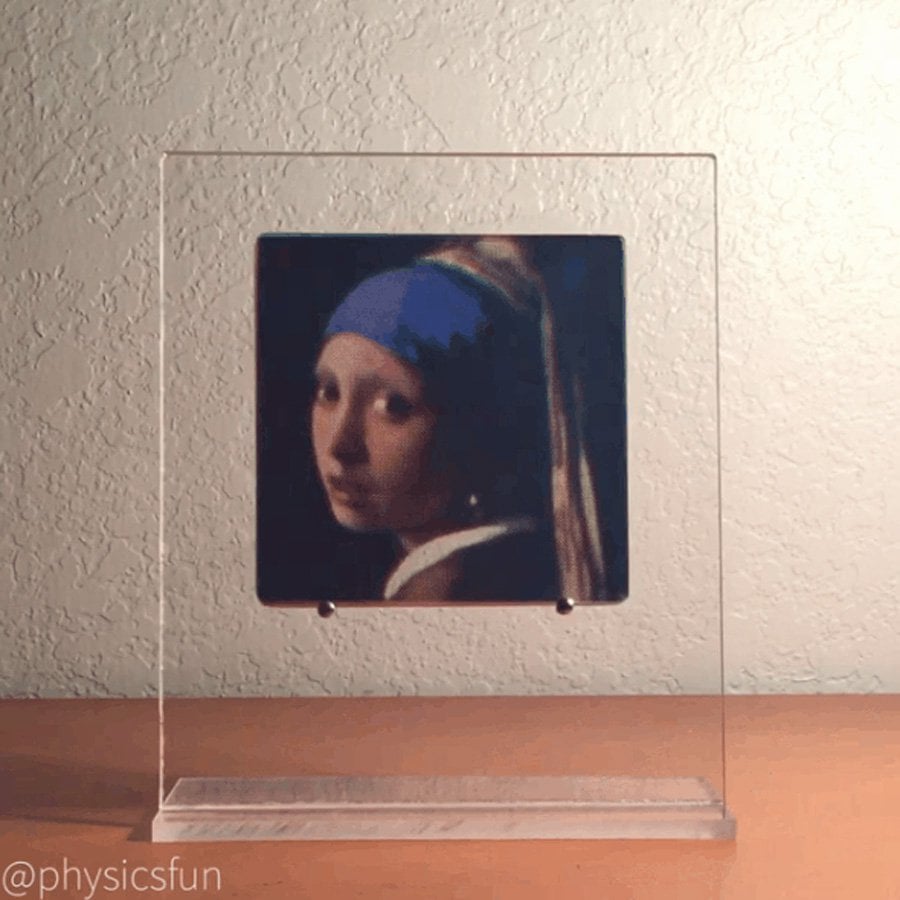 ---
Post Last Updated:
January 30th, 2017
| First Published:
January 26, 2017
| Subscribe to
Blog
with
or
Simple demonstration, using Coloured Pencils, showing 4 types of Color Blindness: Tritanopia, Protanopia, Deuteranomelia & Total Colour Blindness.
I've not taken an awful lot of notice when it comes to Color Blindness, even though there are many Color Blindness examples and documents etc.
I found this particular visual example, of demonstrating the various types of Colour Blindness: Tritanopia, Protanopia, Deuteranomelia and Total Colour Blindness, to be quite effective at grabbing my attention for once.
My simple, yet creative, brain likes pretty coloured pencils; for once I've found myself acknowledging what a challenge and utter frustration it must be to suffer from any form of Color Blindness, particularly full colour blindness.
Color Blindness Awarness: Colour (color) blindness (colour vision deficiency, or CVD) affects approximately 1 in 12 men (8%) and 1 in 200 women in the world. In Britain this means that there are approximately 2.7 million colour blind people (about 4.5% of the entire population), most of whom are male.
Color Blindness Demonstration - Full Version Graphic

4 Types of Color Blindness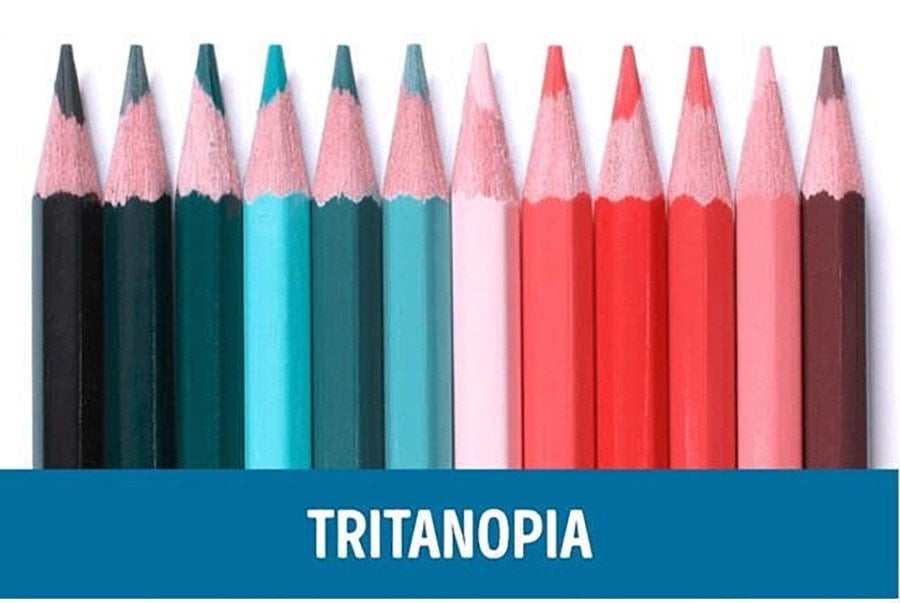 Tritanopia (less than 1% of males and females)
Lacking the short-wavelength cones, those affected see short-wavelength colors (blue, indigo and a spectral violet) greenish and drastically dimmed, some of these colors even as black.
Yellow is indistinguishable from pink, and purple colors are perceived as various shades of red. This form of color blindness is not sex-linked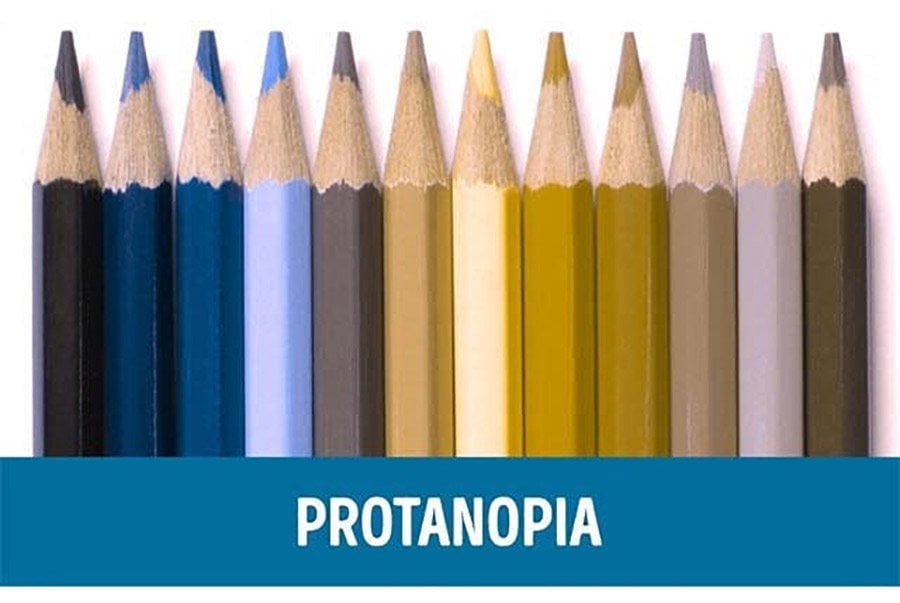 Protano (1% of males, 0.01% of females):
Protanopia is a severe type of color vision deficiency caused by the complete absence of red retinal photoreceptors.
Protans have difficulties distinguishing between blue and green colors and also between red and green colors. It is a form of dichromatism in which the subject can only perceive light wavelengths from 400 to 650 nm, instead of the usual 700 nm.
Pure reds cannot be seen, instead appearing black; purple colors cannot be distinguished from blues; more orange-tinted reds may appear as very dim yellows, and all orange–yellow–green shades of too long a wavelength to stimulate the blue receptors appear as a similar yellow hue.
It is hereditary, sex-linked, and present in 1% of males.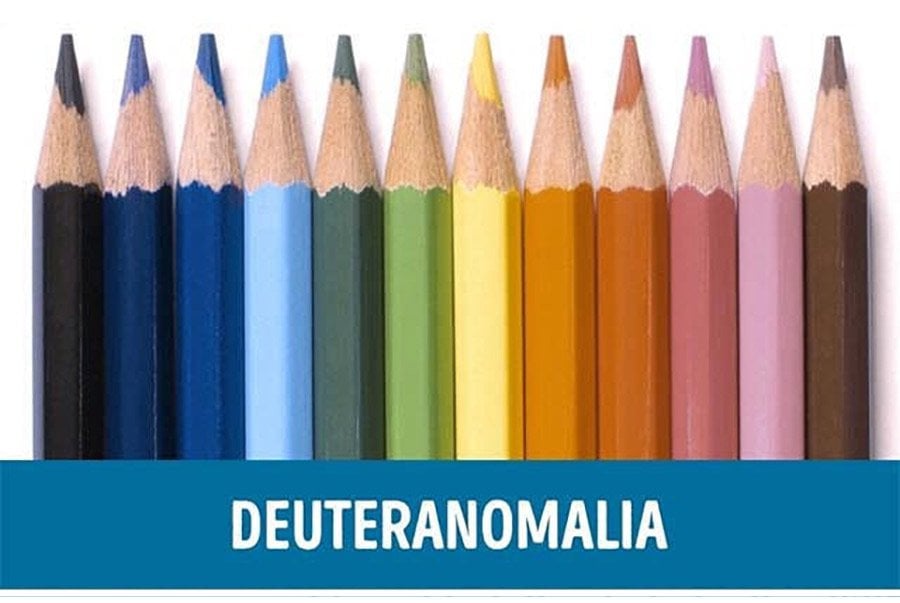 Deuteranopia (1% of males):
Deuteranopia is a type of color vision deficiency where the green photoreceptors are absent.
It affects hue discrimination in the same way as protanopia, but without the dimming effect. Like protanopia, it is hereditary, sex-linked, and found in about 1% of the male population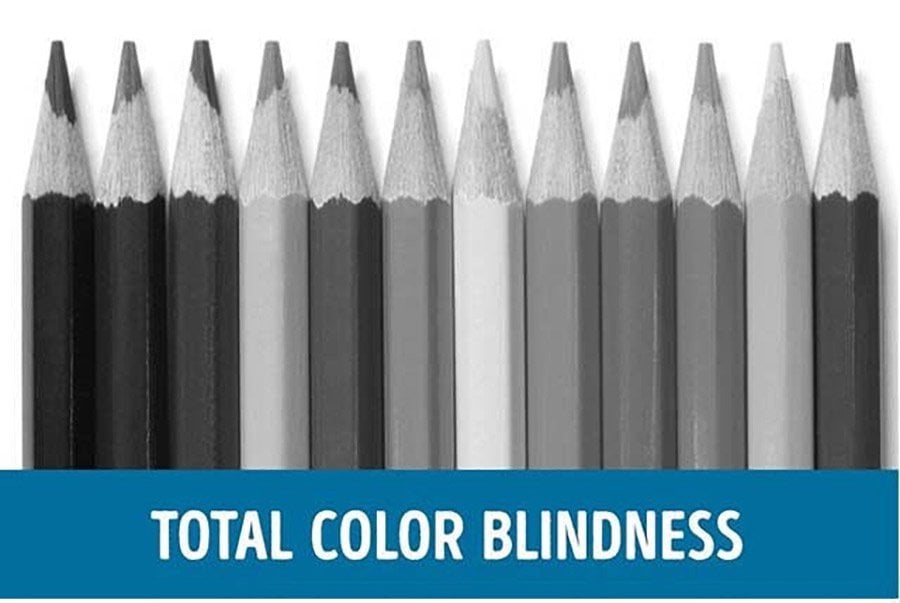 Defined as the inability to see color. Although the term may refer to acquired disorders such as cerebral achromatopsia also known as color agnosia, it typically refers to congenital color vision disorders (i.e. more frequently rod monochromacy and less frequently cone monochromacy).[30][31]
In cerebral achromatopsia, a person cannot perceive colors even though the eyes are capable of distinguishing them. Some sources do not consider these to be true color blindness, because the failure is of perception, not of vision. They are forms of visual agnosia.[31]
Monochromacy is the condition of possessing only a single channel for conveying information about color. Monochromats possess a complete inability to distinguish any colors and perceive only variations in brightness. It occurs in two primary forms:
---
Post Last Updated:
November 28th, 2016
| First Published:
November 28, 2016
| Subscribe to
Blog
with
or
"Mere color unspoiled by meaning, and unallied with definite form, can speak to the soul in a thousand different ways." — Oscar Wilde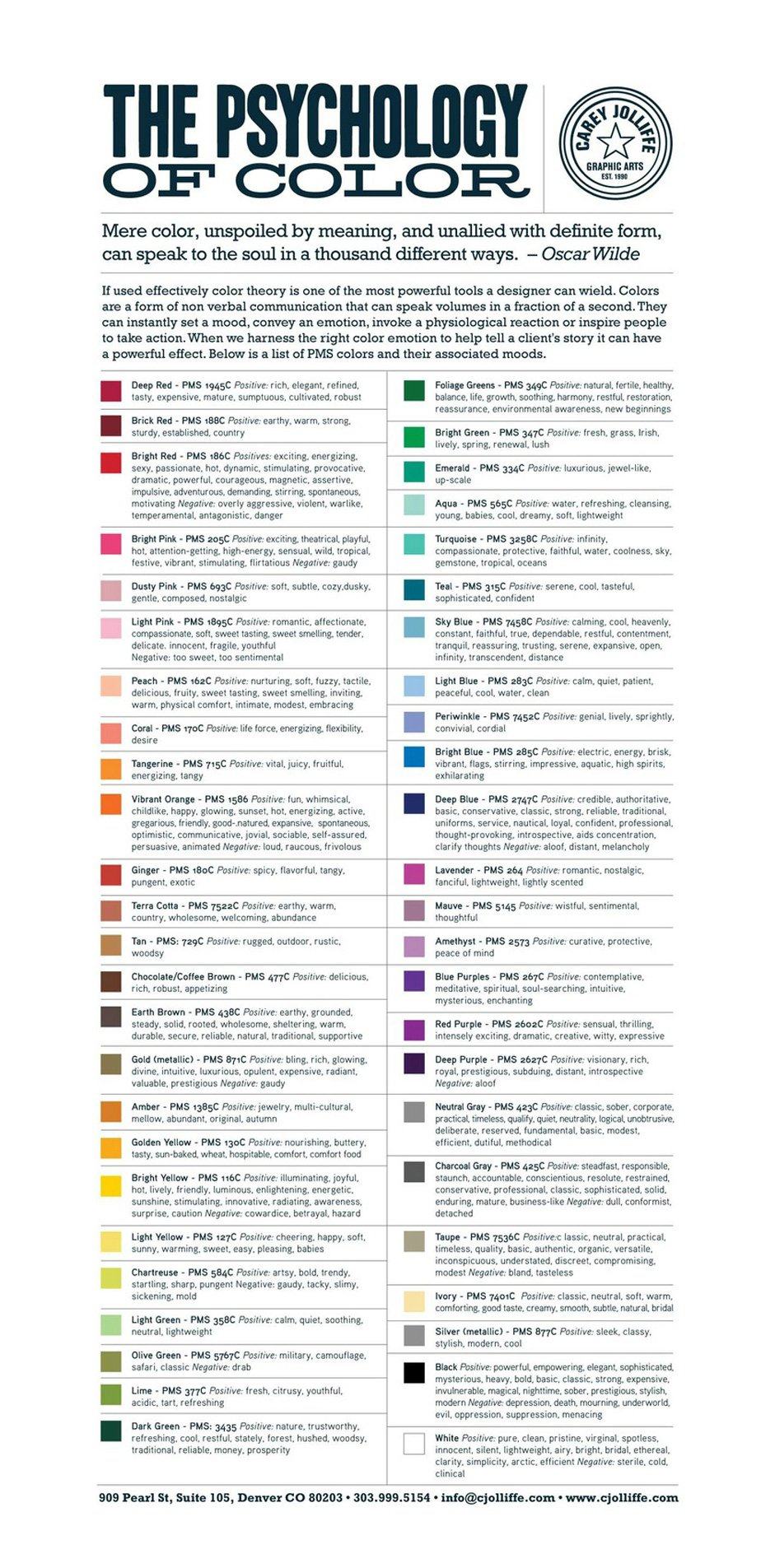 The Psychology of Color Chart and Their associated Moods in PMS Colours Designed by Carey Jolliffe
There is no doubt that the application of colour for logo design, and any other type of graphic design, is hugely important.
The wrong choice can completely ruin an otherwise great logo, and in some cases, a good colour palette can lift an otherwise 'ok' logo design.
Colour theory isn't always easy to apply, and it does involve getting deep into human emotions, if you want to be able to deliver the right message in your designs.
The following text is taken from the The Psychology of Color Chart, featured above. This color chart was designed by, Carey Jolliffe.
If used effectively, colour theory is one of the most powerful tools a graphic and logo design can wield.

Colours are a form of non-verbal communication that can speak volumes in a fraction of a second.

Colours can instantly set a mood, convey an emotion, invoked a physiological reaction, or inspire people to take action.

When we harness the colour emotion to help tell a client's story, it can have a powerful effect.

Below is a list of PMS Colours, and their associated moods.
---
Post Last Updated:
November 7th, 2016
| First Published:
November 7, 2016
| Subscribe to
Blog
with
or
The Importance of Colour by Stephen Wildfish; a fun and quirky visual exploration of how colour can be interpreted, or misinterpreted.
Affecting how we might interpret certain visual elements, either rightly, or somewhat inappropriately.
The Boob one is the best, obviously, as I'm a guy. I have no shame…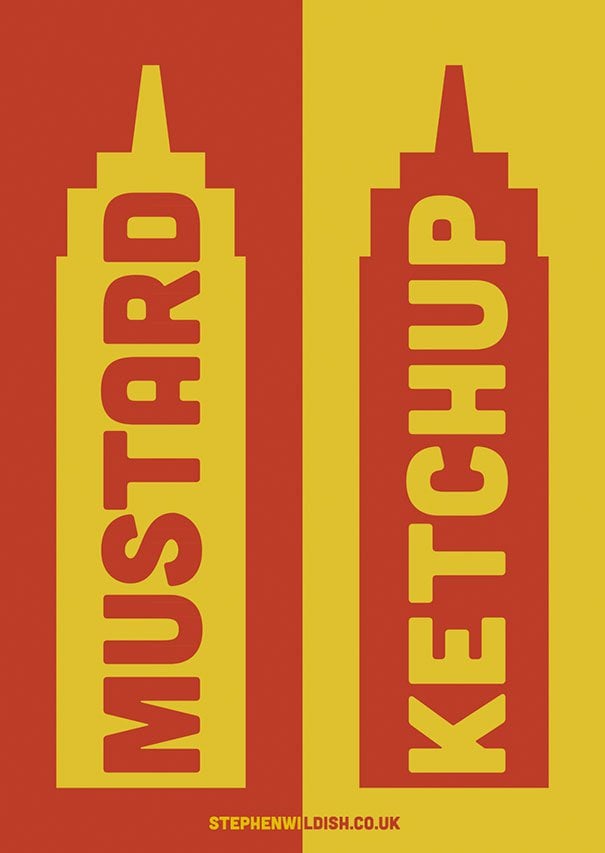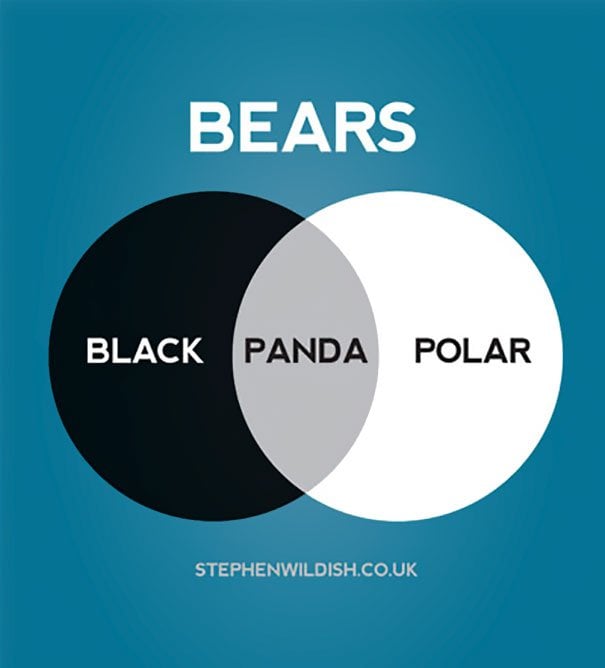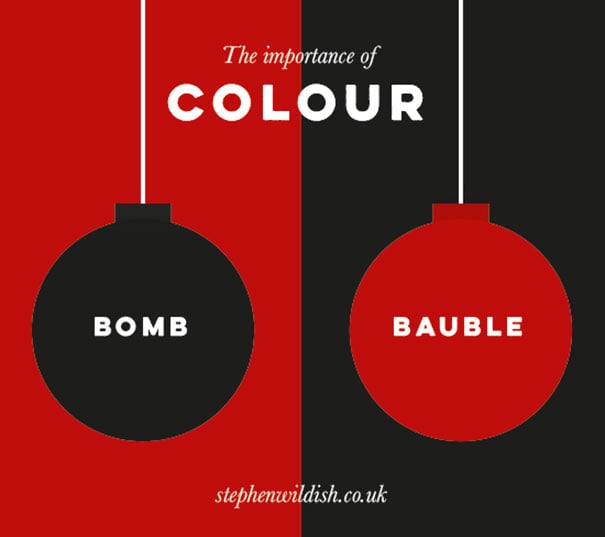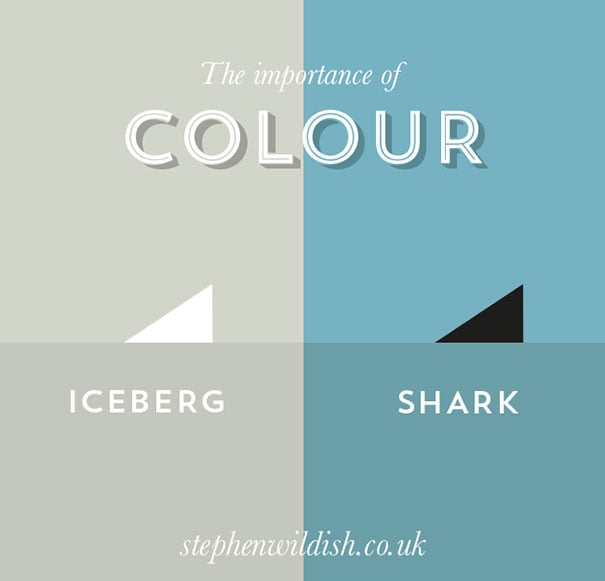 ---
Post Last Updated:
September 14th, 2016
| First Published:
August 18, 2016
| Subscribe to
Blog
with
or
Freelance Graphic Designers: How do you Find New Work and Clients?
Thought I'd poll all you freelance graphic designers, logo and web designers out there, and see how you all collectively find yourself new clients, or how clients find you.
I've opened up Comments below, so please take a moment to share your various strategies.
Hopefully you'll like to share any methods that you employ in your quest to make yourself findable to potential clients, such as:
Google Search, Blogging, Social Media, External Portfolios, Paid Freelance Directories & Showcases, Paid Ad platforms like AdWords and Facebook Ad's, Local Press Advertising and Marketing.
How do you help potential clients find your design studio, how do you help yourself be found amongst the ever increasing number of freelance designers and design studios?
My Basic Strategy
I for one mostly have bene able to rely on Google, through many years of blogging. It seems the majority of my client clients still find me via Google Search.
Some clients find me on Portfolio platforms like:Behance, Coroflot, and Dribbble (paid-up Pro member), whilst a small percentage find me on LinkedIn, directly on Twitter and Facebook.
Some new leads come from word-of-mouth, recommendations and the occasional repeat client.
I do dabble with the occasional Paid FaceBook Ad campaign, but that's mostly to just help overall awareness; Sowing the seeds so-to-speak.
There's no doubt that over the last few years, it's become dramatically harder to find new clients just due to the sheer scope of competition.
There are many any new freelance logo and graphic designers arriving to compere for work each day, not to mention the heavy competition from crowdsourcing sites like 99Designs and Crowdspring.
If you're of a generous and helpful disposition, then it'd be great to hear how you look for, and get new clients.
© 2006-2016 All Rights Reserved
The Logo Smith: Logo & Brand Identity Design Studio, with 25 Years Experience,
in Cahoots with, The PR Room - Public Relations Agency: Tech, IoT & Smarthome PR Services.

Graham Smith: 10 Badgers Copse, Seaford, East Sussex, England.
Tel: +44 (0) 7816 527 462 - Email: [email protected]