All Archived Posts in Famous Logos
---
Post Last Updated:
February 10th, 2017
| First Published:
February 10, 2017
| Subscribe to
Blog
with
or
NBC Logo Design History - TV Idents from 1926-2016
The NBC Logo Design History 1926-2016 is a lovely video summary of the transformation of the NBC TV Logo Ident spanning decades.
It's somewhat of a lengthy viewing. Still, if you love logos with some nostalgia thrown in, then this will be worth watching.
Just a couple of the NBC Idents from the video (below), particularly love the earlier peacock versions.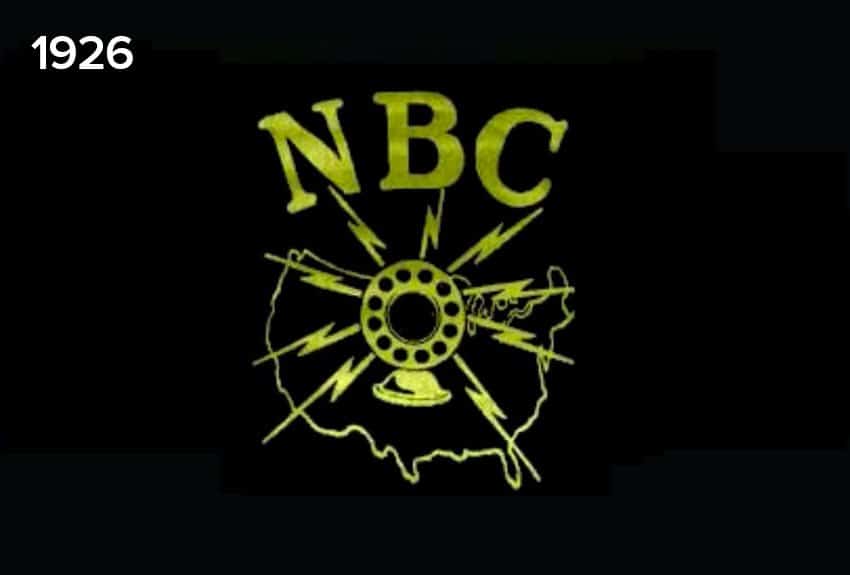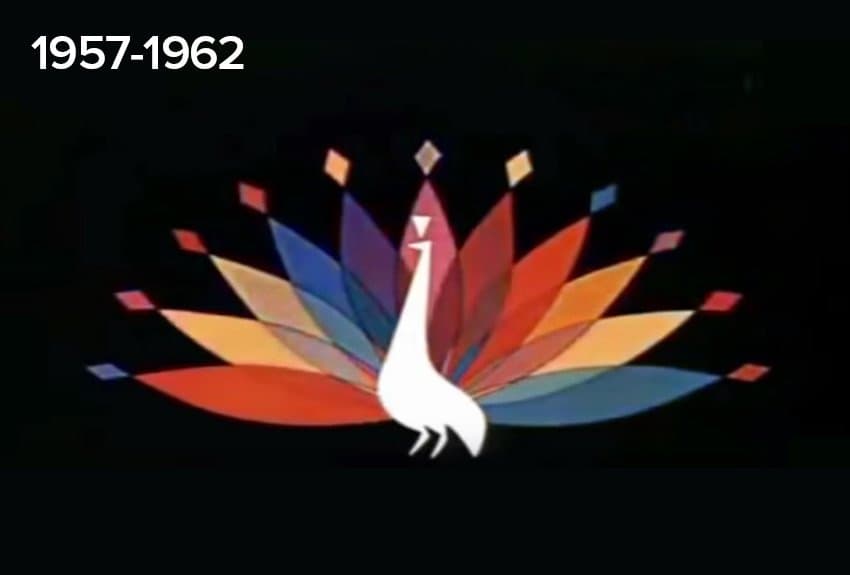 ---
Post Last Updated:
January 22nd, 2017
| First Published:
January 19, 2017
| Subscribe to
Blog
with
or
Brand Logo Mix, by Mike Stefanini, from Atomike Studios, is a fun look at how certain popular brand logos would look like on completely unrelated consumer brand items.
How about: the Nike logo on a Coca-Cola can; Tomato Ketchup as an aerosol to spray on your dinner; drinking some Pepsi from a car oil container; cleaning your windows with some Starbucks coffee spray…
The Shell logo on a milk carton is a bit icky tho…
Lovely little brand logo project, and I particularly love the style of illustration, rather than trying to go for photo realistic renders.
Brand Logo Mix Designed by Atomike Studios
Mike Stefanini: "Almost inadvertently I had approached the design of a Coca-Cola can of the Nike logo... I found it nicely subversive, so I decided to apply this principle to other consumer products..."
Atomike Studio on Instagram
Incidentally, Mike has a wonderfully colourful Instagram account, that is definitely work following: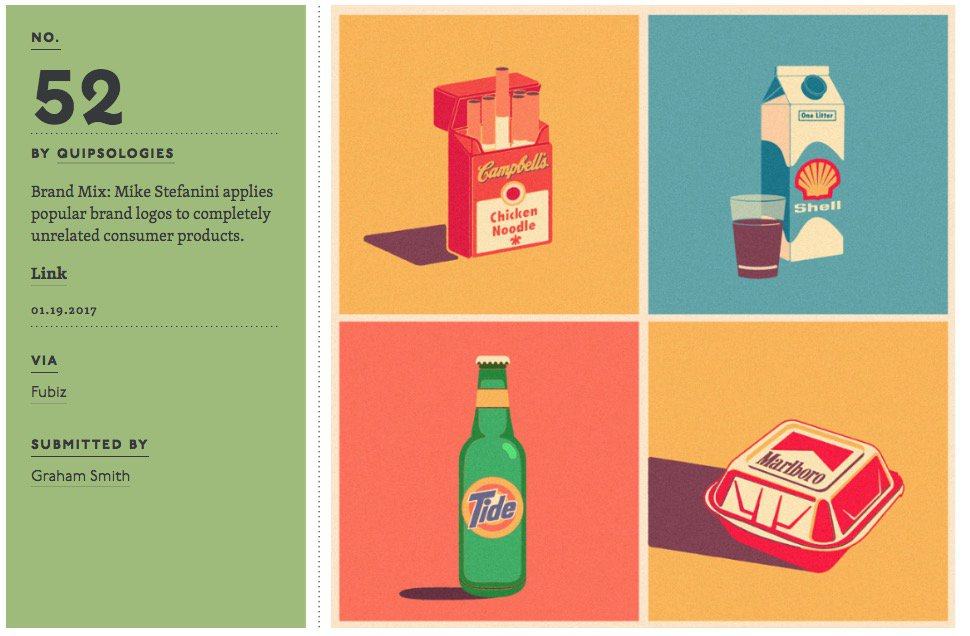 ---
Post Last Updated:
January 6th, 2017
| First Published:
January 6, 2017
| Subscribe to
Blog
with
or
I love this vintage Nintendo poster so much, put out by a desperate Nintendo of America Inc, way back in 1990.
Such a classic, and shows how times change when it comes to brand names becoming nouns.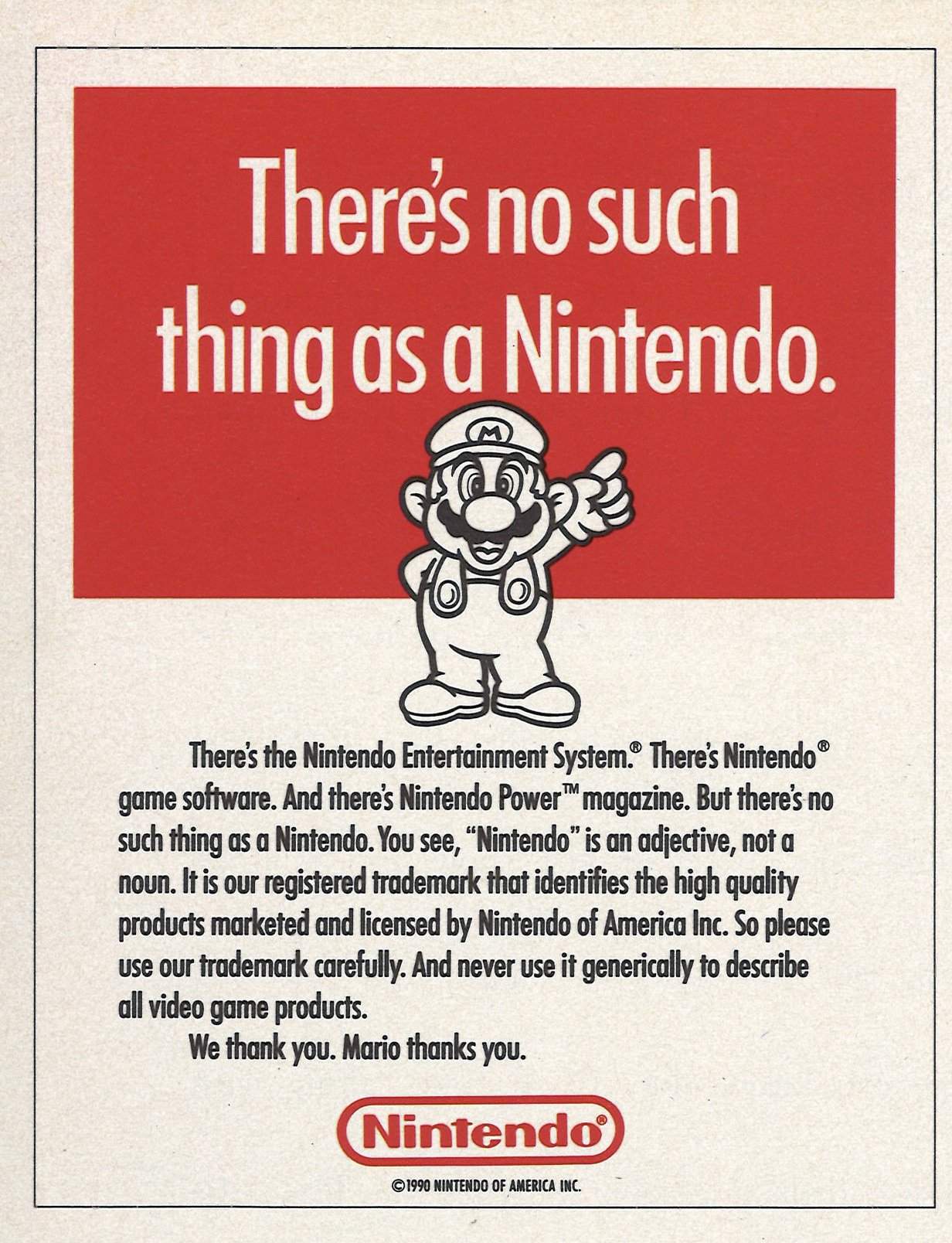 You see, "Nintendo" is an adjective, not a noun.
There's the Nintendo Entertainment System.® There's the Nintendo ® game software. And there's Nintendo Power TM magazine.

But there's no such thing as a Nintendo.

You see, "Nintendo" is an adjective, not a noun.

It is our registered trademark that identifies the high quality products that marketed and licensed by Nintendo of America Inc.

So please use out trademark carefully.

And never use it generically to describe all video game products.

We thank you. Mario thanks you.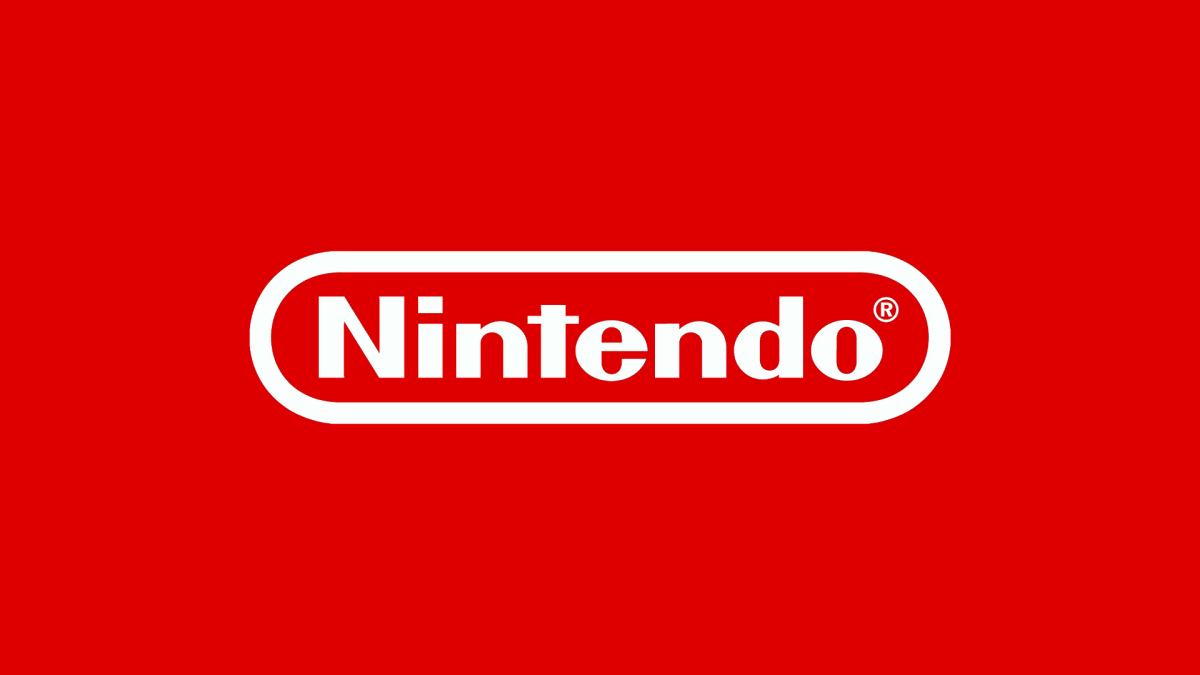 ---
Post Last Updated:
September 28th, 2016
| First Published:
September 28, 2016
| Subscribe to
Blog
with
or
Came across this fun branding and font project over on Imgur (also on Pinterest): Famous Brand Logo Names Replaced with their Font Names. Love this kind of thing.
I immediately went looking for some more examples, but I can only find this selection below.
I then visited the site of McCauley Creative (useful that they added their name to the bottom of the image) hoping to find some more examples, but sadly no.
In any case, It's still a fun thing brand project to look at, and does play a little trick on the mind.
Obviously the more famous the logo; as in the more the logo has had chance to embed itself into your subconscious, the more you're trying to interpret the font name as the actual brand name.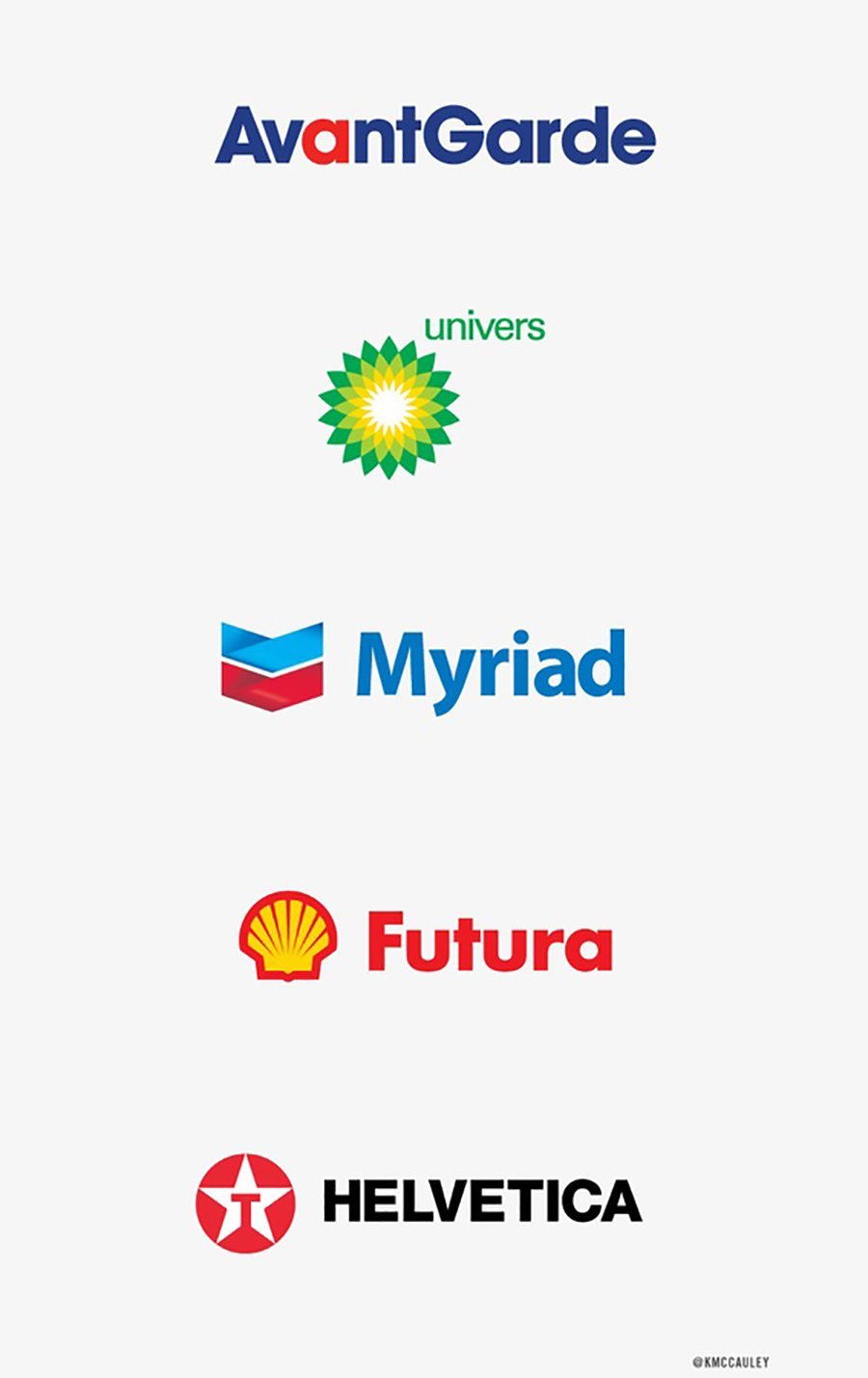 Brand Reversions
This playing tricks on the mind: it's not a million miles away from the logo project I did a few years back, called Brand Reversions. The brain expects to to see one thing, but the eyes see another.
Some examples below:
---
Post Last Updated:
September 25th, 2016
| First Published:
September 19, 2016
| Subscribe to
Blog
with
or
Great little find by John Gruber, of Daring Fireball, the other day: Evolution of the 007 James Bond Movie Logo Design, which was originally posted on The James Bond Lexicon, a Tumblr site.
Don't think I've ever really given much thought to the actual logo for 007, at least not until now.
Some quite subtle changes every few years until 1993, then they finally seem to be satisfied with the logo. Or, they just got fed-up changing it for every movie.
As John Gruber pointed out: "Not sure what they were thinking with the one from 1973 — italics are essential."
The Inner Curves of the 7 in 007
I liked the inner curve of the 7, from version 1962 up to 1987, then they straightened that inner space out, and I'm not sure I like it as much.
It was a very distinct #7, and I think they could have managed it, even though they've been thinning out the overall logo each time.
I get that the #7 served purpose of acting at the guns handle, but I think a little subtle inner curve would have been nice.
So practicing what I sort of preach, and just for shits-and-giggles, just quickly mocked-up what I feel looks nice, and keeps with the previous styles without being too clunky and fat.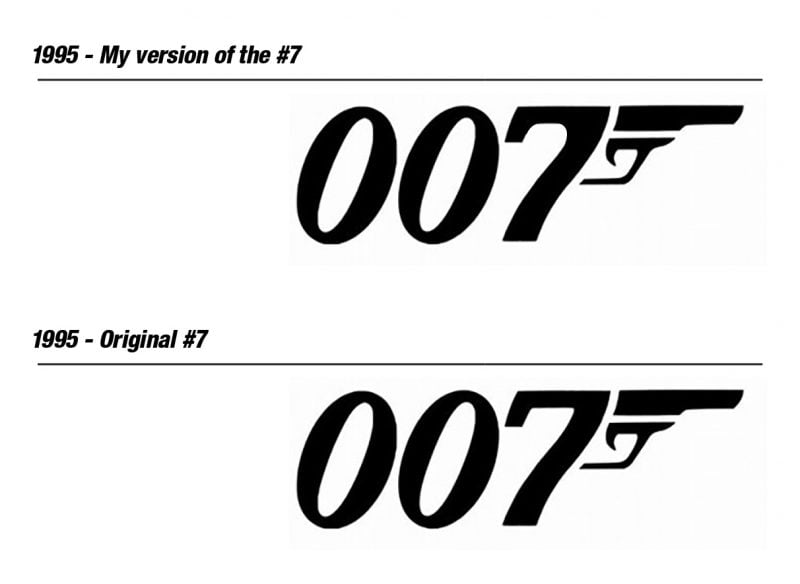 ---
Post Last Updated:
September 20th, 2016
| First Published:
September 14, 2016
| Subscribe to
Blog
with
or
Happened upon this rather nice Ford Edge Ambigram car logo concept, by reddit user hadukem (don't have a website URL or anything like that, just the reddit link and the imgur link that hadukem posted to.)
Have read some of the comments, and of course, a variety of opinions have been shared. I don't think it's 'dumb', as one person quipped.
It might not serve any higher-purpose, but manipulating existing logo designs can be a fun and useful exercise, and can help to keep ones mind sharp.
There's an element of problem solving with things like this, which one can never get enough off.
I actually only viewed the original Ford Edge logo first to see if I could work out how the ambigram was created.
I gave up after a minute, but when I took at a peek it certainly made sense.
It's quite clean and respectable alternative to the original Ford Edge logo, and whilst I'm sure Ford won't be scrambling to use this, it's also not an idea that should be quashed.
Maybe in another dimension, there is a Ford Edge out there with an ambigram, just like this one, and I think it looks pretty good for a car model emblem.
---
Post Last Updated:
September 14th, 2016
| First Published:
August 22, 2016
| Subscribe to
Blog
with
or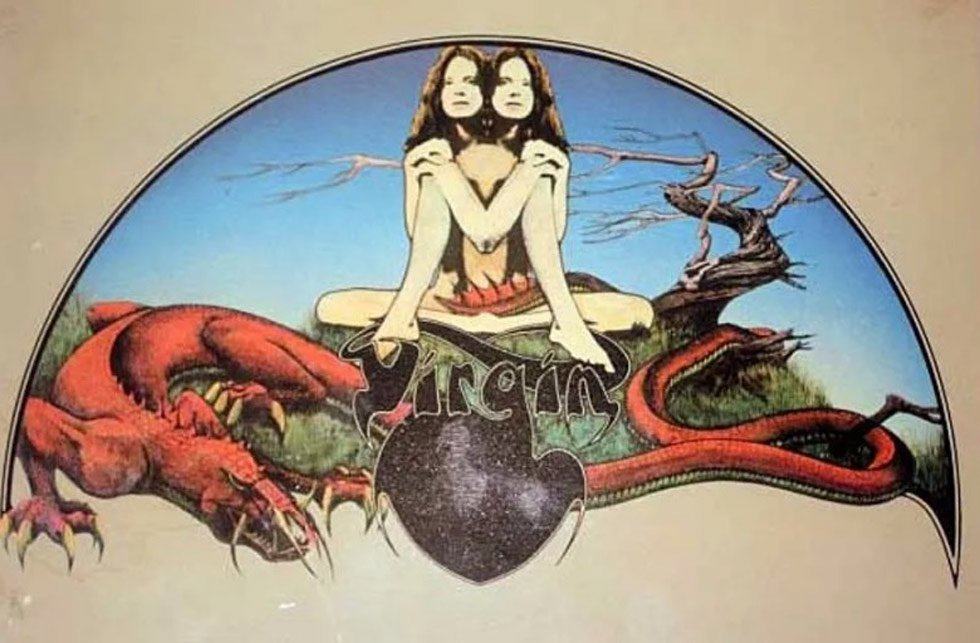 Came across this post on Virgin's official blog: Virgin Logo The original Virgin Logo Design was used for Virgin Records way back in the 1970's, and the logo was designed by English artist, and illustrator, Roger Dean.
BIOGRAPHY: ROGER DEAN was born in England in 1944,and is an artist and designer internationally renowned for his, album cover designs, posters, books, the revolutionary publishing companies, Dragon's Dream and Paper Tiger, Eco architectural, furniture and stage design, as well as typefaces, logos and iconic designs for computer games company, 'Psygnosis' and redesigned the Tetris Logo."

Read the rest of the Biography on Roger's official website: http://www.rogerdean.com/biography/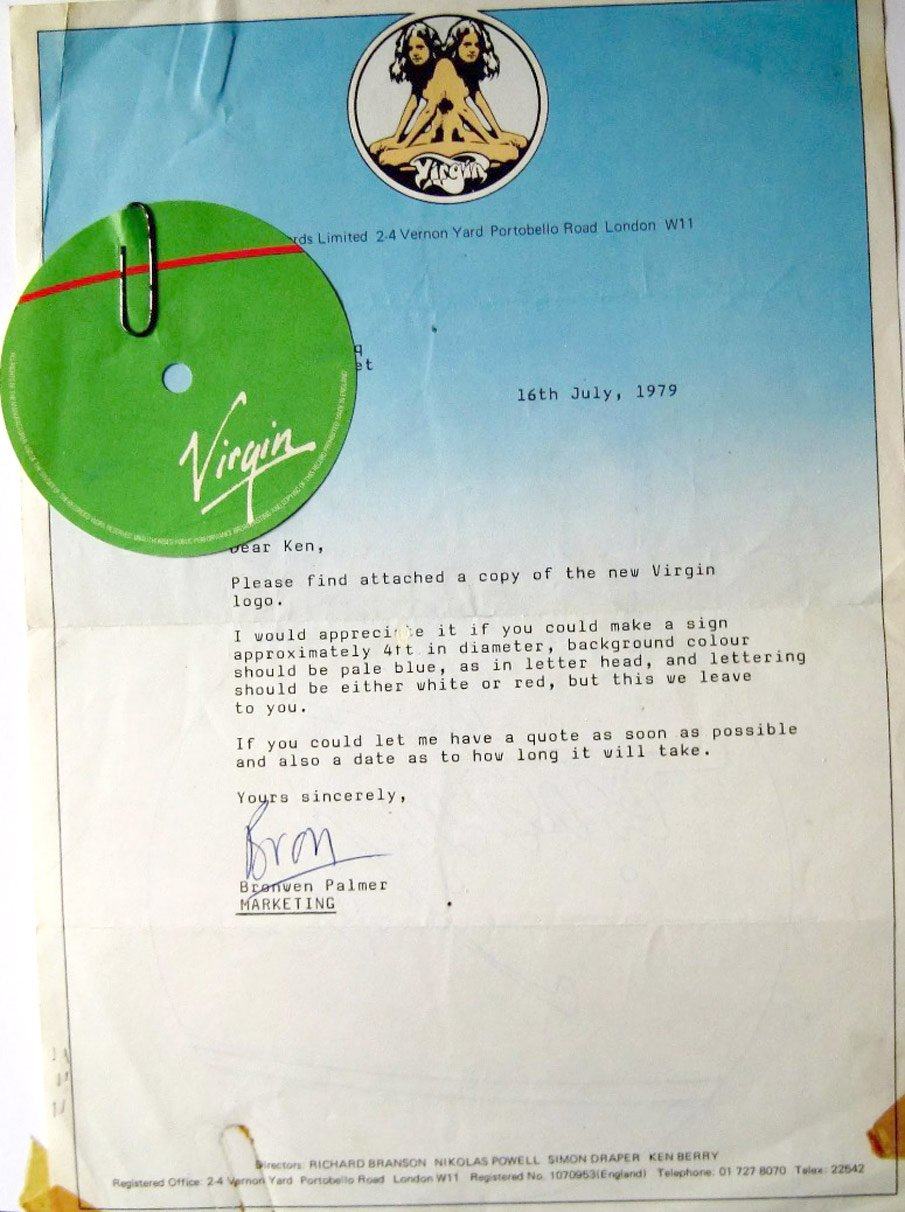 The letter shown below was sent in 1979–attached to the letter with the original naked-twins logo letterhead) is a copy of the more familiar Virgin logo.
Virgin: It [the twins logo by Roger Dean] was an embodiment of the early-70s and really summed up the feel of the brand and the artists we represented.

However by the time 1977 rolled around, and we'd signed The Sex Pistols, the logo began to feel a little dated, and didn't overly reflect the direction we were headed.
Edgy and Less Hippy
So it would appear that in this later period of Virgin's business, a more 'edgy' and less 'hippy' logo design was called for.
Got to love the word 'edgy'…
Part of the reason for this logo update were due to plans to expand Virgin into other industries, so something 'stylishly simple' was needed.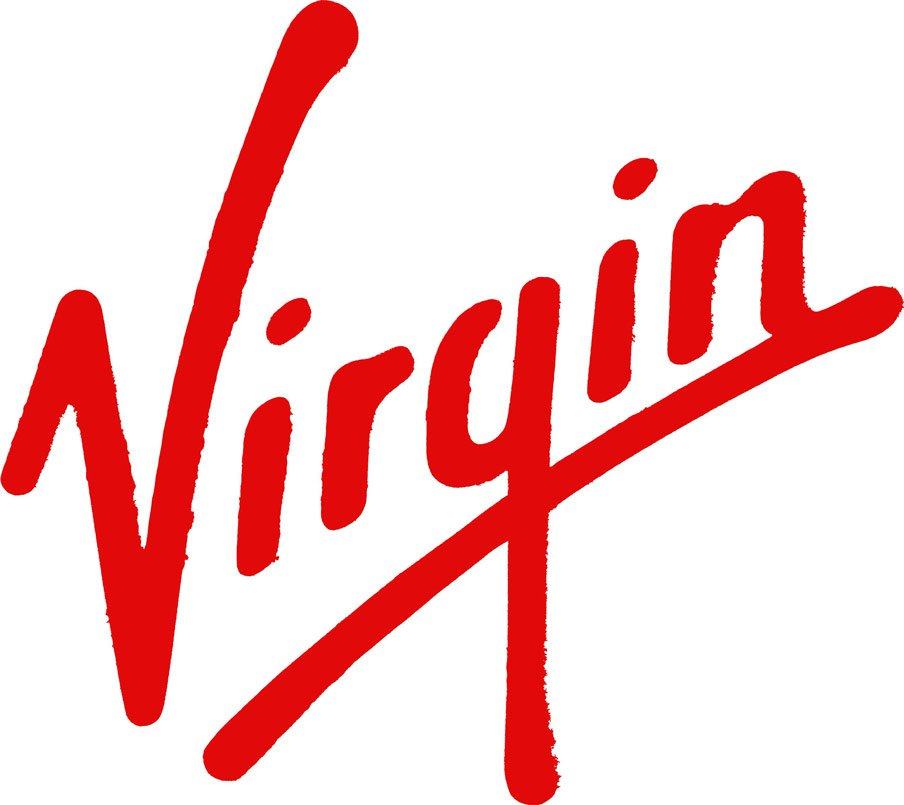 The Original Virgin Logo Napkin Doodle Sketch
This is my favourite part, as I'm always referencing the 'napkin doodle' to my new clients; a way to explain how some of the creative brainstorming process can come about, something as rough as a few words scribbled on a napkin can lead to mighty mighty things.
I'll be referencing this in my client communications from now one, as some clients don't seem to believe me when I say 'napkin doodles' can often lead to the chosen logo design.
In Virgin's case, it was a young designers who came to meet Mr Virgin on his houseboat, and whilst talking about about the logo, scribbled what you see on the napkin.
And that was it, it was love at first sight!
Mr Branson: "It looked like a signature. It had attitude. It had energy. It was in-your-face simplistic."
This original Virgin logo sketch became the official brand mark of Virgin in 1979, and has since disrupted everything from air-travel, to banking, health clubs and hotels.
No denying that the Virgin logo is one of the world's most recognisable brands.
Virgin Logo Refinements
Apart from the original naked twins logo, the Virgin logo has seen a few subtle refinements over the years, but nothing has dramatically changed in these intermediate updates.
I wonder when and if the next Virgin logo update will happen…
---
Post Last Updated:
September 14th, 2016
| First Published:
July 28, 2016
| Subscribe to
Blog
with
or
New SETI Institute Logo Designed by Trevor Beattie
Only just received a press release for the SETI Institute Logo and branding redesign, designed by Trevor Beattie, Founder and Chairman of BMB.
This logo design has certainly piqued my interest, and I can see what's going on with the logo: the use of the 'S' and '?'
What I can say is: I still really like the original SETI Institute logo, was quite fond of that design overall. If you had to push me for an opinion right now: I'd probably been happier to have seen an update/refresh, rather than a complete redesign. The new SETI logo looks a bit 'lost in space' on the website header, not much of a presence. But that's all you're getting for now…
Am yet to fully soak this up, as I'm currently in two-minds about my initial thoughts. Going to need to see how I feel in a few days.
The New SETI Institute Logo Design
YETI Institute Press Release
Least I could do is share the news in the meantime, and here's the full Press Release, from Persuasion, in all it's glory:
MOUNTAIN VIEW, CA – The SETI Institute, a renowned nonprofit research organization, has unveiled a new logo and brand mark to better reflect its mission to search for, and understand, life beyond Earth. 

The new logo was designed by Trevor Beattie, Founder and Chairman of London's BMB advertising agency.  Beattie is an unabashed, life-long fanatic about space, and admits that the opportunity to reshape the Institute's graphical brand was both a challenge and a privilege.

"SETI is all about answering a profoundly important question: Are we alone?" he says. "There's already a question mark hidden in the "S" of SETI.  In designing this new logo, we simply freed it up."

Beattie's graphic is bold and economical, and accomplishes what famed designer Saul Bass has said is essential for any logo: "Symbolize and summarize."

"As we embark on a new chapter in our 32-year history of exploration and discovery, our new logo is a fitting and compelling icon for our quest," says SETI Institute CEO Bill Diamond. "With this symbol, we embrace the essence of science's mission – to be curious, and to seek understanding through groundbreaking research." 

"We are engaged in the definition and reexamination of concepts and hypotheses in astrobiology, and are now expanding the tools deployed in the search for intelligent life beyond Earth."

"With this bold new brand, we launch a new era in our efforts to understand mankind's place in the cosmos." 

The SETI Institute's interests range from the exploration of our solar system, looking for microbial life relatively nearby, to the search for technologically sophisticated beings on worlds orbiting other stars.  The Institute employs more than 120 scientists, technicians and staff.

The new logo is simple and scalable, familiar and yet provocatively unique.  It is intended to be quickly recognizable and sufficiently iconic that – without words – it will be instantly associated with the SETI Institute. 

For designer Beattie, the unique interests of the Institute are self-evident: "No-one has a better claim on ownership of the question mark than the SETI Institute," he says.  "And soon, perhaps very soon, its scientists may find answers to the long-standing question of the ubiquity of life."
---
Post Last Updated:
September 14th, 2016
| First Published:
June 10, 2016
| Subscribe to
Blog
with
or
Sony Playstation 1 Logo Design Ideas and Concepts
I know the Sony Playstation 1 Logo Design Ideas and Concepts isn't exactly breaking news, as it's been floating around for a while: http://imgur.com/qf2cSHU
I came across it again by accident the other, and I do like looking at all unused concepts for any branding project, then comparing them to the chosen one.
As a logo and graphic design, it's generally always heartening to see another designers/studios early logo concepts, as they are rarely works-of-art when compared to the final logo design.
I'm always looking back at my early logo design concepts and laughing at how awful they are.
Some of these early Sony Playstation 1 designs are interesting to say the least, but the whole process of exploring the shit early ideas generally leads you to eventual fame and glory.
Also check out the: Meaning Behind the Sony Vaio Logo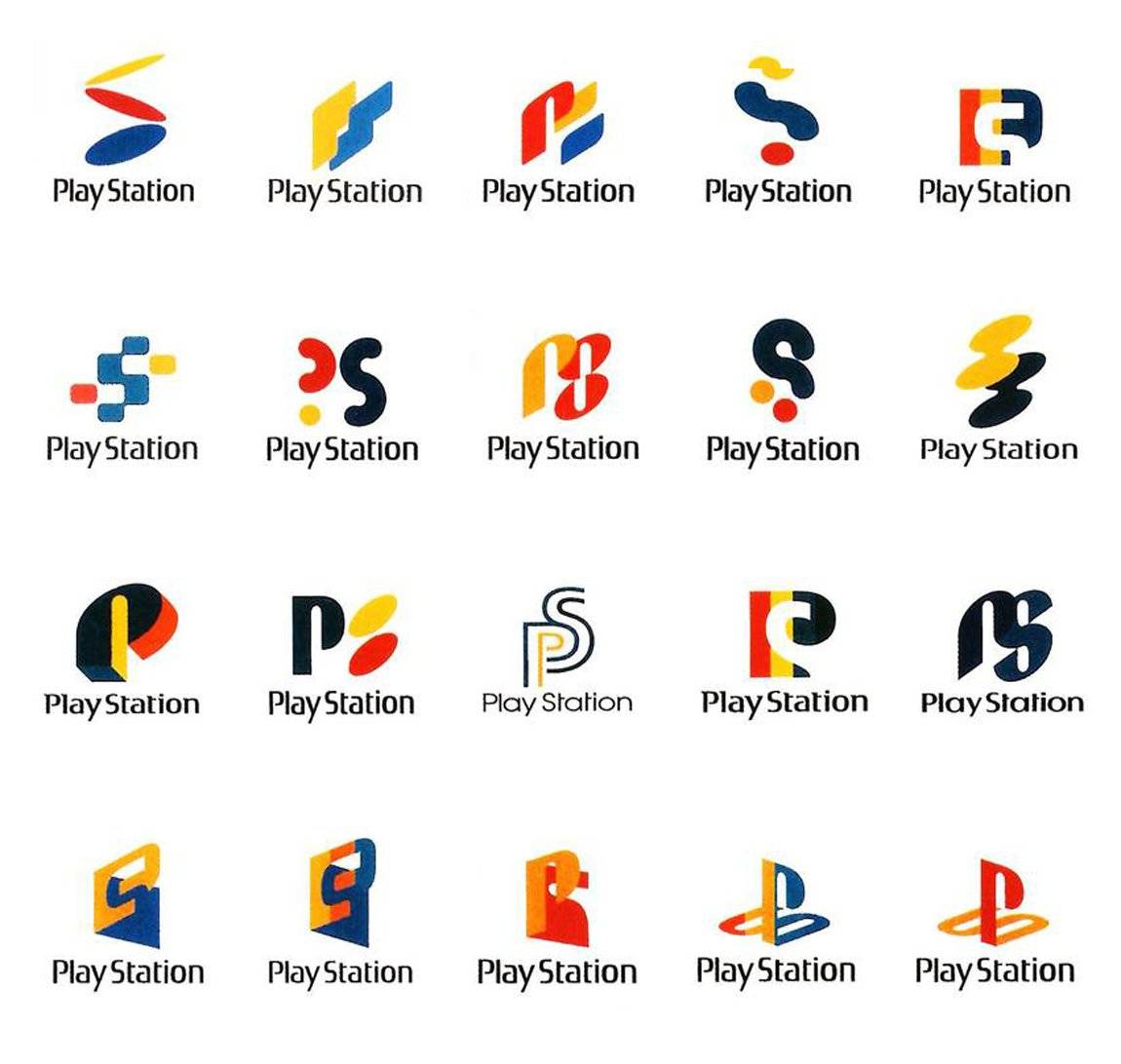 The Sony Nintendo Playstation Console
Here is what the Sony PS1 was supposed to look like before Sony took it on without Nintendo.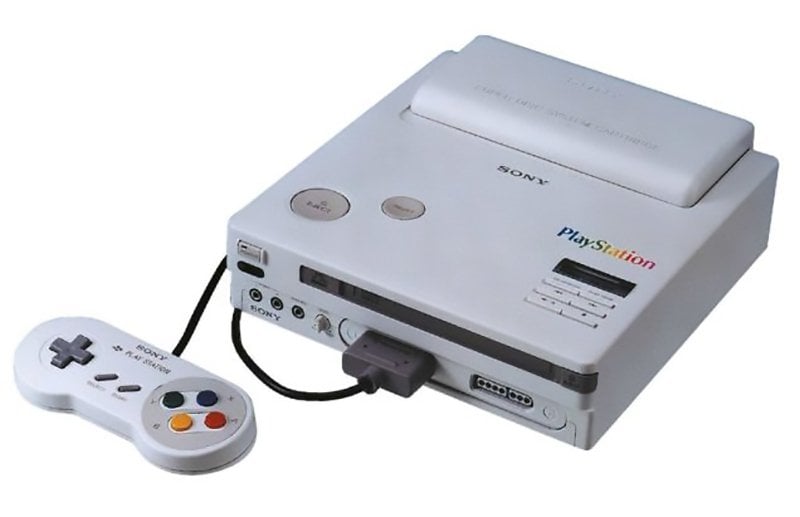 ---
Post Last Updated:
September 14th, 2016
| First Published:
April 6, 2016
| Subscribe to
Blog
with
or
MovingBrands 2011 HP Progress Marque Logo Now Being Used
Great news, reported by Verge, that HP are now going to be using the HP Progress Marque logo design, that MovingBrands came up with back in 2011.
I clearly remember when MovingBrands initially announced their collaboration with HP on a much larger branding project.
Many were a little disappointed that HP didn't decide to use the new logo design, and it was left as an unused, and unapproved, logo design concept.
Clearly it wasn't completely forgotten, and maybe some one at HP saw the Progress Marque's potential somewhere down the line.
Hewlett Packard have now announced that they will be using the MovingBrands logo, dubbed the 'Progress Marque' designed back in 2011, for a newly released premium range of laptop, called Spectre 13.
I think the Progress Marque certainly ties in nicely with the Spectre name, they sort of feel they do fit together.
Obviously a James Bond connection comes to mind with 'Spectre', and for me Spectre does create feelings of: hardness, angled, sharp, clarity etc etc etc.
A bit cheesy maybe, the Spectre name… OK, quite a lot I think.
Three Brand Logos?
Now there three different brand logos used: Hewlett Packard Enterprise, HP and now the HP Laptops "Progress Mark".
I realise that HPE now covers corporate hardware and services, whilst HP deals with the computer and printer business, but still… now having three HP logos.
It sure is good, from a design perspective, to finally see that Progress Mark being used.
© 2006-2016 All Rights Reserved
The Logo Smith: Logo & Brand Identity Design Studio, with 25 Years Experience,
in Cahoots with, The PR Room - Public Relations Agency: Tech, IoT & Smarthome PR Services.

Graham Smith: 10 Badgers Copse, Seaford, East Sussex, England.
Tel: +44 (0) 7816 527 462 - Email: [email protected]