All Archived Posts in Portfolio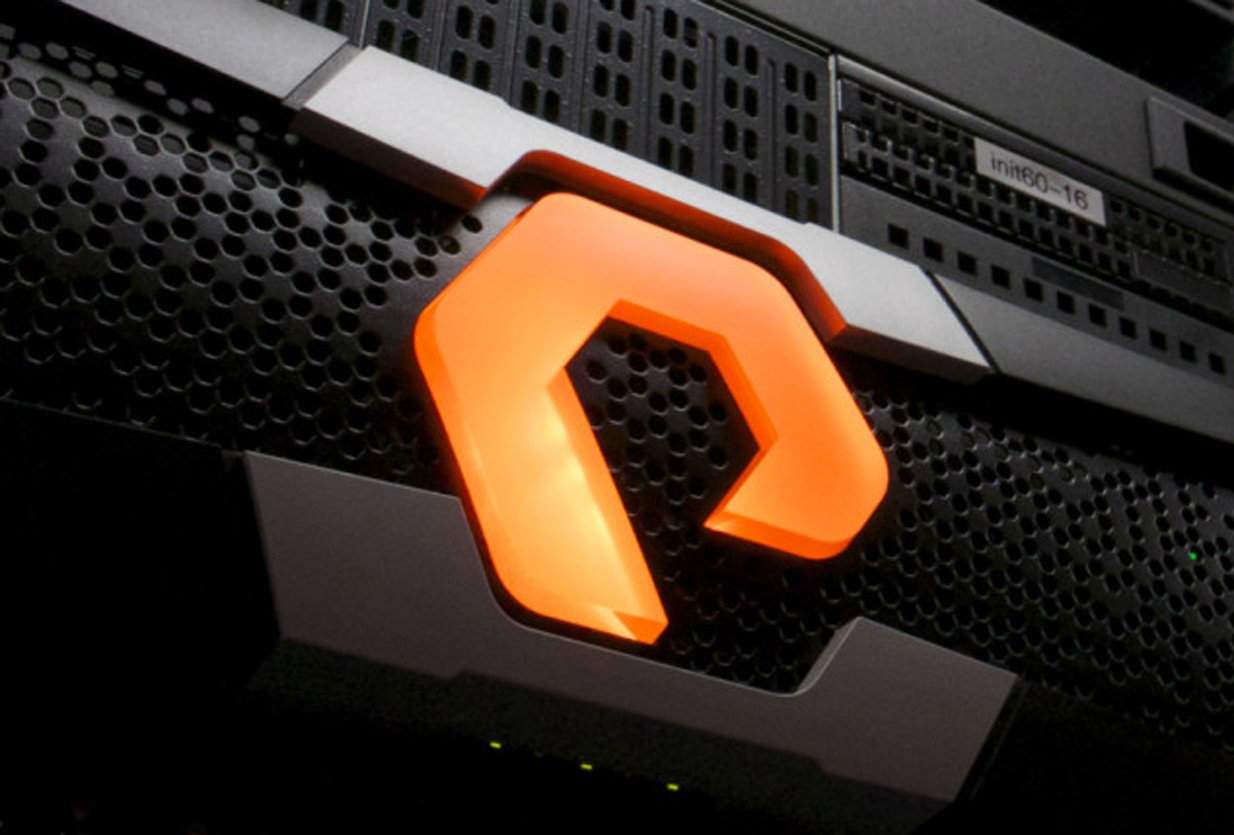 I really thought I had lost all my original Pure Storage logo design sketches that I doodled for them, way back in 2010.
To my utter delight, I actually found them tucked away within a project folder for another client, all neatly stapled up.
So I've quickly took some photograph's of them, and decided to share them with you.
A Week to Complete a Logo Design for Pure Storage
Bear in mind this was whilst Pure Storage were in Stealth mode, and the brief was somewhat scarce.Not an awful lot for me to go on during this stage, not to mention only a week to complete the logo.
It's quite cool for me to glance back and see how challenging the Pure Storage logo was in the early stages, until I hit upon the Eureka moment, which you can found out more about in the Pure Storage Project Page.
There's also a little Mind-Map (below) that I started, but ended up not finishing as the idea was already very clear in my mind at that point.
The Original Pure Storage Logo Design Sketches from 2010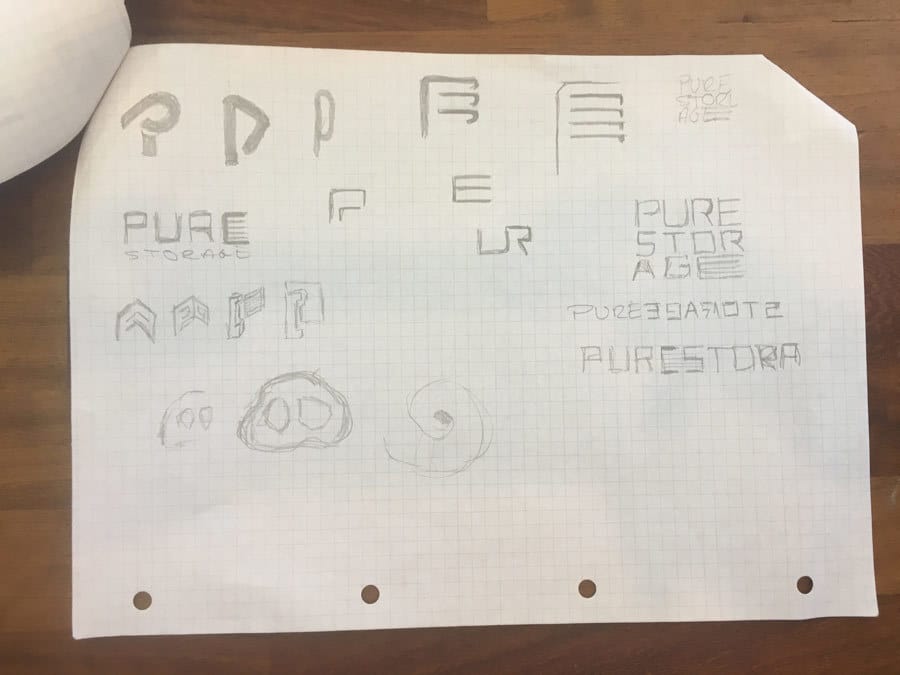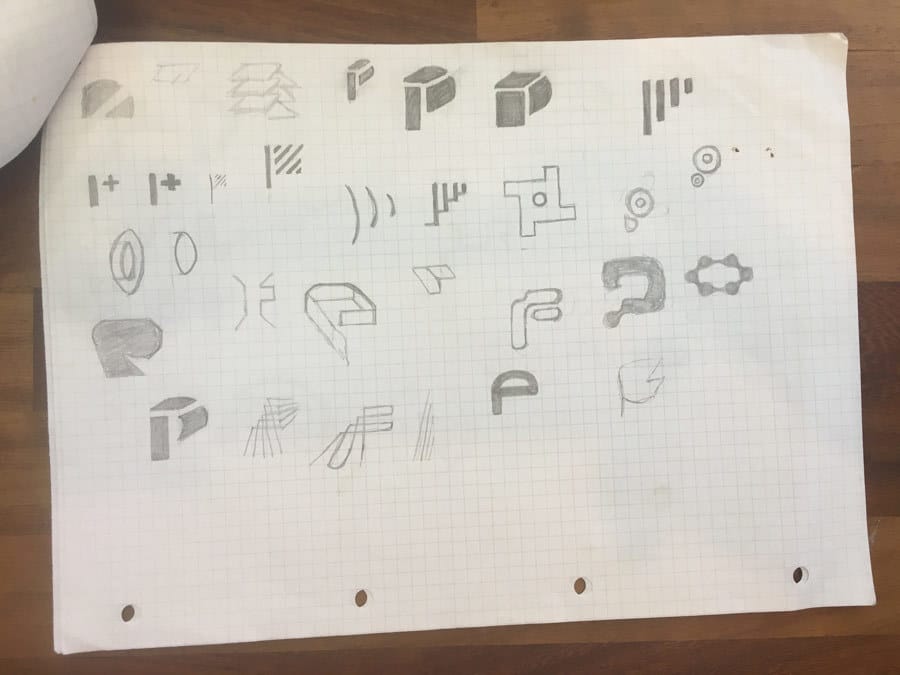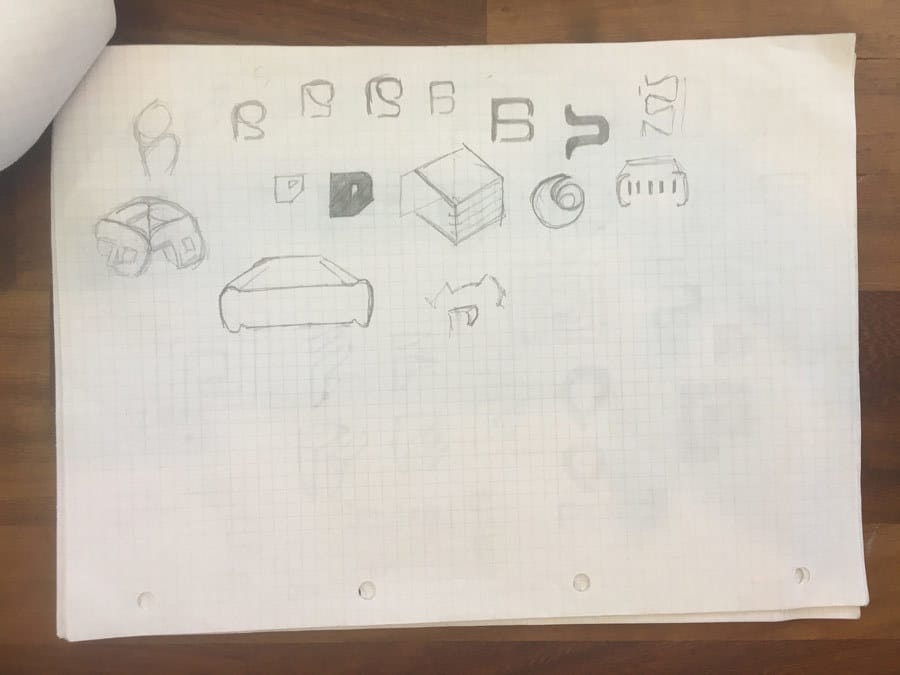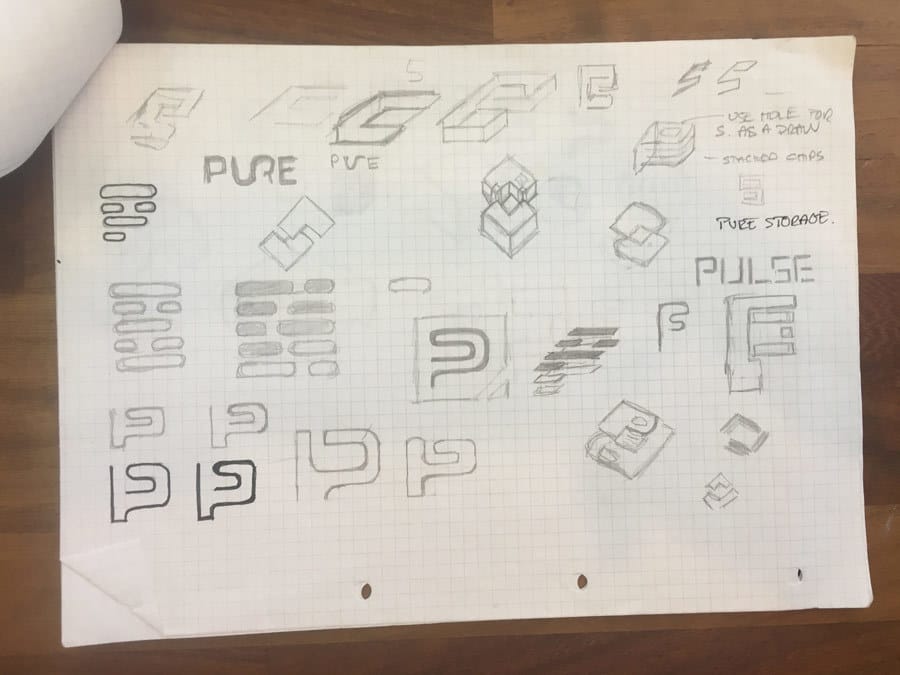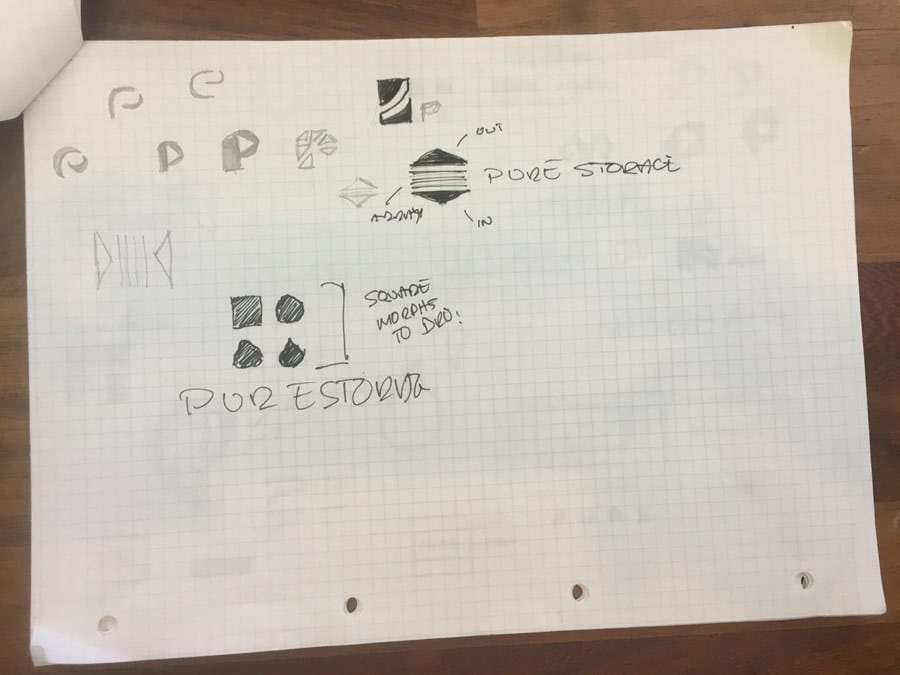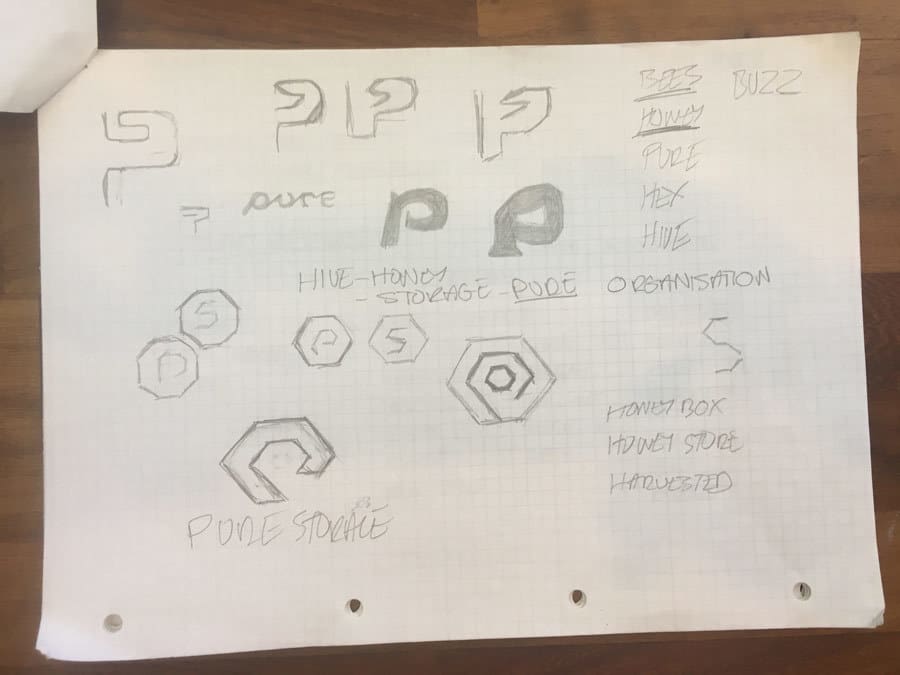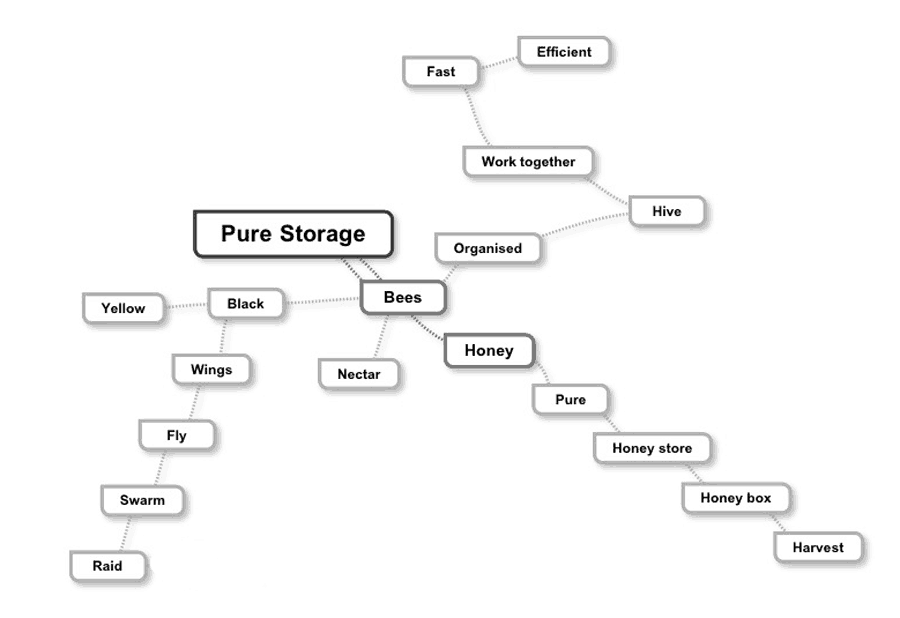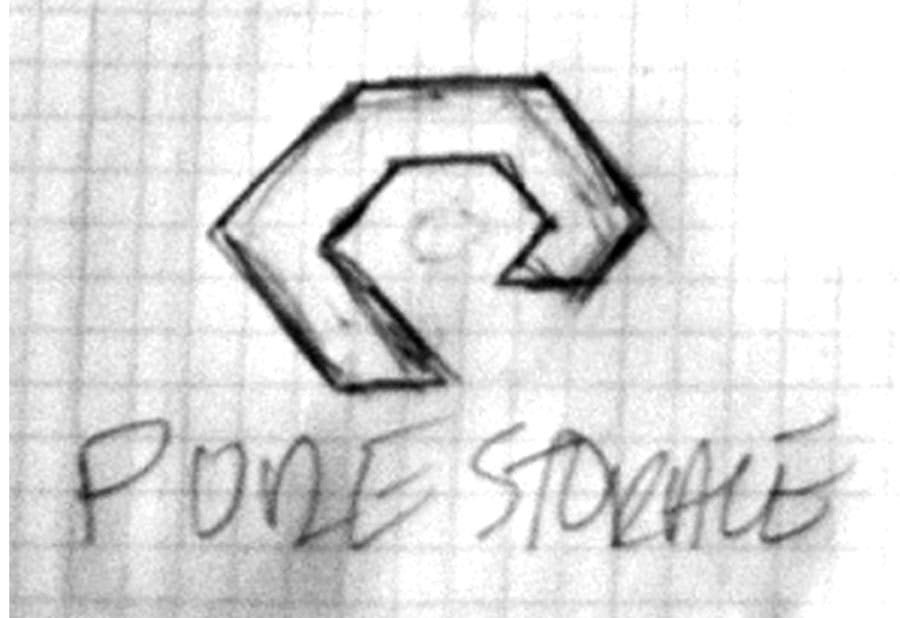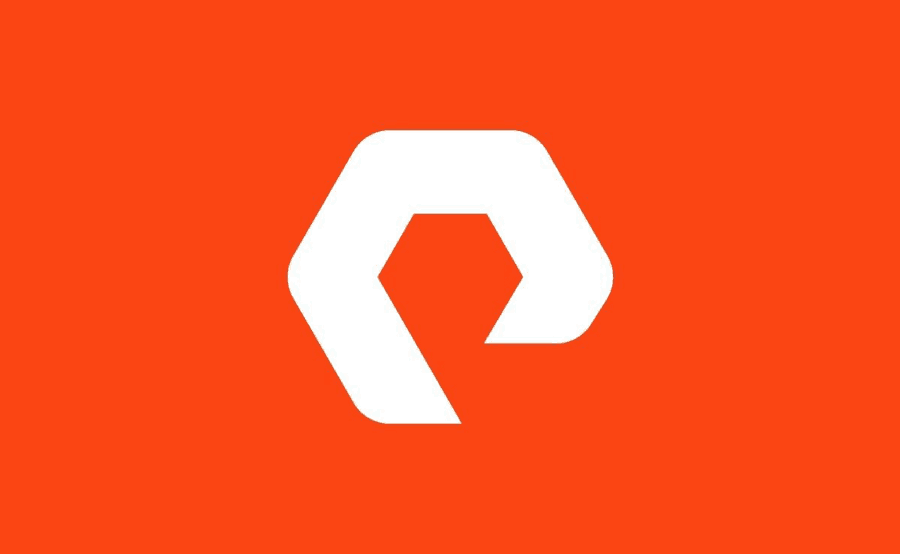 Photography Magazine Logo & Masthead: New logo project for a limited print run bi-monthly photography magazine, called: fOKOS.
A subtly styled lowercase 'f' precedes the uppercase OKOS, just adding enough visual interest to keep it from being too 'normal'.
The right-side of the letter 'f' is cut and shaped to match the outer curve of the 'O'.
Typeface used, for all letters, is Avenir Next Heavy.
fOKOS Photography Magazine Logo & Masthead

Here are some recently completed client logos, from my freelance Logo Design Portfolio. Some have been created for commissioned client projects: as part of my freelance logo and graphic design services, whilst some are conceptual: ongoing self tuition, exercising of the old grey matter, to help keep my mind sharp.
Recent Logo Designs from my Logo Design Portfolio
Hire me as your Freelance Logo Designer
If you're looking to hire a freelance logo designer or are looking for a more comprehensive logo & brand identity, then I'd certainly love to hear from you.
Feel free to visit my Contact page, take a look at my FAQ page or dive straight in by filling in my brief.
Logo Designs for Sale
I also have  selection of Logo Designs for Sale, which are based from a massive collection of: unused client logo ideas, conceptual designs, icons and marks.
All Logo Designs for Sale, cost only £195, and are only ever sold the once.

Really pleased with how my logo design for UPRAW has turned out, especially when seen as a letterpress business card, on some heavy textured black card.
As you can see from the image, the angular nature of the UPRAW logo mark, seems to work so well within the shape of the business card, and looks clean and precise as a raised mark on the surface of the card.
Letterpress Business Card for the UPRAW Logo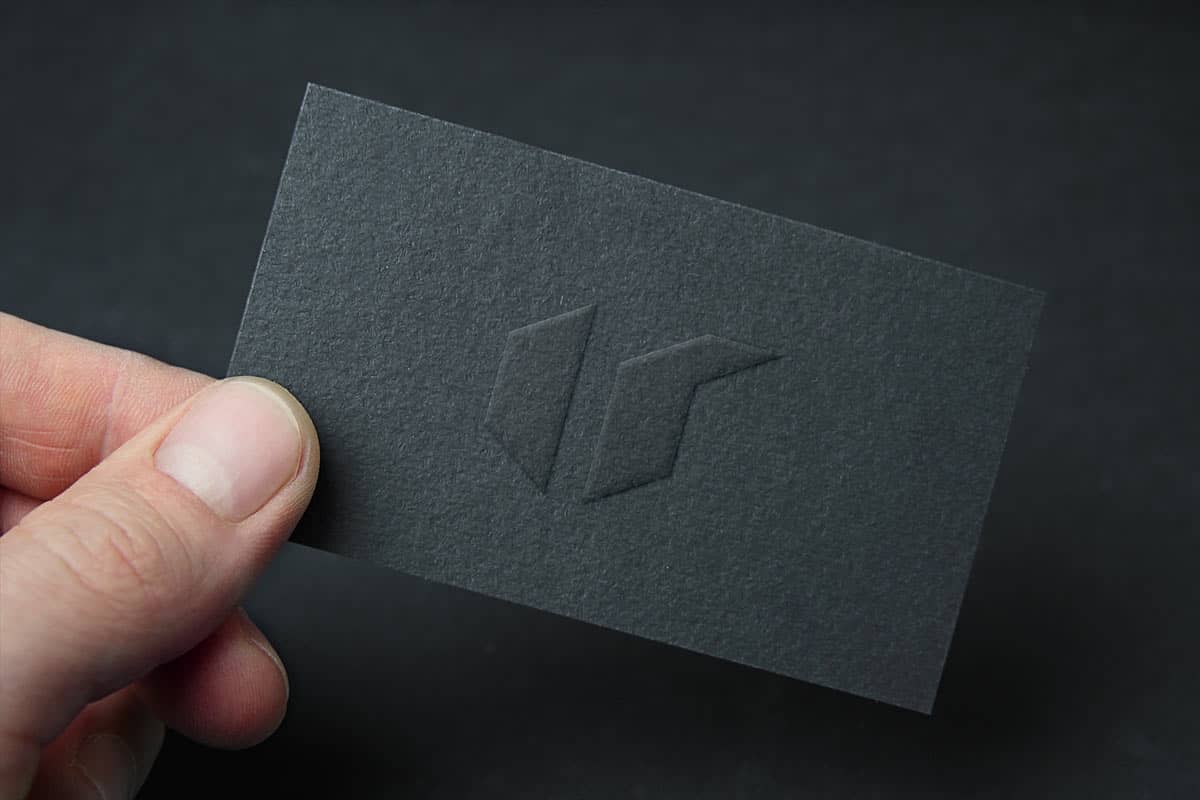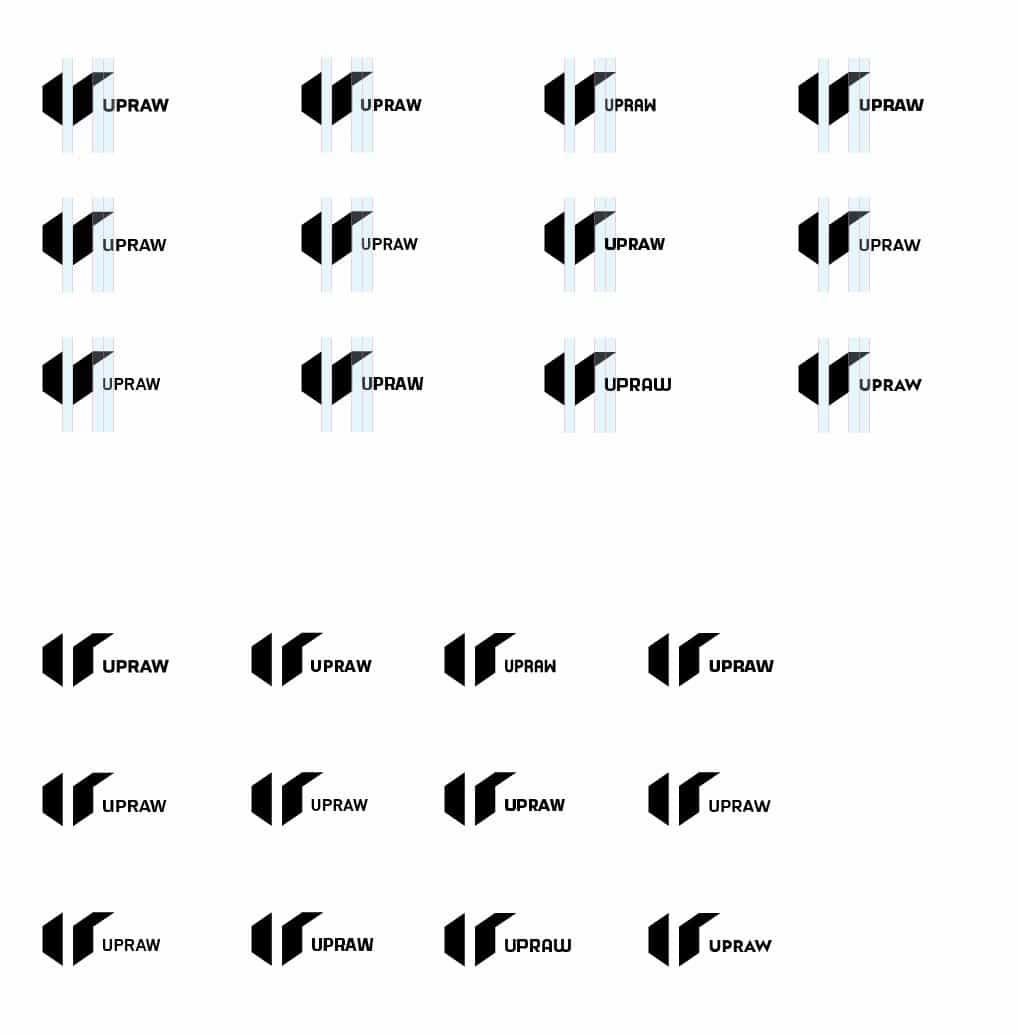 Case Study: Baze iOS Application Icon & Baze Logo Design
This Baze logo is an example of a client asking for a cheeky 'quick and cheap' logo & iOS application icon design; me being in an usually festive and cheery mood, and going along with said cheeky request.
From the client emailing me about doing a possible application icon for Baze, and me doing said Baze logo, took all of 30 minutes or so.
Probably the quickest, most efficient logo design project I've ever taken on, and the result being an incredibly pleased, and supremely grateful, new client.
Plus I love it, so it's a great logo design for the portfolio, and a bit of pocket money for me in the process.
The Baze Logo & Icon
It's a pretty simple idea, that just came to mind pretty quickly after drawing a relatively bold and clean letter 'B'.
The client also wanted to see if it were possible to shoe-horn the letter 'z' within the 'B', for which I saw a likely solution in my head.
After a few well placed curves, circles and a few round guides, it did look like the usually awkwardly shaped letter 'z', could actually be neatly positioned within the 'B'.
All without the overall logo looking like this angular shape was literally shoe-horned in.
VIEW'D - Logo Design Case Study
VIEW'D is a new logo design and iOS app icon design project, which I'm currently working on, and am happy to share the ongoing logo design case study of this ongoing branding project.
I will update this ongoing logo design case study with new screenshots and photos of my mock-ups, sketches, and scribbles as they are done.
In this post are just a few snapshots of the later stages of the project, showing the most recent logo design concept (above), as well as some initial thoughts on the style of typography for the VIEW'D brand name.
VIEW'D - Logo Design Case Study 
This is proving to be a fun and interest project to work on, mostly because it's challenging. I like a challenge. It's challenging because there are a few direct competitors to VIEW'D: namely Skype and iChat, but this app has some practical advantages that could make it a worthy contender.
Getting the styling and branding right, and probably the iOS app icon in particular is really important.
I know for a fact that a nicely designed application icon is important, and can play a big role on someone choosing to download it, or place it pride of place on their main home page screen.
Its like the 'don't judge a book by it's cover; but a lot of us do.
To this effect I've chosen to adopt more of an overall visual graphic, than a regular logo. As in, the brand name and typography is pretty secondary to the actual eyeball, as this is what will ultimately be seen first.
Actually the same was true for the Feedly logo (which was also animated) and app icon design I did some years back, and that's still going strong.
There was more of a design focus on the cross platform application icon, that the actual logo as a whole. You rarely see the 'feedly' name (set in Helvetica).
VIEW'D is set to be a new dynamic application that brings phone and video calling to a whole new experience.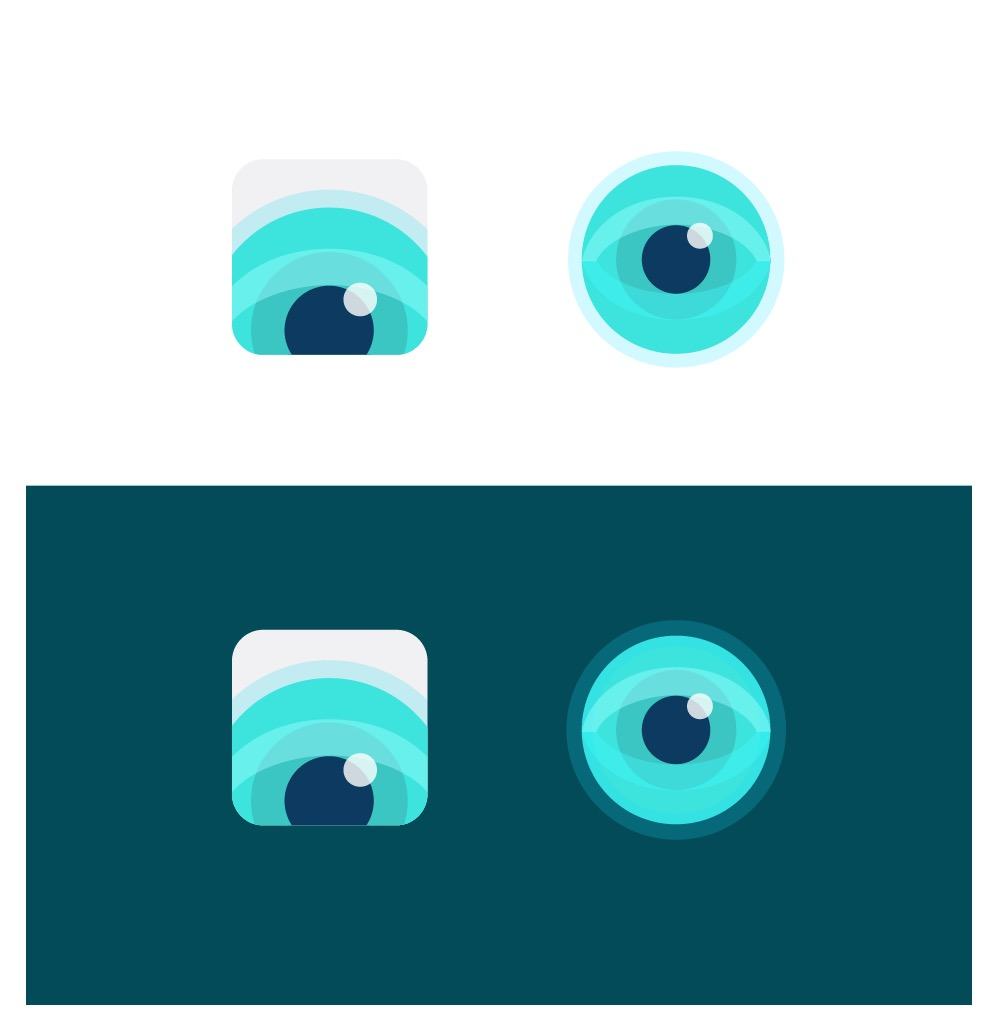 Design Updates: 07.09.16
Some minor changes to the eye, by removing the outer light blue border that was previously  there.
Also enlarged the inner dark blue circle (iris) and the Play icon relative to it's surrounding elements.
As a freelance logo designer, the number of logo ideas and concepts that end up either off-the-mark, or simply no-good, can vary from project-to-project.
However, I like to feel there is rarely a wasted moment on a project as some of the unused logo ideas can either be repurposed for another client, or in my case, sold as mentioned in this post: Custom Logo Designs for Sale, and currently shown on the Logo Designs for Sale page.
This logo design can also be viewed on Dribble: https://dribbble.com/shots/2904763-View-d-Logo-iOS-App-Icon-Design
GPS Fleet Tracking and Management Logo Design: Work in Process
As a freelance logo designer in the UK (hire me), I do get to work on some pretty varied logo projects. I was recently hired by: Global Positioning Specialists - Fleet Tracking and Management, a play on GPS: Global Positioning Satellite to create a new logo and brand identity for them.
Initially I was trying too find a way to incorporate the 3 initials GPS, so instead looked at creating a standalone logo mark, based off maybe just one of the initials.
It occurred to me that the 'G" was probably the best bet as it lends itself nicely to a few relevant connections to GPS, but when created in the way I have designed it, becomes even more connected to fleet management and tracking.
This G took some time to evolve, trying many styles, many ways to construct it etc. Ultimately I landed on the idea of a 'x' marks the spot, or pin point of something, even target cross-hairs in a way.
The arrangement then was the trickiest, and i wanted to try and portray the idea of GPS signals being bounced from satellite to ground, and back up, ending in a sort of arrow pointing up and to the right as well as into the wording itself.
So this creates a sort of graphical representation of data and tracking signals, but also the 'x' can represent the individual vehicles and such like.
Image above shows various thicknesses and spacing for the logo mark.
The G is circular of sorts, so this also just helps with the connection to earth/orbit/data travel with the arrow also indicating movement of the fleet.
It's not your usual GPS style of logo, and this is exactly what I was trying to achieve, to create something a step up from the ordinary, still using some literally connections and interpretations, but in a cleaner and relevant way.
The logo, when placed near the top of a letterhead, brochure, leaflet, advert, etc, can then also be bled/extended off the top, such as the image below shows. This helps reinforce the idea of signals coming down from the satellites.
The logo mark itself is also 'square' in shape, so will fit perfectly fit in social media profile images etc. May need to work on creating a more simplified version of this, so less x's for smaller sizes for example.
Ultimately, the logo mark captures the meaning of GPS: Global Positioning Specialists - Fleet Tracking and Management, through various connections and meanings in a stylised graphical way, that isn't cheesy, cliche or ordinary.
In that regards I think it 'should' be pretty unique in terms of how the logo mark has been designed, but more importantly how relevant the various bits are that make the symbol.
Looking for a Freelance Logo Designer for your own Logo Design Project?
If you are a real estate agent looking for a freelance logo designer for a new logo design for a new business, or are looking to update/refresh your current business brand logo, then I'd love to hear from you.
Don't forget: you can look at my extensive logo and brand identity portfolio designs here: Logo Design Portfolio, and Monomarks page.
Alternatively, if you know what you are looking for, then you can take a look at my Logo Design Brief, and maybe fill that in so we can get started.
Please call/text me on: 07816 527462, or email: [email protected] for more information on how I can help you with your graphic design, and logo design requirements.
My Pure Storage (flash-storage) Logo on an LCD Sign at JFK Airport
Pure Storage, a flash-storage company, has to be one of my proudest logo and brand identity design accomplishments.
Having designed the Pure Storage logo back in 2010 for the then unknown flash-storage company, which was also stealth mode start-up at the time, Pure Storage has quickly become a major player in the industry, and ranked third in the flash-storage market behind EMC and IBM.
TechInsider: According to its S-1, Pure Storage made about $174 million in revenue last year, roughly a 4X jump from the previous year. It has already made $159 million in the first half of this year, putting it on pace to hit nearly $300 million this year.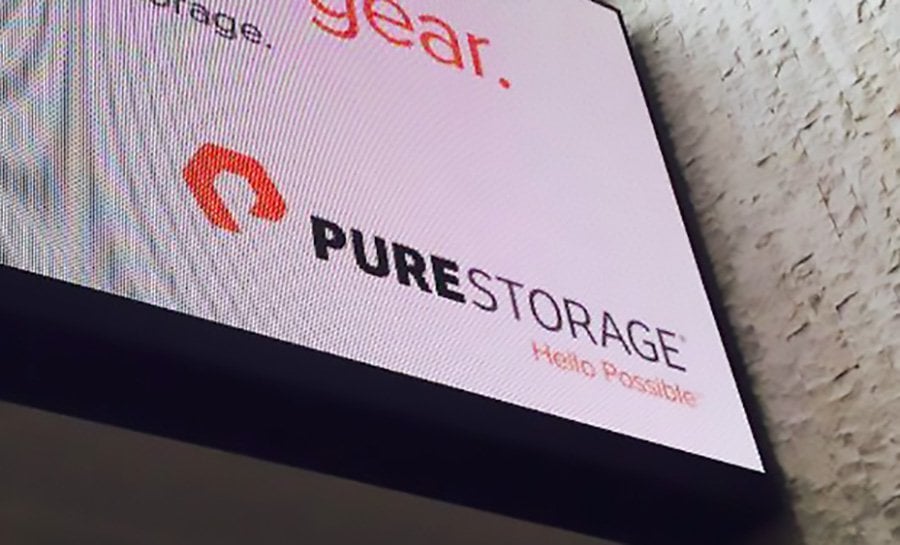 Colin Willems (@colinwillems) on Twitter snapped this photograph (above) of a Pure Storage LCD advert at JFK airport, and send me the photo. 
@thelogosmith Saw your logo on an ad for the company in JFK airport NYC. Very impressed, plus I live near you too. pic.twitter.com/HL6E1RIHsM

— Colin Willems (@colinwillems) February 13, 2016
Watching my little baby growing-up over the years has been pretty amazing; to see how and where the Pure Storage logo has been used and applied, has also been rather mind-blowing.
It's almost starting to become a little unreal just because when I designed it, Pure Storage were a complete unknown, so I had no idea what was to become of them further down the line.
Here are a few other photographs of the Pure Storage logo in use: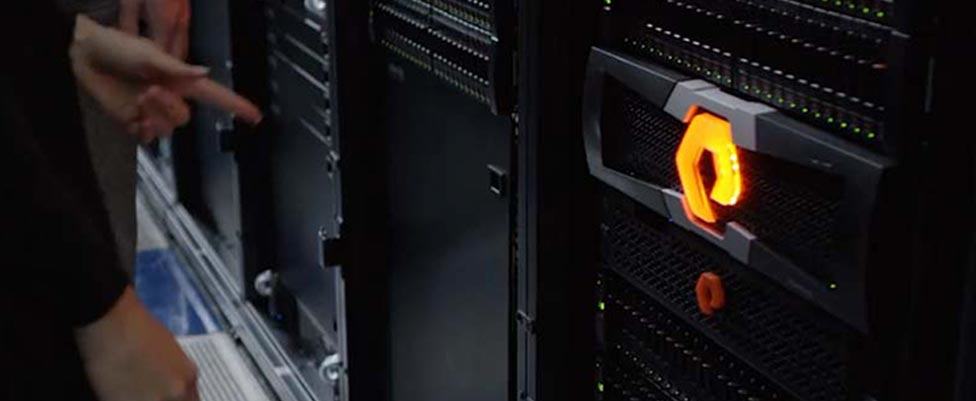 Real World Logo & Brand Identity Design Inspiration
LogoStack is about showing real world logo and brand identity design inspiration; not the conceptual, or the make believe. Every logo design you see on LogoStack is used, or has been used, in the real world.
LogoStack: a collection of real-world (no concept, or fake logos here) logo & brand identity designs.  Logo design inspiration created by you; acquired and hoarded by Graham 'Logo' Smith.
It's also worth noting that LogoStack is a reflection of the type and variety of logo and brand identity design that inspires me. LogoStack is a personal collection of real world logo designs that I am collecting, hoarding and sharing.

Proper Attribution
The intro text for each logo clearly describes the brand name. We also have the name and link to what: graphic designer, studio, agency etc, were responsible for the overall project, both of which are filterable, so you can easily search for other projects by designer and/or client.
I usually include a few words about the design, with a few supporting images, to the show the logo in context if I feel like it. :)
Submissions
If you see any logo and brand identity projects that you feel would be a good fit for LogoStack (if you think you 'get' my aesthetic), then feel free to give me a shout on Twitter:
Feed Your Mind On The Go from Feedly on Vimeo.
Feel particularly chuffed this evening after seeing the above Feedly logo animation, and video.
At the time of designing the Feedly logo and app icon I had no idea that it may eventually be animated. So to see it unfold at the beginning of this video has left me with quite a smile on my face.
If someone had asked me how I would have liked to have seen the Feedly logo animated, and if I was able to imagine it being animated, then this exact video sequence would have been how I would have liked it to have panned out.
The logo animation is brief, but the smooth laying down of the white strips on the green is just perfect in my mind, and really fits in with the initial concept and design process of this part of the logo.
I am so proud to be part of the whole Feedly experience and seeing my first ever logo animated in this way has really been a wonderful experience.
View original full-size HD Feedly Video
Feedly Video Credits
Motion Designer Mattias Peresini – Music OBNY Music & Sound Design
© 2006-2017 All Rights Reserved
 The Logo Smith: Logo Designer & Brand Identity Design Studio, with 25 Years Experience,
in Cahoots with, The PR Room - Public Relations Agency: Tech, IoT & Smarthome PR Services.

Graham Smith: 10 Badgers Copse, Seaford, East Sussex, England.
Tel: +44 (0) 7816 527 462 - Email: [email protected]