---
Post Last Updated:
October 28th, 2015
| First Published:
December 15, 2013
| Subscribe to
Blog
with
or
The PureStorage Logo and brand identity project for American based flash array storage company, Pure Storage. 
Project included: creating a distinctive brand mark/badge/emblem that could be used to brand all their flash products, as well as being a strong identifying brand mark for the company. The Pure Storage logo is used to badge all their products, as well as used as a cut-out to form the air vents on the flash arrays.
The Idea behind the Pure Storage Logomark
The client conceded that the 'Pure' portion of the name posed some challenges given the prolific nature of the name in pretty much everything, and anything. Pure this, Pure that, so the challenge was to not fall into something so predictable as a rain drop, or water or anything else that has been used a million times before.
Crucially, the logo needed to stand out against many well known technology brands in their market.
This project saw the most amount of sketches and ideas I have yet done for a project, and thought I would never come up with something appropriate.
The Idea
One one morning I was making some breakfast and pulled out a tub of honey, which had pure on the label. Then the bells started ringing. From this I went to bees, then to hives, then to hexagon, then to speed and agility, to organisation, to intelligence, to workers to 'hive mind' and pretty much every thing to with bees could be attributed to this company.
The idea spawned some sketches on bees etc, then I focused on the hives. The Hexagon shape 'P' was the end result. The initial 'P' formed from a pure honey hive. Elation.
PureStorage were ecstatic with the logomark, as well as it having a solid meaning and purpose to it. We both got our simple, clean and bold mark. I have a list of over 50 direct and non direct competitors and this logo stands well on it's own as a design, which was the ultimate aim for a new start-up, to give them a fighting chance at being noticed.
In Use
The Pure Storage logo and brand mark has now been used in: conferences, exhibitions, back-lit carved wooden signage, beer glasses, clothing, stickers, and even a whole flash drive/array made out of Lego!
With the images below of the actual flash array units, notice that all the little air-vents are shaped from the Pure Storage logo.
"We struggled for months and months to create an identity for Pure Storage that represented our culture and vision, and that would work both digitally and physically on our hardware product. After literally wearing-out several other designers, in a sheer act of desperation I found a crazy gentleman online in the UK, and on a whim paid him up-front to see if he could succeed where others had failed.

Well, hiring Graham was one of the best decisions that we've ever made...he spent the time and really cared to understand Pure Storage, and fought through it with us till the end to create something that instantly became an enduring symbol of the Pure Storage brand.

Graham designs great logos, but also knows how to get into the mood for really being able to 'understand' the company/business for which he is creating the logo, identity, and above all, it's actual personality: he does it really, really well."

– Matt Kixmoeller : PureStorage
Entry on
Pure Storage from Wikipedia
:
Pure Storage is a Mountain View, California-based enterprise storage company founded in 2009.[1]
Investors

In October 2009 Pure Storage raised a $5 million Series A round led by Sutter Hill Ventures. In August 2010 Pure Storage raised a $20 million, led by Greylock Partners with participation by existing investor Sutter Hill Ventures. In August 2011. Pure Storage announced an unspecified investment from the venture-capital arm of Samsung Electronics, the largest flash-memory maker. Samsung and Redpoint Ventures contributed to a $30 million Series C funding round.[2] In August 2012, Pure Storage raised $40 million in Series D funding round led byMike Volpi's Index Ventures, along with existing investors Greylock, Redpoint and Sutter Hill, for a total of $95 million capital raised.[3] In addition to venture funding, private investors included Diane Greene, a founder and former CEO of VMware and Frank Slootman, former CEO of Data Domain.[4][5] An investment of undisclosed amount from In-Q-Tel (associated with the US Central Intelligence Agency) was announced in May 2013.[6] Another investment (round "E") of $150 million was announced in August 2013, including T. Rowe Price and Tiger Global Management.[7][8]

FlashArray

Pure Storage released a flash memory product called FlashArray on August 23, 2011.[1] Deployed in a data center, FlashArray is marketed to accelerate applications like server virtualization, desktop virtualization, database systems and cloud computing that required very high rates of random I/O operations per second.[9] InfiniBand technology is used for connecting between controllers, and Fibre Channel for connection to server computers.[10]

The second generation FlashArray, released on May 16, 2012, included new software and an enhanced data integrity fabric.[11] It was promoted with higher resiliency, encryption with zero key management, a new web user interface, command line interface, and support for VMware's vStorage interface.[12] In August 2012, Pure Storage released new software features including iSCSI connectivity using 10-gigabit Ethernet, snapshots, and integration with VMware vCenter.[1]

Pure Storage uses multi-level cell flash memory which has higher capacity for the same price of single-level cell memory. Using software such as data compression known as data deduplication, Pure Storage markets the FlashArray to compete with traditional rotating disk arrays.[13] The company estimated FlashArray requires about 20% of the power and space required for traditional arrays.[14] Pure Storage flash memory is packaged in shelves ofsolid state memory devices (SSDs), from two known suppliers, sTec, Inc. and Samsung.[15]

In July 2012, Pure Storage announced a partner program for resellers.[16] Competitors include Nimbus Data, SolidFire, Whiptail, Texas Memory Systems, Violin Memory and Kaminario.[17]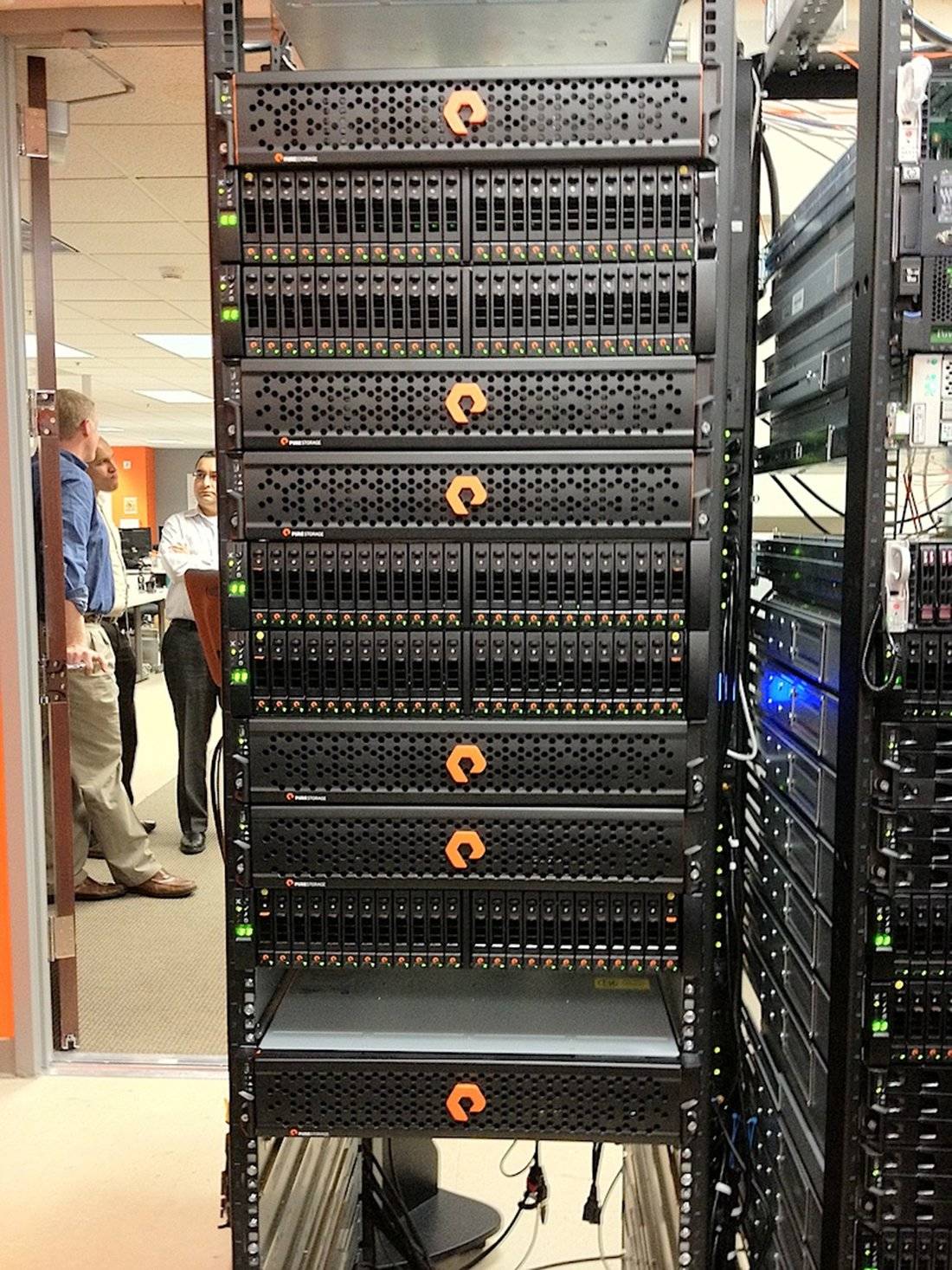 ---
Previous Post:
Feedly Logo: Icon, Logo, Brand Identity Design
Next Post:
Antony Usher: Logo, Brand Identity Design
---
Home » Pure Storage Logo & Brand Identity Design
© 2006-2016 All Rights Reserved
The Logo Smith: Logo & Brand Identity Design Studio, with 25 Years Experience,
in Cahoots with, The PR Room - Public Relations Agency: Tech, IoT & Smarthome PR Services.

Graham Smith: 10 Badgers Copse, Seaford, East Sussex, England.
Tel: +44 (0) 7816 527 462 - Email: [email protected]