All Archived Posts in pantone
---
Post Last Updated:
March 28th, 2017
| First Published:
March 28, 2017
| Subscribe to
Blog
with
or
Always love seeing these random design snippet's from the ever increasing fountain-of-knowledge, in this case the 'snippet' is the Pantone Colour References for Star Wars Character Boba Fett.
Came across this snippet, as usual found on my daily Reddit purge, courtesy of a blog post on Daniel Gray's website. I love his open questions, especially: Is the dark side coated or uncoated?"
Daniel Gray: "Flicking through the enormous and fantastic The Making of The Empire Strikes Back, I stumbled upon this little curio: Pantone references for Boba Fett's costume, provided by ILM for the licensing branch of Lucasfilm.

Presumably similar guidelines were drawn up for other characters.

What specific shade is Yoda?

What are the colour refs for all of the lightsabers?

Is the dark side coated or uncoated?"
The Pantone Colour References for Star Wars Character Boba Fett
---
Post Last Updated:
January 26th, 2017
| First Published:
January 26, 2017
| Subscribe to
Blog
with
or
Another fine collection of creative work by Txaber (who also designed the cool Helvetica Rubik's Cube); this time we have a stunning collection of Absolut Vodka bottles, beautifully coated in Pantone colours. 
Nice little nod to Pantone's current Colour of the Year 2017, with the Absolut 2017 Greenery 15-0343:
Pantone: A refreshing and revitalizing shade, Greenery is symbolic of new beginnings. 

Greenery is a fresh and zesty yellow-green shade that evokes the first days of spring when nature's greens revive, restore and renew. Illustrative of flourishing foliage and the lushness of the great outdoors, the fortifying attributes of Greenery signals consumers to take a deep breath, oxygenate and reinvigorate.

Absolut Vodka Pantone Bottles Designed By Txaber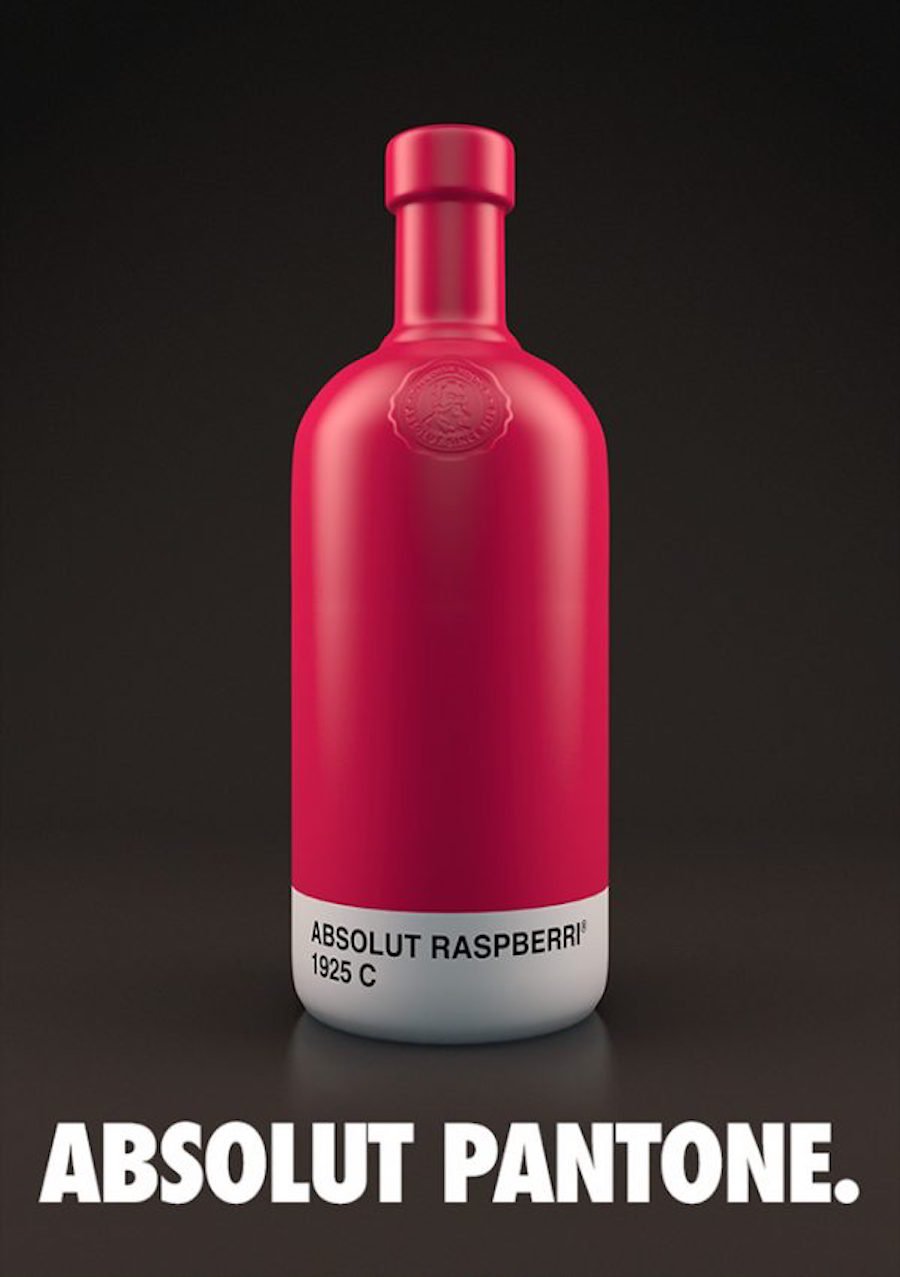 ---
Post Last Updated:
September 14th, 2016
| First Published:
October 9, 2015
| Subscribe to
Blog
with
or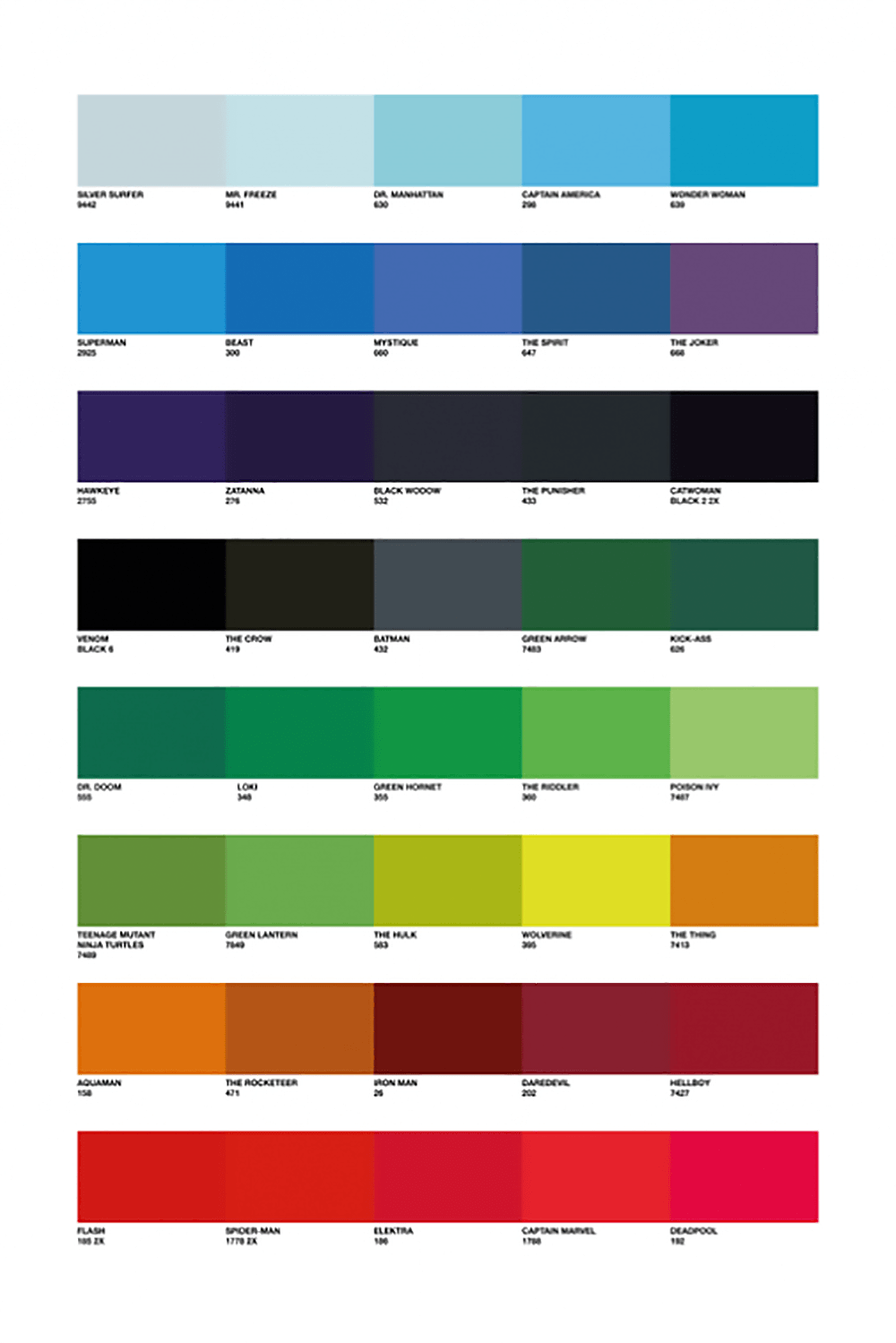 40 Pantone Superhero and Villains Color Swatch Poster
Some time ago I posted: 9 RGB Inspired Posters for Superhero's by Gidi Vigo, which was a pretty simple, but rather neat idea.
Gidi then had the idea of expanding this idea of linking Pantone colours with those representative of many more comic book superheros and villains.
So in this next poster, Gidi has created one poster with 40 individual Pantone swatches that are neatly tied in with the colours best associated with comic book superheros and villains.
---
Post Last Updated:
September 14th, 2016
| First Published:
August 11, 2015
| Subscribe to
Blog
with
or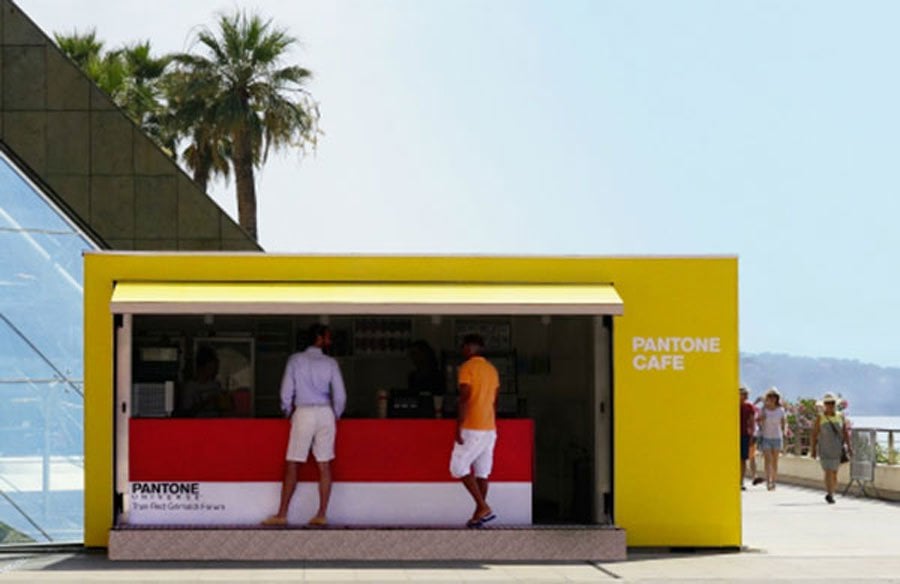 The Pantone Cafe on Monaco's Beach
One can now experience Pantone not just from their Pantone Hotel, but now also a delightful Pantone Cafe, located in the French Riveria, or more accurately, the Côte d'Azur.
CONCEPT: "From 14 July to 9 September, the esplanade of the Grimaldi Forum will host the first colorful Pantone & Cafe.

Pantone no introduction. In 1963, Lawrence Herbert, Pantone founder created an innovative system of identification, color communication and correspondence in order to solve the problems associated with producing accurate color in the graphic arts community.

Since, Pantone has evolved and collaborates with various industries in the world of fashion, design, art, painting, technology ... His strong concept is recognized and implemented internationally. It combines perfectly with the cultural place that is the Grimaldi Forum.

Especially during the famous summer themed exhibitions."
I still can't make up my mind if all these Pantone themed establishments is bordering on the naff, or actually really very cool. Not having been to either, I guess I should reserve judgment until I have.
it's worth remembering how established Pantone is given it's been around since the 1950's, so this relatively slow trickle of significant Pantone theme offerings, can be viewed in context. colour is life, and colour creates beauty, energy and passion. So mix all that with coffee, and surely that's a recipe for success.
Found via Brand Channel: Pantone Adds a Vibrant Swatch of Color to New Café in Monaco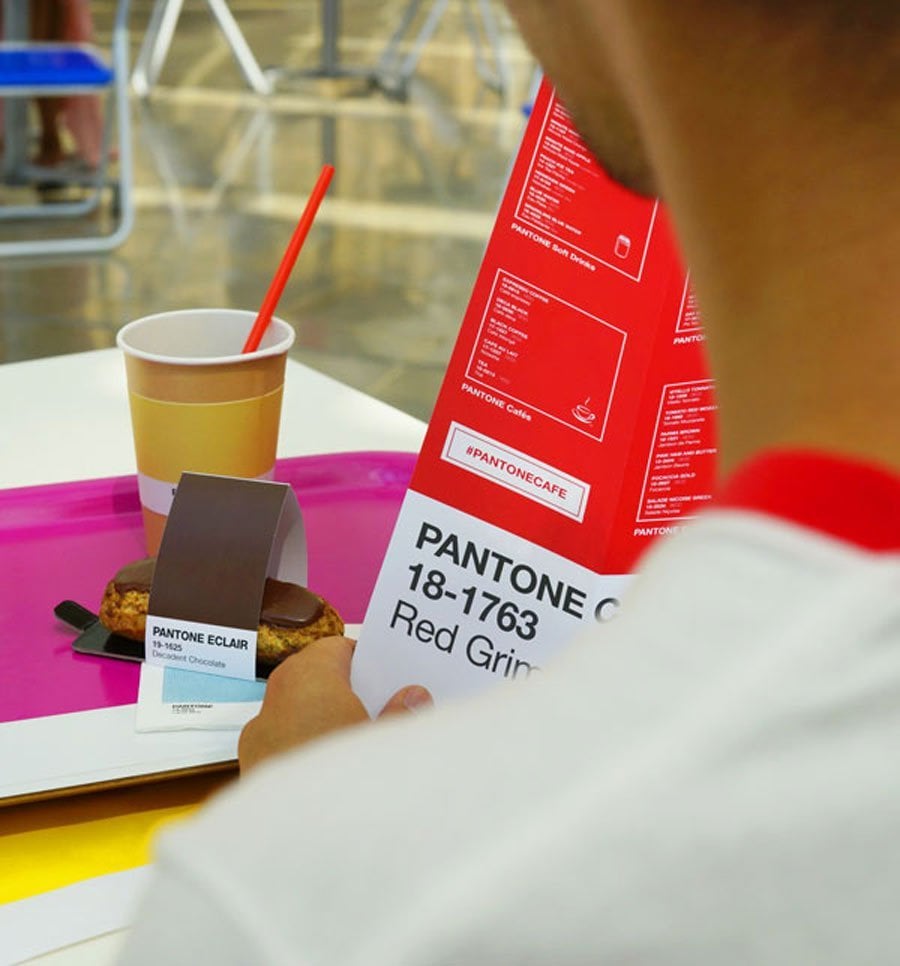 The Pantone Cafe Menu
Pantone Cafe, totally ephemeral, will be open from breakfast with coffee and croissants and will, throughout the day, drinks, sandwiches, focaccia, snacks and Italian ice creams.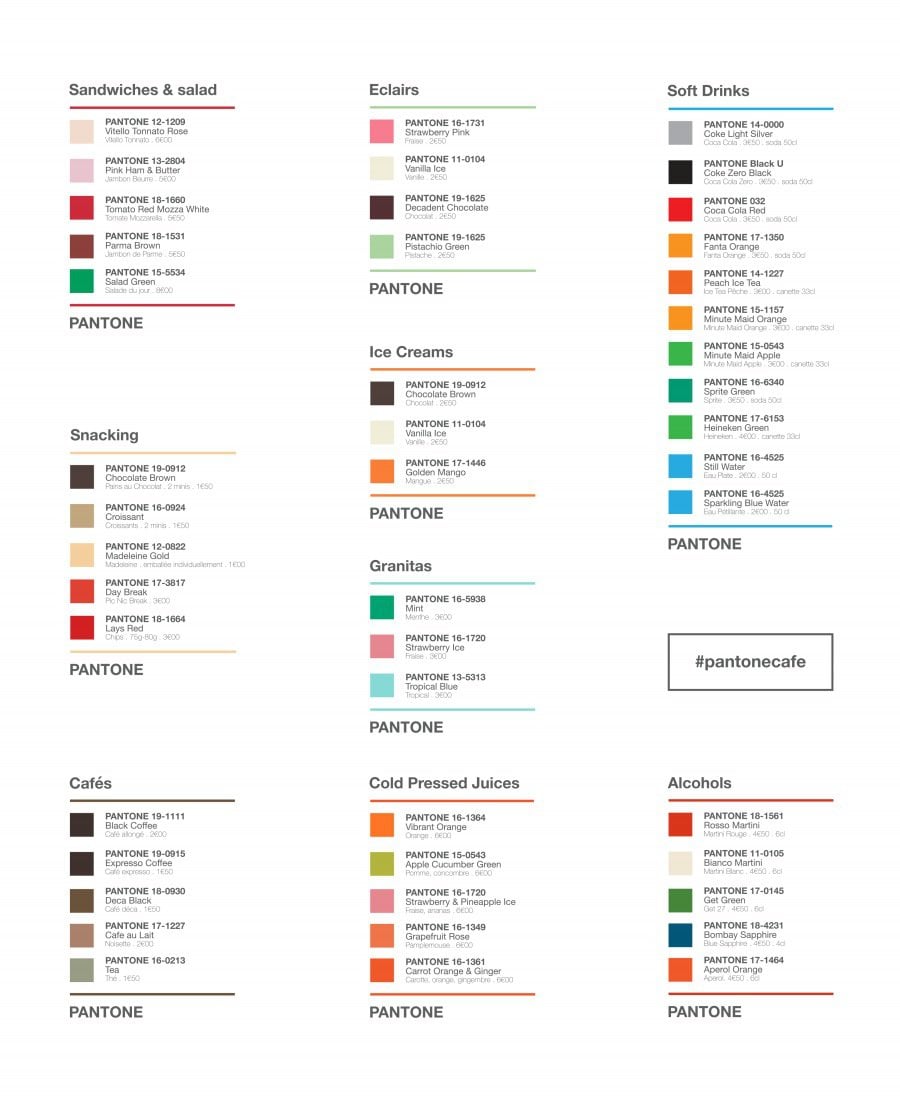 ---
Post Last Updated:
May 9th, 2014
| First Published:
April 19, 2012
| Subscribe to
Blog
with
or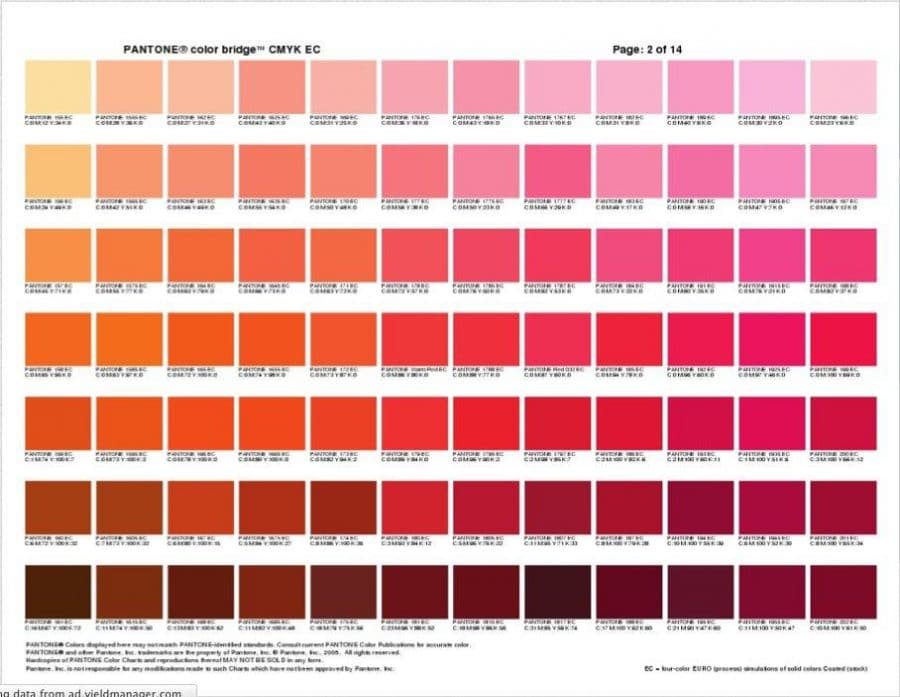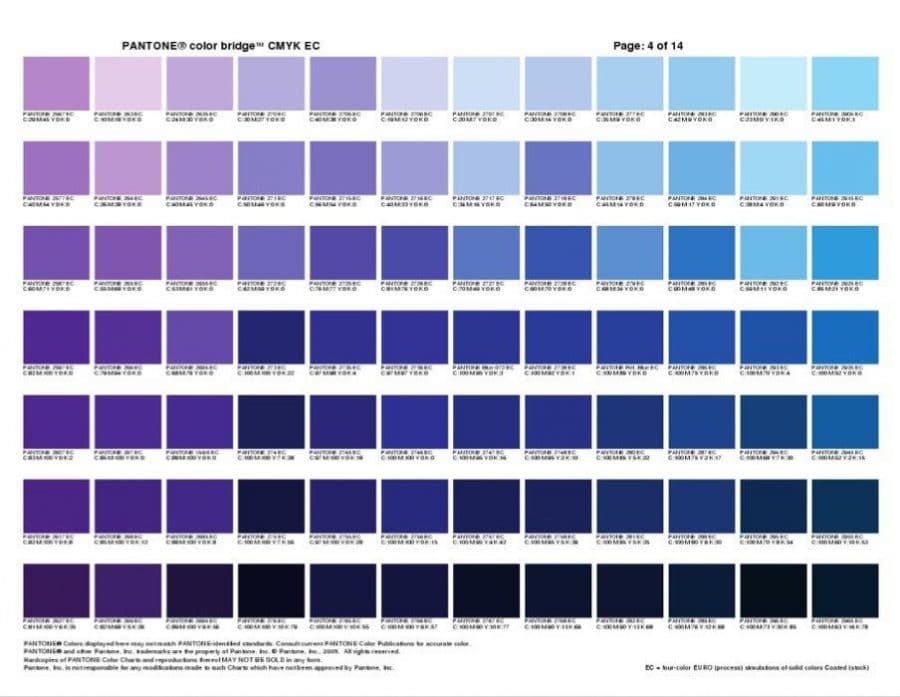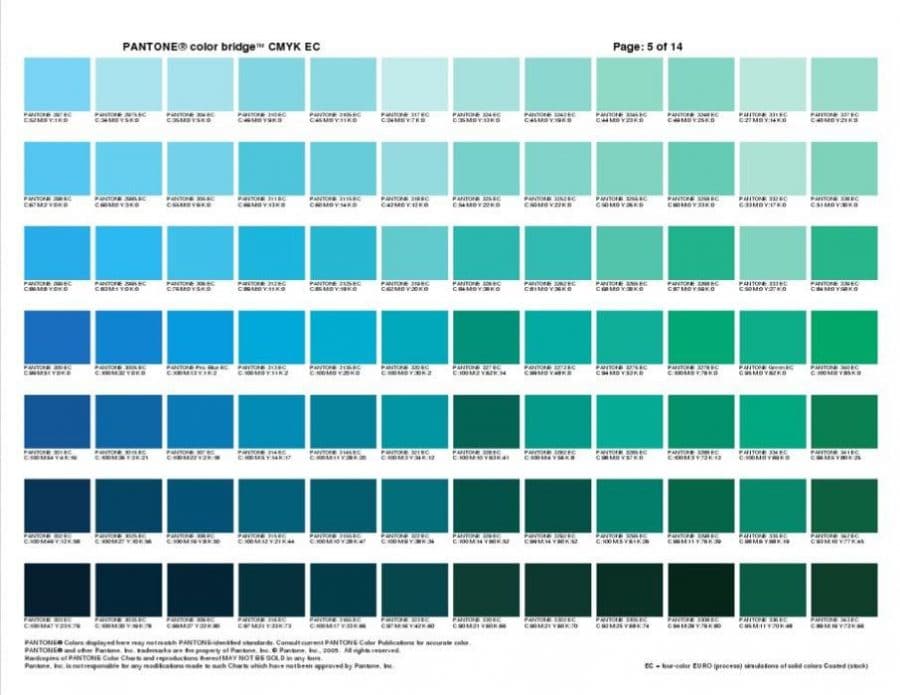 This Pantone Color Bridge document on Scribd is really very useful as an online reference for Pantone to CMYK colour conversions. I have previously written about the Pantone Color Bridge Swatch Books and how important these Pantone book are for any designer.
There are limitations with an onscreen version, namely you can't see how a specific Pantone colour actually looks printed It is useful nonetheless as a casual reference guide in searching for CMYK value breakdowns of a Pantone colour.
There is nothing like having the actual printed Pantone Bridge swatch book to  hand. They are incredibly valuable when it comes to finding and specifying colours for a logo design. No one likes guess work with something as crucial as colour for a brand identity. Bonus feature with the Pantone Color Bridge books: you get the RGB and HTML conversion values along with CMYK.
Buying yourself a Pantone Color Bridge book is a solid tip from me, and nearly ranks along with: The Best Logo Design Advice I Can Give
K Found on Scribd
http://www.scribd.com/doc/33104/Pantoner-Color-BridgeTm-Cmyk-Ec
---
Post Last Updated:
May 9th, 2014
| First Published:
April 16, 2012
| Subscribe to
Blog
with
or
May I first suggest you reduce these to around 5mm in width then marvel at how extraordinarily accurate these Pantone Swatch Albums are by David Marsh. There are many more examples over on David's website.
I was loading up the images in WordPress (see below) when I saw the tiny tiny thumbnails. Pretty damn incredible.
David explains to DesignBoom: "The purpose of this series is my own exploration and development along with the  satisfaction I have when I complete an image I like to experiment with image creation and will stumble onto a technique and develop that and then archive it and resurrect it when I have a  purpose for it. I will develop this idea into various new directions, the next being actually painting some of the covers that work best, hopefully on a very large scale or using collage to create the image. the options are endless and that excites me."
K Found on DesignBoom
---
Post Last Updated:
January 31st, 2012
| First Published:
January 31, 2012
| Subscribe to
Blog
with
or
Could this ongoing and seemingly relentless Pantone-ify (term nabbed from ColorCubed) of consumer products possibly make the Pantone name bor-ing in the not-to-distant-future? Or, if not bor-ing, then a fate worse than that in the guise of  cliché-rism of the Pantone name?
I, for one, feel I am thinking way too hard about this so just going to enjoy these lovely Pantone Universe placemats for what they are.
K Found on NotCot
---
Post Last Updated:
October 9th, 2015
| First Published:
January 27, 2012
| Subscribe to
Blog
with
or
RGB Superhero Posters by Gidi Vigo
Pantone Superhero Posters by Gidi Vigo—which you can view more over on Artflakes—Nine posters for nine superheroes.
One of those annoyingly simple, and quite possibly useless ideas, that still somehow peeks ones curiosity just because it involves Pantone, and Superheros. I mean, what could go wrong?
Why didn't I think of?
You can purchase these posters over at Artflakes, and I honestly think they'd look pretty fine all framed up and hooked up onto my studio wall.
There is also a new poster project by Gidi, called: 40 Pantone Superhero and Villains Color Swatch Poster
---
Post Last Updated:
May 9th, 2014
| First Published:
December 21, 2011
| Subscribe to
Blog
with
or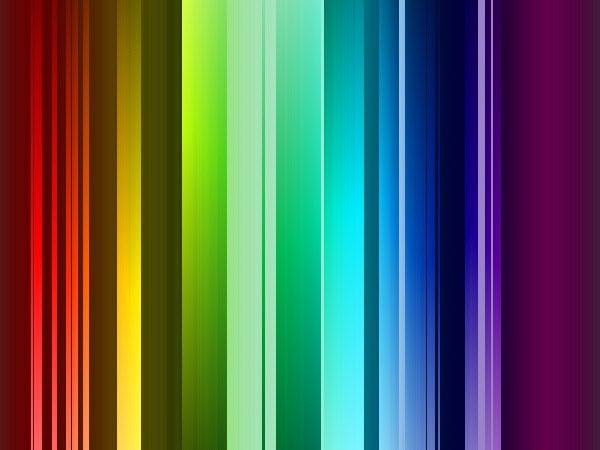 [AQFG] - A Question For Graham
Gav Cooper asked me about colours and how one should approach it given the various options open to us when designing a logo.
---
There are a myriad of colour systems such as: Pantone, CMYK, RGB, HEX as well as trying to work out which system you need for each project. The management of colour is a huge, and often times complex, business to get your head around. I spent over 20 years of my working life working in commercial print and prepress reprographic departments trying to ensure accurate colour reproduction. Even with all this experience I still get caught out.
I can't possibly answer cover everything to do with colour, but I can tackle the specific question that Gavin asked about managing Pantone, CMYK and RGB breakdowns for logo and brand identity projects.
I will also keep this brief and to-the-point, but on the understanding that my answer is just one method to keep things relatively controllable, and your sanity intact. I will also not assume that we all have the knowledge, practical experience and resources to ensure that our equipment is expertly calibrated with each client and printer we might deal with.
A Typical Scenario
So let's assume we have a logo and identity project where we are having to design stationery that will be commercially printed as well as well as for screen. Let's also say that the client has been tempted with using a Pantone colour plus black for print applications which makes it mostly a 2 colour job. We also know that the client needs the Pantone colour to be able to convert, as reasonably as possible, to CMYK as well as the Pantone looking good on the website.
Some people would argue that having to make sure a Pantone colour can convert to CMYK is pretty much pointless. Surely we use Pantone colours for the large selection of hue's that cannot be achieved through CMYK? That is true for sure, but we can also use Pantone to ensure consistency of ink application, and appearance, from printer to printer.
When we are printing CMYK, and we have a large area of a recurring solid colour, the results can vary a great deal from printer-to-printer due to any number of circumstances. So one of the questions that needs to be asked: is consistency of colour just as important as a distinguishable colour for the brand identity? I would say this is a yes for most people, and if it isn't then I would question why.
Assuming we have designed the logo, and are now looking at the main brand colour to which to build the identity upon, which is a good way to find the best colour? You may have a kind of colour in mind so it now just comes down to fine-tuning it.
We need a colour for the logo that is available as Pantone, that can be converted to CMYK when needed, and will also work in RGB/HMTL.
An Easy Answer
There is an easy answer to this particular situation, and that would be get yourself a copy of the Pantone Color Bridge guide. Out of all the various Pantone colour books, the Colour Bridge guide should be your go-to-guy for any print/screen colour requirements.
An Essential Guide for Designers, Pre-press and Printers
Bridge solid PANTONE Colours for process printing or Web design
The new PLUS SERIES COLOR BRIDGE provides process colour simulations of all solid PANTONE Colours - including the 224 new solid colours - in a convenient side-by-side comparison format, on coated stock
An invaluable multi-use colour reference tool, the COLOR BRIDGE can be used to select and specify solid PANTONE Colours, to determine how a PANTONE Colour will appear when reproduced in CMYK, or to create optimal display of PANTONE Colours on monitors and Web pages
HTML and sRGB values are provided, for applying colour selections across media
Includes colour index, lighting evaluation tool, digital image colour-correction tool, and design software
It's pretty cool because not only does it list Pantone colours it also shows you how each Pantone looks when converted to CMYK for process printing as well as the exact CMYK values needed, but it doesn't stop there as you also get the colour values for RGB and HTML.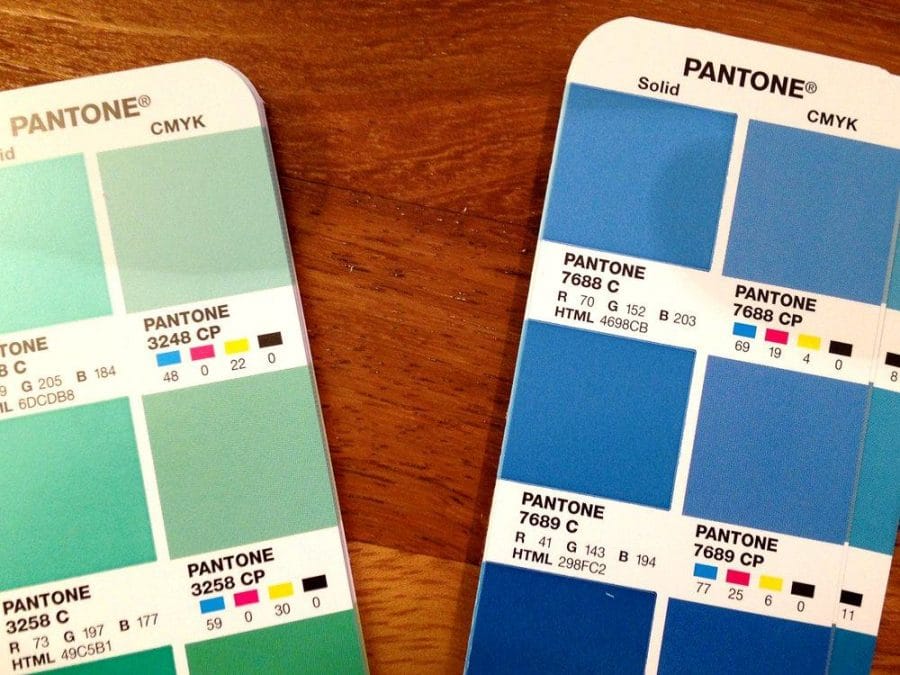 With this book you are able to accurately, and confidently, determine which Pantone colour can be used that will degrade nicely to CMYK. This will ensure that whatever print process your client needs they should have the tools in place to ensure output is consistent as possible. You are then also provided with RGB/HTML colour values that will allow you to create screen only versions of your precious logo design, and in the process know that you have built in a solid level of consistency.
We will rarely have complete control: each monitor will display slightly differently as well as not being able to control the lighting environment which all contribute to colours being discerned differently.
What we can do, and provide out client with, is a level of predictability and consistency we can feel good about.
I used the Pantone Colour Bridge book in a recent project for Abacus Insurance. I knew the client needed a nice green for the logo design which would appear on: the website; various external building sign gage solution; and printed materials like stationery and brochures. Given this wide selection of needs we had to ensure the green we used was of a hue that would work well as a Pantone colour as well as converted to CMYK for cheaper process printing.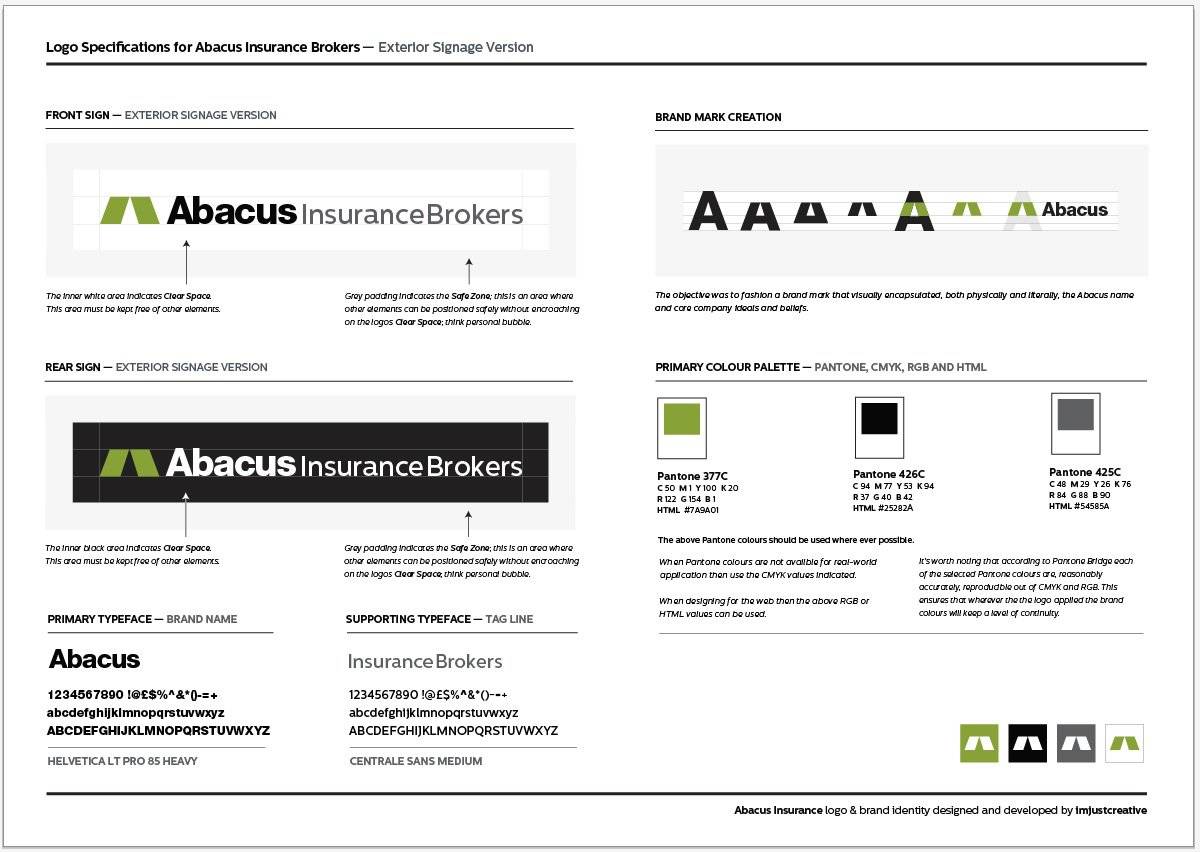 An Example
As you can see from the logo specification sheet for the Abacus logo exterior signage we settled on Pantone 377C. This was damn close to the green we had envisaged from the start, but also gave us a much needed sense of control with ultimate flexibility. You can see from the photo that Pantone 377 converts quite nicely to process CMYK.
I then created a two colour version of the logo, a process colour version, RGB and HTML versions. With each version I had this lovely sense of confidence knowing how the logo "should" look regardless of the colour system used.
There are many many Pantone colours that just look plain awful when converted to process CMYK, so the Colour Bridge book will help you work out which system you can afford to work with, or ignore. You might only need to worry about printing with Pantone, and not process CMYK, in which case you have a much healthier selection to choose from whilst still having an accurate idea of how the colour needs to be specced for RGB and HTML.
I can't stress enough the confidence this book will give you when next having to choose such an important single colour for your next logo job. To be able to choose any colour, and confidently know how it will work and look across various platforms is too good to pass-up.
As with all Pantone color books they are not cheap. Expect to pay around £110 or so for the Pantone Color Bridge Coated edition, or around £190 for the Coated and Uncoated versions.
I got my Pantone Color Bridge from the London Graphic Centre which is where I buy most of my Pantone colour stuff.
Intro image via PSD Tuts
---
Post Last Updated:
May 9th, 2014
| First Published:
May 11, 2010
| Subscribe to
Blog
with
or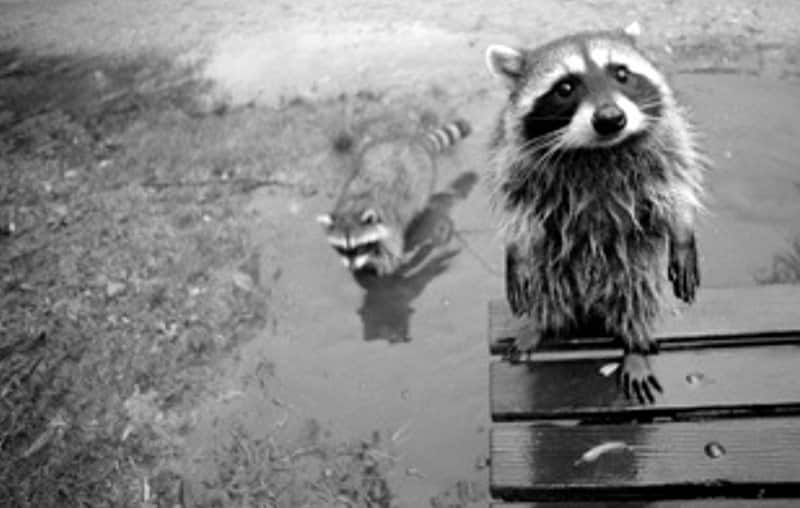 Here is a practical and handy list of the best logo design tips and advice as well as thoughts and observations, collected over my 25 years working in graphic design, print and advertising. They have served me well, I hope they work for you as well.
Disclaimer
*See note at end of list.

The essential list of logo design tips and advice
Always use default system for your typeface choices. For example : Arial and Times. Bonus points if you use Times for the logotype and Arial for the tag-line.
Feel proud when using the most obvious and cliché visual associations because no one likes a hard logo to decipher.
Put your new client logo project on 99Designs because you haven't got time to design it yourself.
Put your new client logo project on 99Designs because you don't like designing logos.
Copy one of your clients competitors logo in the hope they don't notice.
Don't ask the client for a brief because you don't know what to ask.
You set up a online quote form using Google Doc's to streamline your logo design business. That's just how you roll. However, you forget to specify a notification email address when potential clients fill in the form. Three weeks later you wonder why no new work is coming in. Three weeks later you lose 10 clients.
The client requests a 'cutting edge' logo. You design a logo that says 'Cutting Edge'... with the top edges cut off the letters because you are so damn original. The company is called Diamond Consultants.
Use Microsoft Powerpoint to design your logos. It makes sense. You can then use Powerpoint to present these ideas to the client. Great time saving tip.
Don't research the clients competition because you have a great idea for a logo but don't want to be upset if you see it's already being used. What you don't know won't hurt you. Anyway, seemed to work for Nike.
What happens if a client doesn't like your logo design? No problem. Name and shame them on Twitter, that should even things up nicely.
Copy your clients competitors tag line because it seems to work for them.
Use a very 'old' logo inspiration book to see if there is a old logo you can copy.
Specifying colours for your logo? Ensure you 'only' use RGB or Index values. When you are presenting your ideas to the client on your iPad, the colours will look so pretty. CMYK is 'sooo' yesterday.
If you did get a brief, ignore it anyway as your client clearly has no idea what they are doing. You are the logo designer, ergo you know more than your client.
Recycling is so 'now', so when you design a great new logo, a design that has everyone talking, keep that dream alive. Change the colour and use the design for another client.
Research phase. If the logo doesn't show up in Google 'image search', then it just doesn't exist anywhere. You are now free to proceed with that great new original idea, mindful that your logo will not be like anything else out there.
When presenting the logo idea to your client, you have to make the logo the full width of the A4 sheet. It's the only way anyone can make out the company name.
Feel free to change your clients unique brand colour if you don't like it.
Advise your client that their company name sucks and should be changed, even though they have been around for 20 years and are hugely successful. The reason being is the name is hard for you to design a logo around, but mostly, it just sounds cack.
Ignore the clients one stipulation that their brand name remains in lowercase. It has an awkward descender in the middle of the name, and it makes the placing of the new tag line awkward for you.
You're chronically colour blind and don't care. You're new client is Pantone.
Change aspects of the brief to make it more interesting to design around.
Been informed that your logo design infringes on an existing Trademark? It's OK. You can change the colour and horizontally flip it.
You realise that many logo designs on Brandstack are mostly conceptual and not yet used in the real world. This means you can copy them for your client and get your foot in first.
Looking to save time and increase your profit margin? Buy a cheap logo on Brandstack, change the colour and add your clients name. Job done.
Your client doesn't understand that a logo design doesn't make a brand. You therefore promise your client that with your 'mad logo dezign skillz', you will turn their dull boring company into a famous and popular brand.
Your client stipulates that a new commercial font should be used for the logotype. The client even suggests possibility of creating a custom font. The client will foot the cost. You head to Dafont.
What's typography?
Company name too short for the tag-line you have just come up with? Add '.com' to the end of the company name to help you add a longer tag line. However, not helpful if they are '.co.uk'.
Post a new logo concept on Dribbble after signing an NDA.
A prestigious new logo job comes in and your logo designer is on holiday. You hear great things about 99Designs.
Fire your logo designer because you have now found 99Designs. FTW.
An Apple Mac helps you create better looking logos than a PC.
Logo design sizing advice. Need to design a small logo for a business card? Use a 13" laptop. Need to design a logo for a poster? Use a 27" iMac. Or better still, hook up your laptop to your 50" Plasma TV for really big f**k off logos.
Need some Intellectual Property advice? Well, it's tricky, depends on how intellectual you are.
Don't have time to create your own logo design portfolio? Or just don't have the talent and too ashamed to show your own work? Hey, don't sweat it. Find a logo designer whose logos you like and borrow theirs.
The client refuses to pay. Likely a result of you not fully understanding sarcasm and humour. See above.
* This list 'SHOULD NOT be taken seriously. Except 34 :)

© 2006-2016 All Rights Reserved
The Logo Smith: Logo & Brand Identity Design Studio, with 25 Years Experience,
in Cahoots with, The PR Room - Public Relations Agency: Tech, IoT & Smarthome PR Services.

Graham Smith: 10 Badgers Copse, Seaford, East Sussex, England.
Tel: +44 (0) 7816 527 462 - Email: [email protected]