All Archived Posts in Color

Pretty pleased so far on progress of these icons I'm designing for a Color Picker & Swatch application, for iOS.
There's already so many app icons, that are based on multi coloured elements, used for iOS applications such as: photography, drawing, photo editing etc, that it's quite a challenge to design something striking, and hopefully relatively different and unique.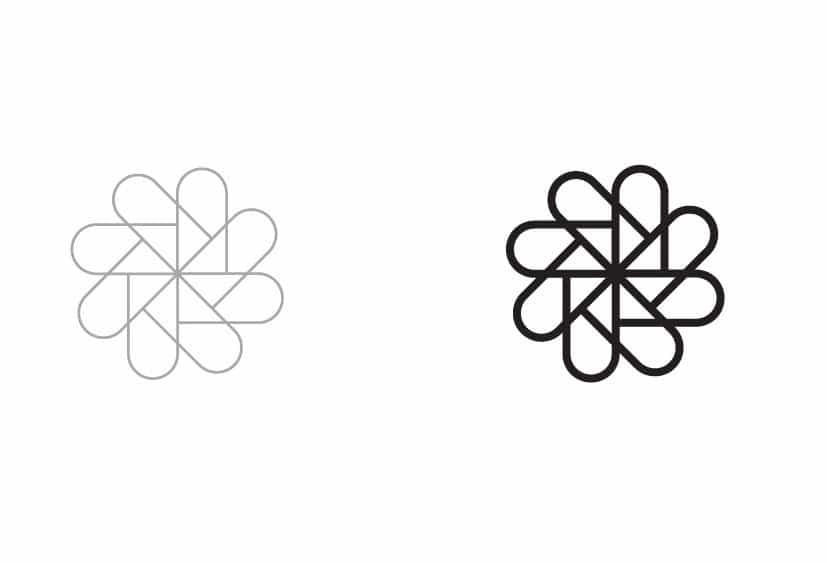 The overall theme is based on traditional coloured paper tabs, or swatches like Pantone books, but these are styled with very rounded ends.
Then the main idea was to fashion a form of 'arrow' into the ends of each swatch tab, so that it looks like a continuous movement of colour choice.
As this icon design project is in very early stages, I've so far come up with the two following variations, but I'm already leaning towards the right-hand sider version with the white arrow tips.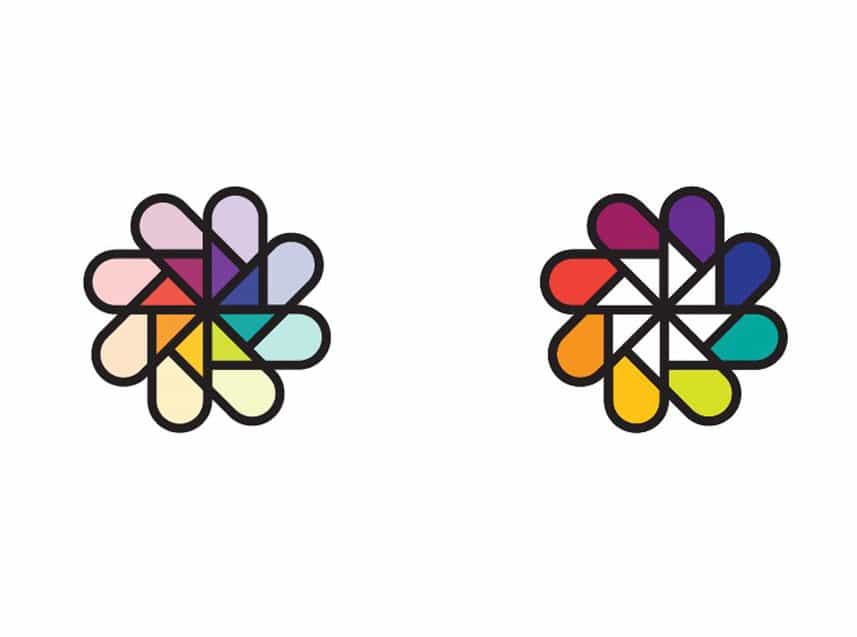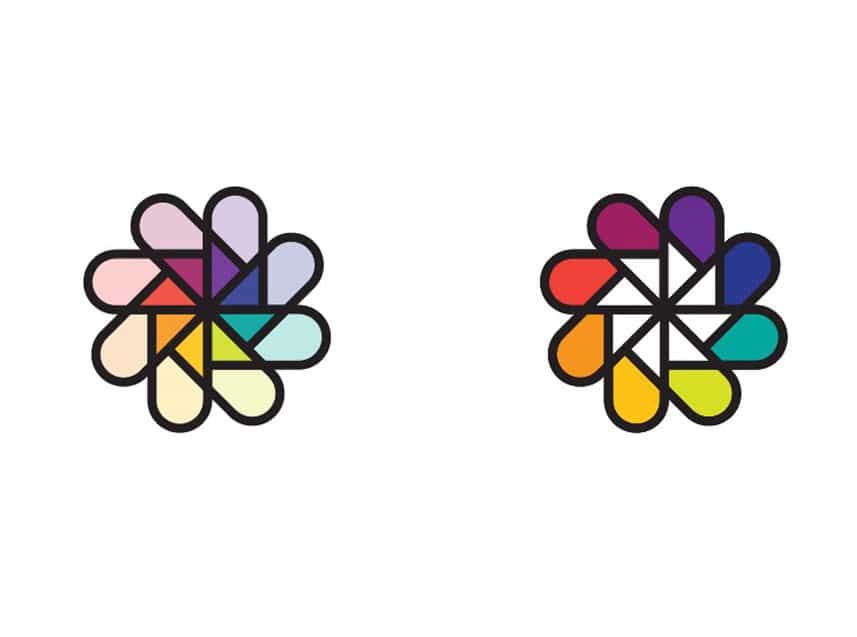 This post will be updated during the course of the project.
"Mere color unspoiled by meaning, and unallied with definite form, can speak to the soul in a thousand different ways." — Oscar Wilde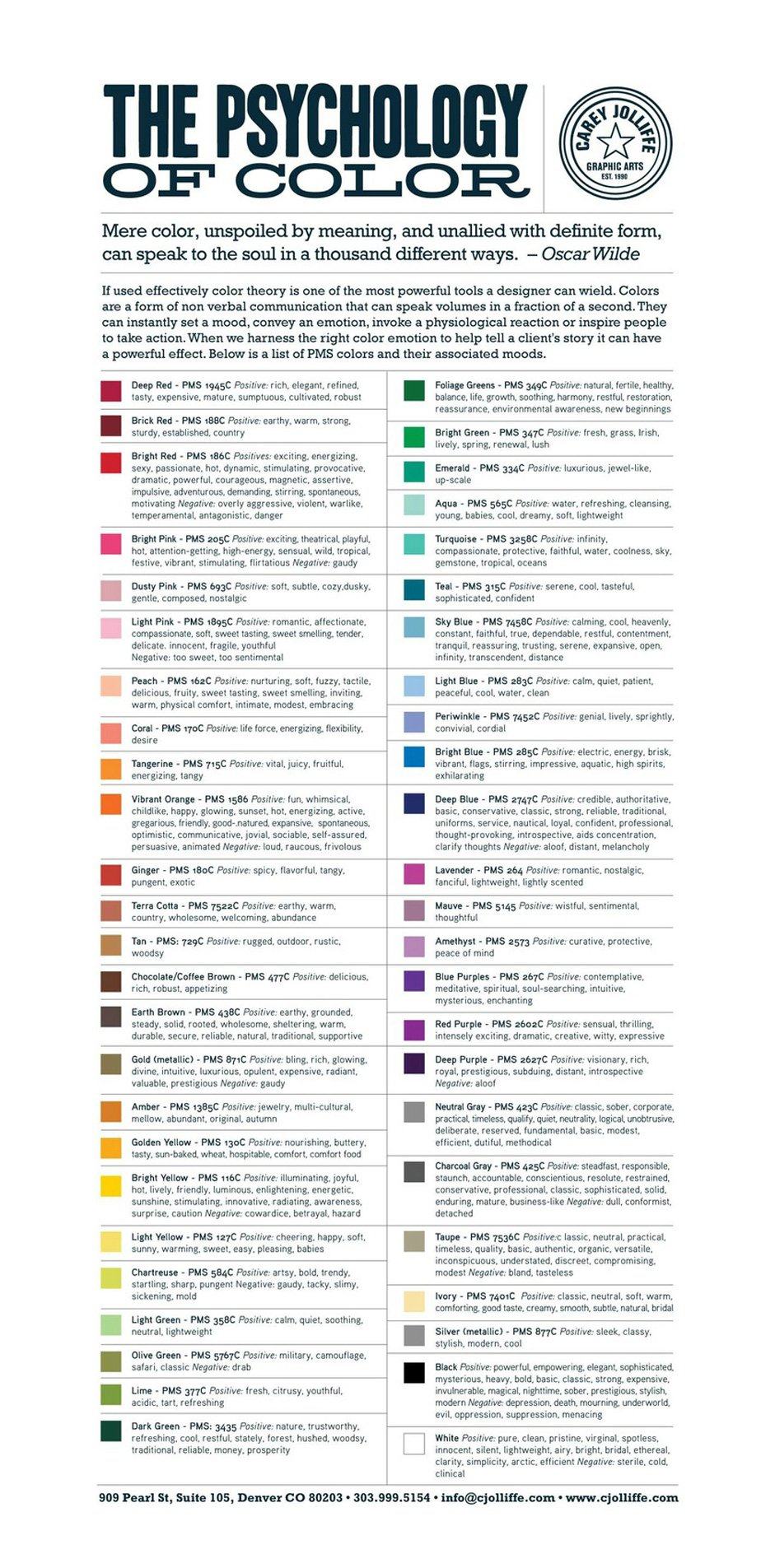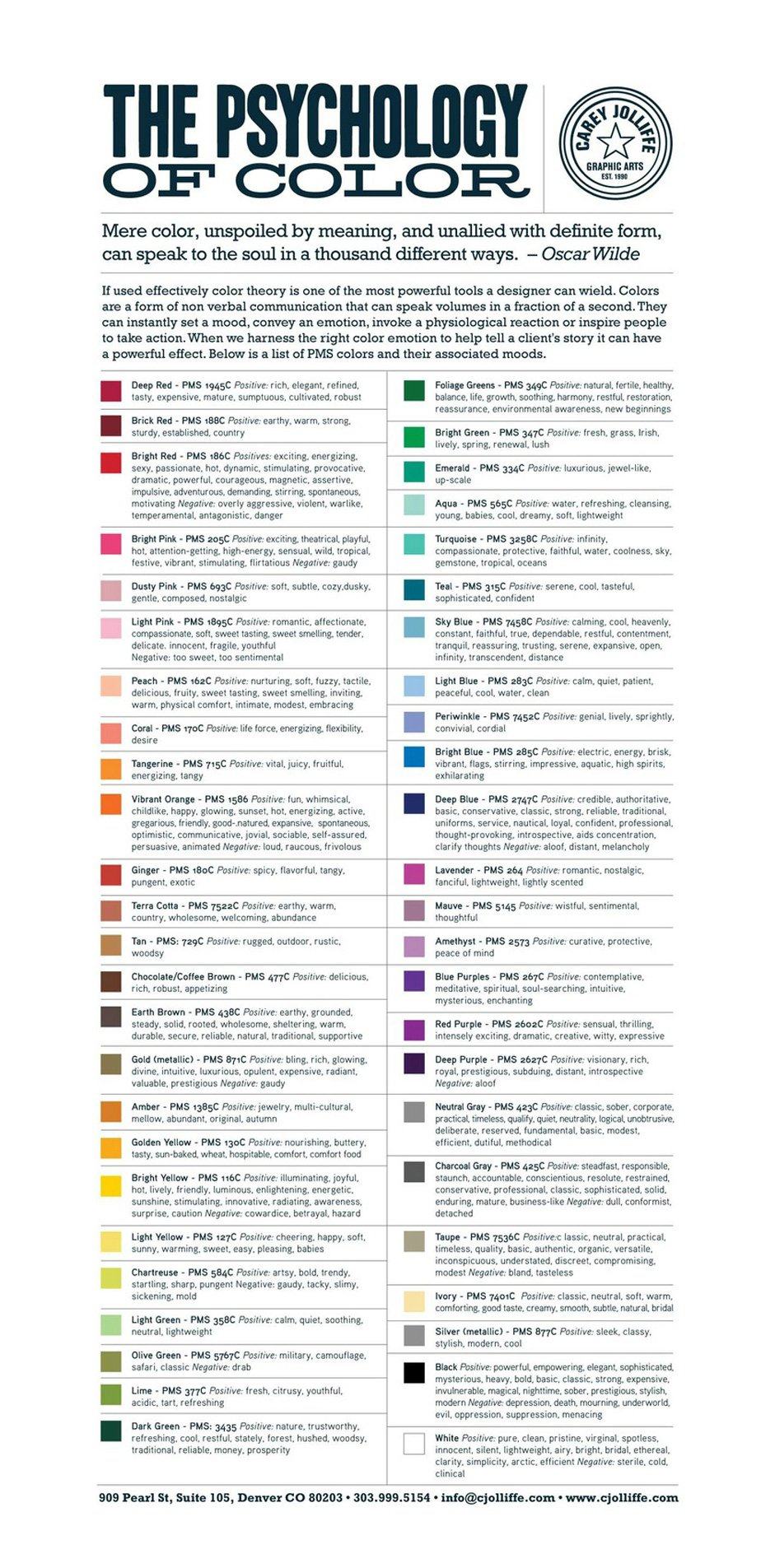 The Psychology of Color Chart and Their associated Moods in PMS Colours Designed by Carey Jolliffe
There is no doubt that the application of colour for logo design, and any other type of graphic design, is hugely important.
The wrong choice can completely ruin an otherwise great logo, and in some cases, a good colour palette can lift an otherwise 'ok' logo design.
Colour theory isn't always easy to apply, and it does involve getting deep into human emotions, if you want to be able to deliver the right message in your designs.
The following text is taken from the The Psychology of Color Chart, featured above. This color chart was designed by, Carey Jolliffe.
If used effectively, colour theory is one of the most powerful tools a graphic and logo design can wield.

Colours are a form of non-verbal communication that can speak volumes in a fraction of a second.

Colours can instantly set a mood, convey an emotion, invoked a physiological reaction, or inspire people to take action.

When we harness the colour emotion to help tell a client's story, it can have a powerful effect.

Below is a list of PMS Colours, and their associated moods.
Vintage Colour Wheels, Charts and Tables Throughout History
As a graphic designer, where colour is pretty darn important, This selection of Vintage Colour Wheels, Charts and Tables Throughout History has made me far too excitable!
The moment I found the post, and saw the featured image and post title, I clicked it straight away, and onto the website of Public Domain Review: A Project of the Open Knowledge Foundation, which is a website I'd highly recommend poking around.
You know sometimes you can visit a post and ultimately end up somewhat, or very, disappointed with the content, like the featured image and fancy headline is literally the best bit, but not so in this case.
So here's the thing for any of your commercial printing nerds (me included): many of the images featured have been sourced from Sarah Lowengard's book: The Creation of Color in Eighteenth-Century Europe – published electronically on Gutenberg-e in 2006.
Also, according to PDR, another must-have book on colour, is: Philip Ball's Bright Earth: Art and the Invention of Color (2003) for a great look at how art, chemistry, and technology have interacted through the ages.
Anywho, enjoy some of the featured images below, and remember to visit: http://publicdomainreview.org/collections/colour-wheels-charts-and-tables-through-history/
I've picked out a handful of the various colour charts, colour wheels and other forms of colour illustrations for you – not all of them as that'd spoil the surprise when you visit the original post on : Colour Wheels, Charts, and Tables Through History
My favorite has to be this one below. It's just so gorgeous, and just so very olf, not to mention trying to visualise Richard Waller painstakingly creating this colour chart, or to be precise: Tabula Colorum Physiologica (1686)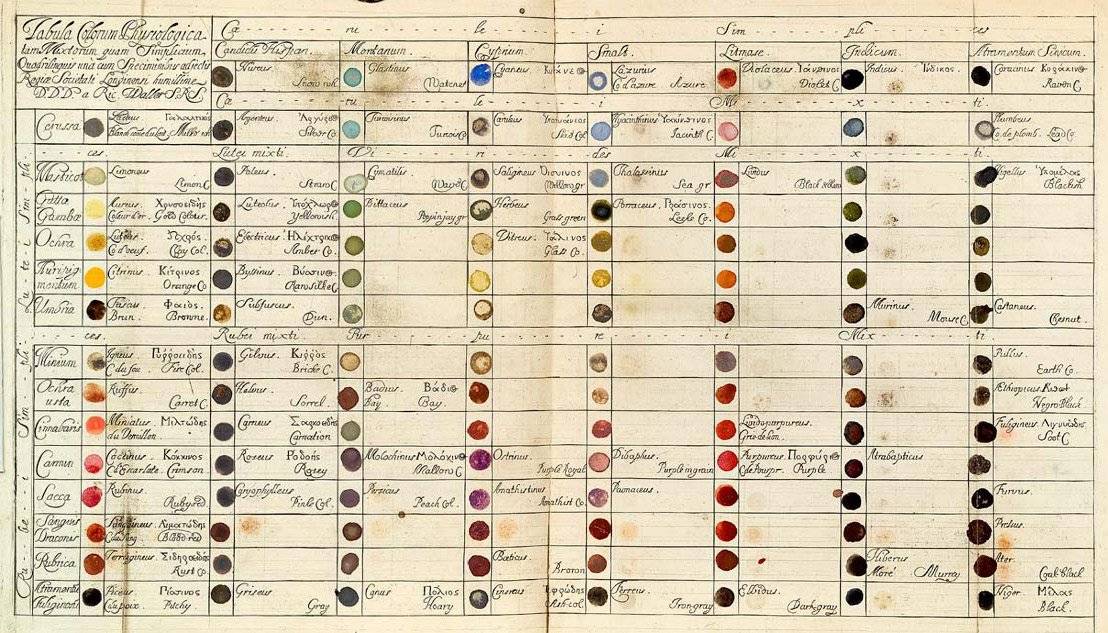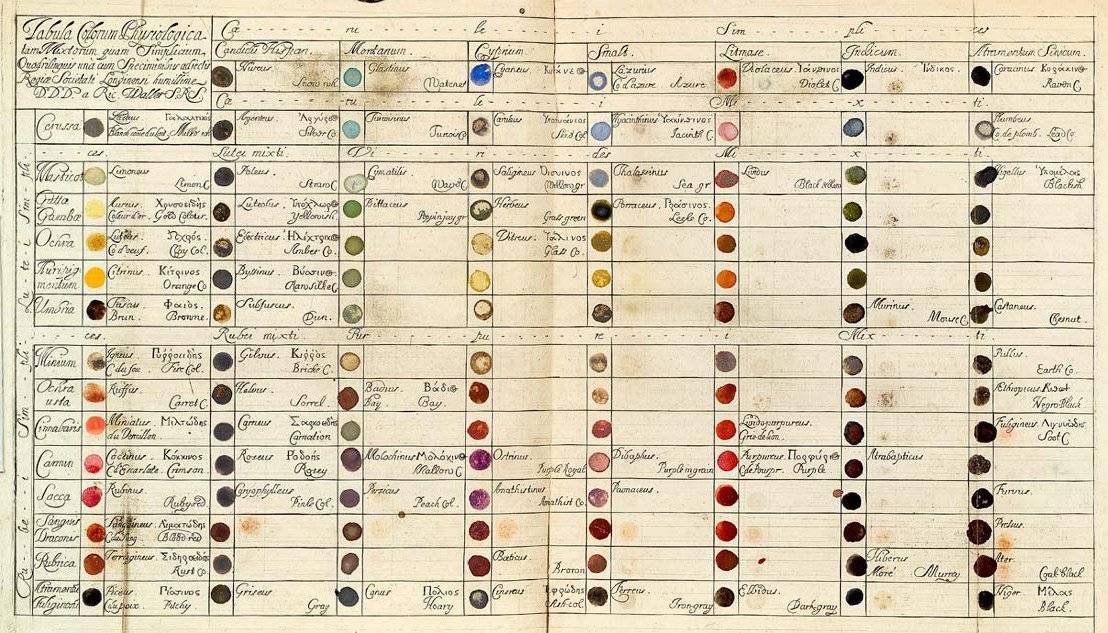 Richard Waller's "Tabula Colorum Physiologica", from "A Catalogue of Simple and Mixt Colours with a Specimen of Each Colour Prefixt Its Properties," in Philosophical Transactions of the Royal Society of London, vol. 6 for the years 1686 and 1687 (1688)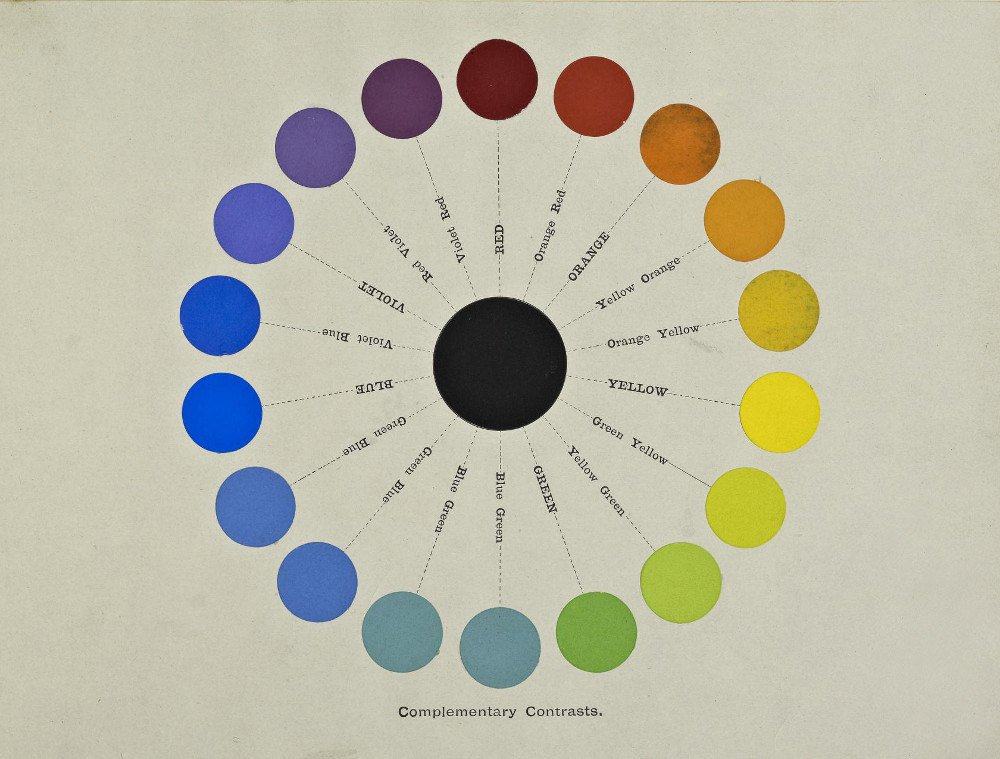 Circular chart showing "complementary contrasts" from A Class-Book of Color: including color definitions, color scaling, and the harmony of colors (1895) by Mark Maycock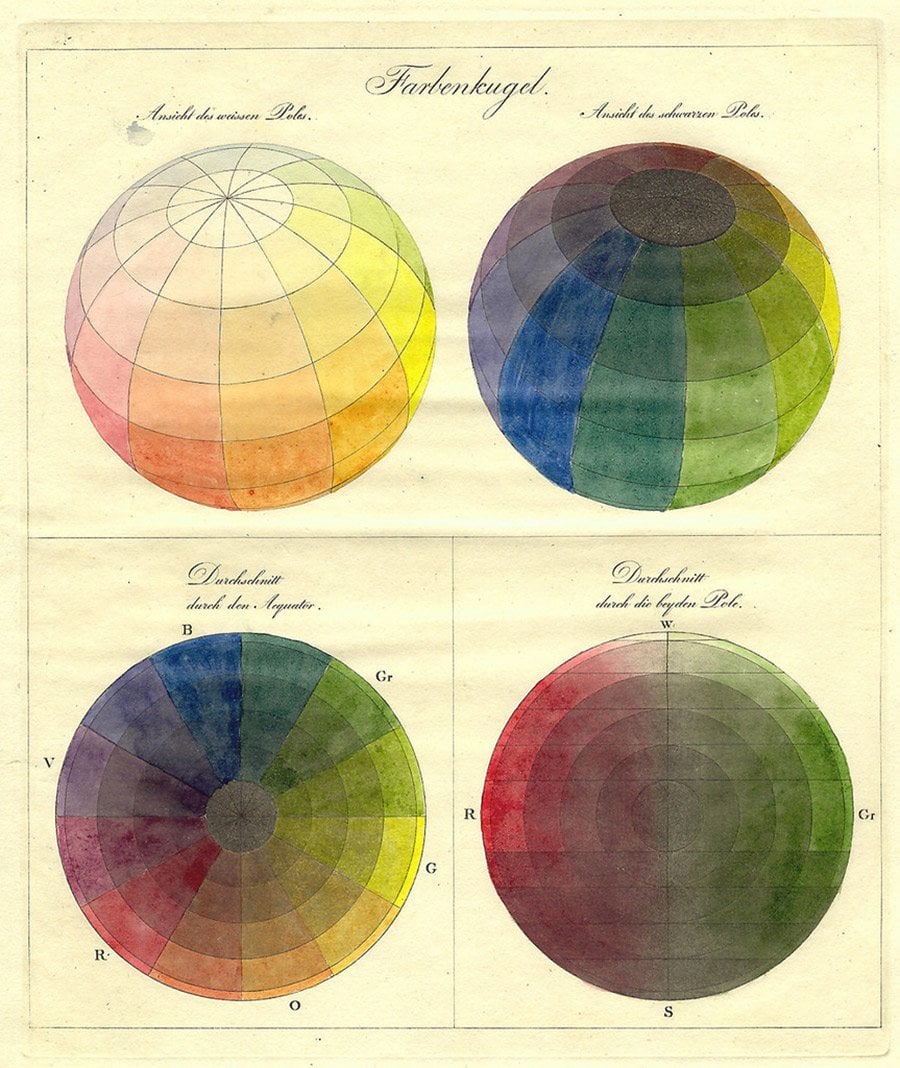 Philipp Otto Runge's Farbenkugel (1810). The top two images show the surface of the sphere, while the bottom two show horizontal and vertical cross sections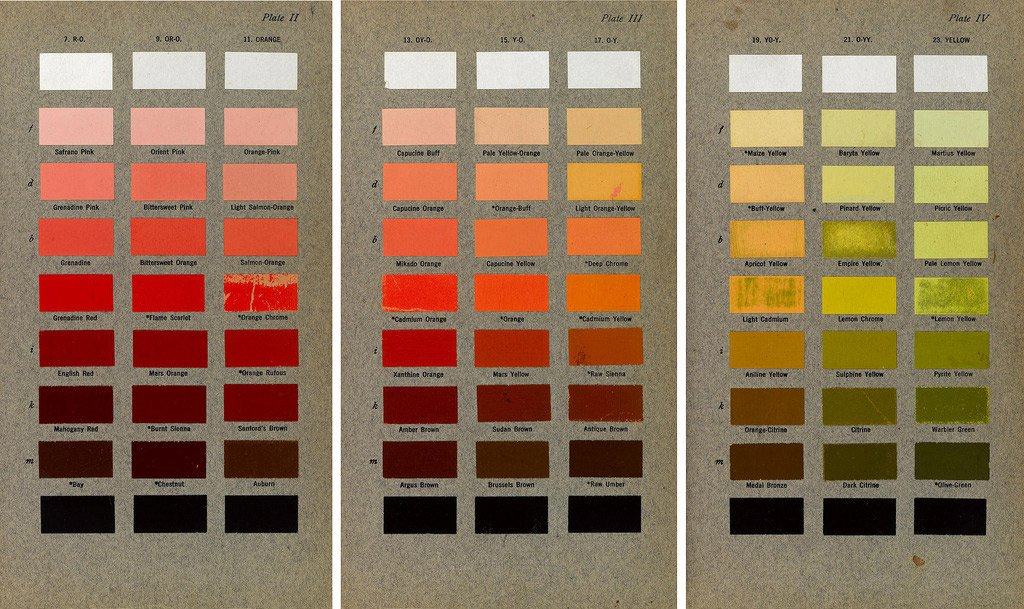 Parsons' Spectrum Color Chart, an Illustration from The Principles of Advertising Arrangement (1912) by Frank Alvah Parsons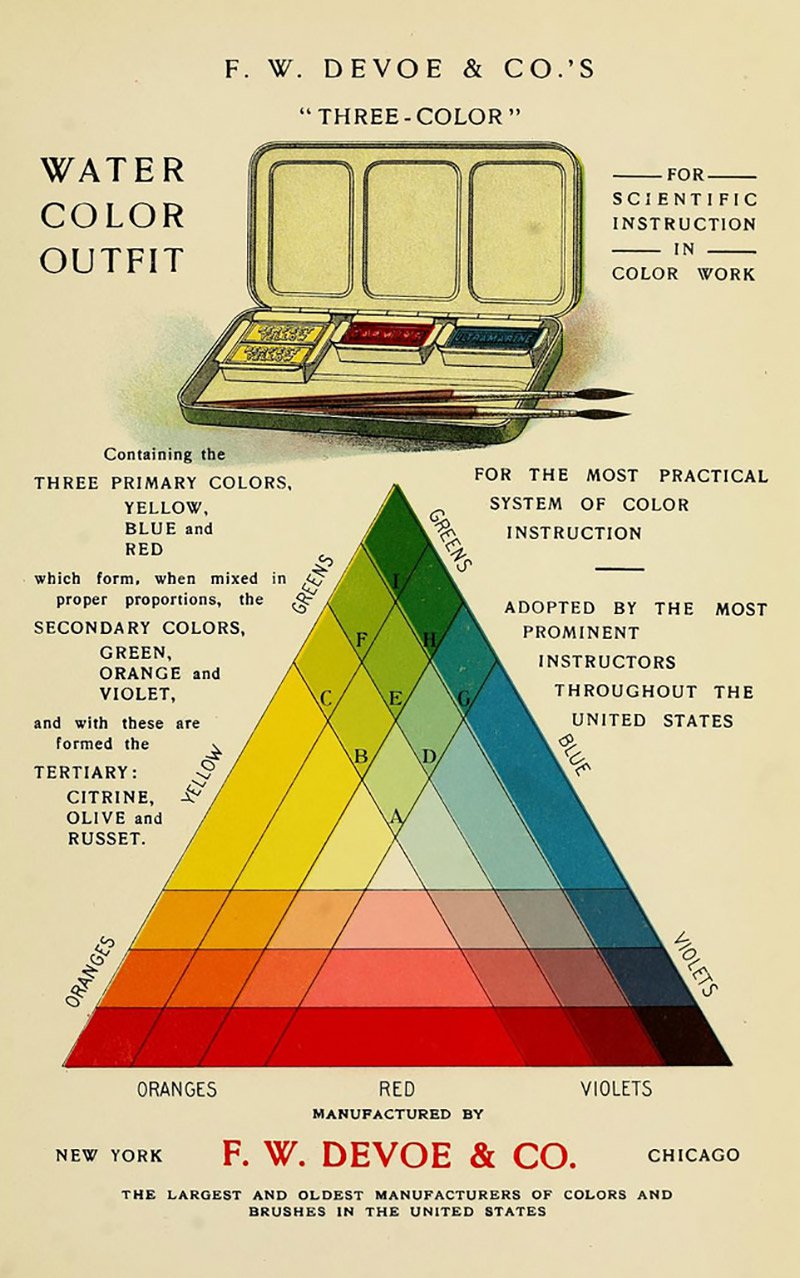 Page from Priced catalogue of artists' materials : supplies for oil painting, water color painting, china painting … and drawing materials for architects and engineers, manual training schools and colleges (1914)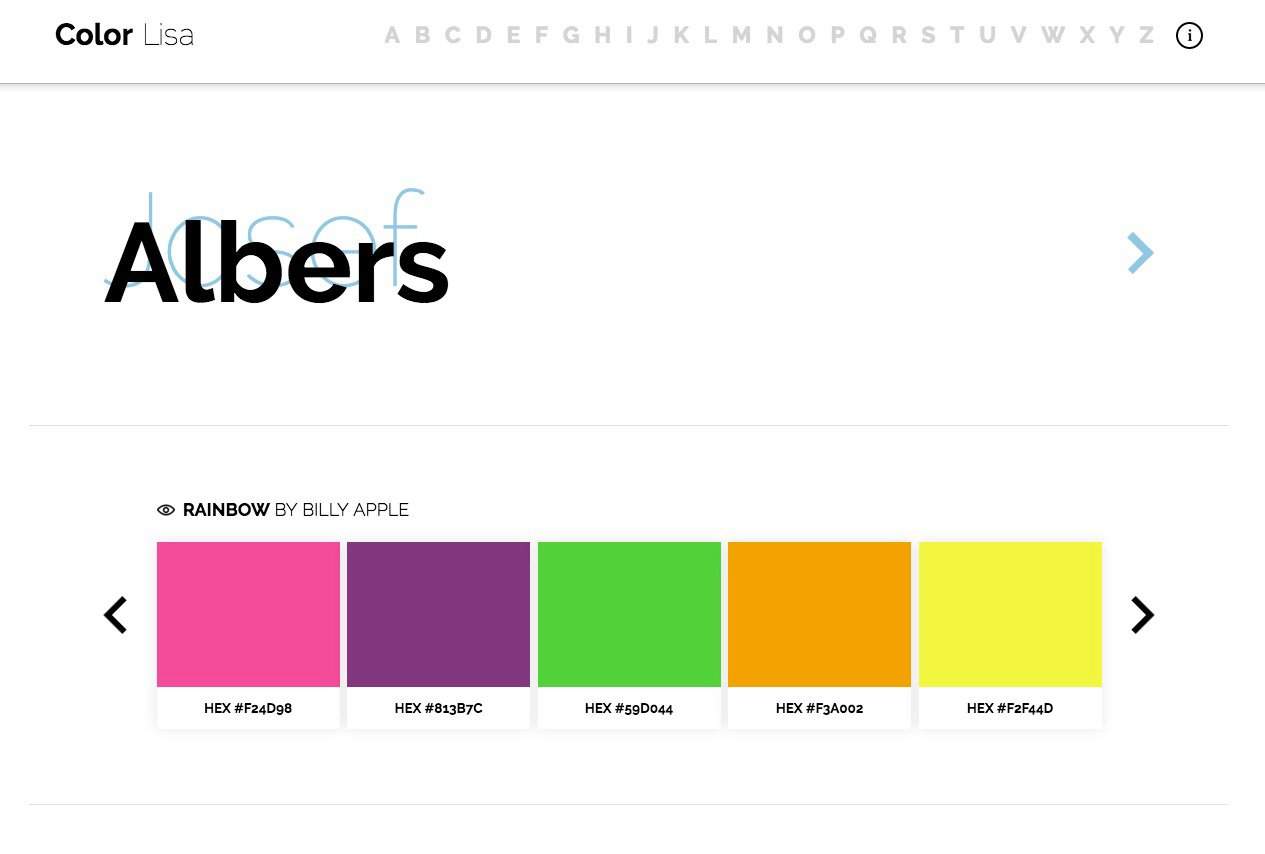 I do love poking around all the various color palettes, and colour swatch libraries currently available online.
I frequently visit such established colour palette websites as ColourLovers for inspiration for new logo design, and other graphic design projects.
Color Lisa is a tasty variation of existing color palette and swatch libraries, based on painted masterpieces of the worlds greatest artists, for us Graphic Designers.
Color Lisa was made by Ryan McGuire, who also made the free photo image website, Gratisography.com
The Color Lisa website  is simple enough to get around; there's only one long page listing the artists from A-Z. Click M in the top list of letters from A-Z, and you'll jump down to Monet, for example.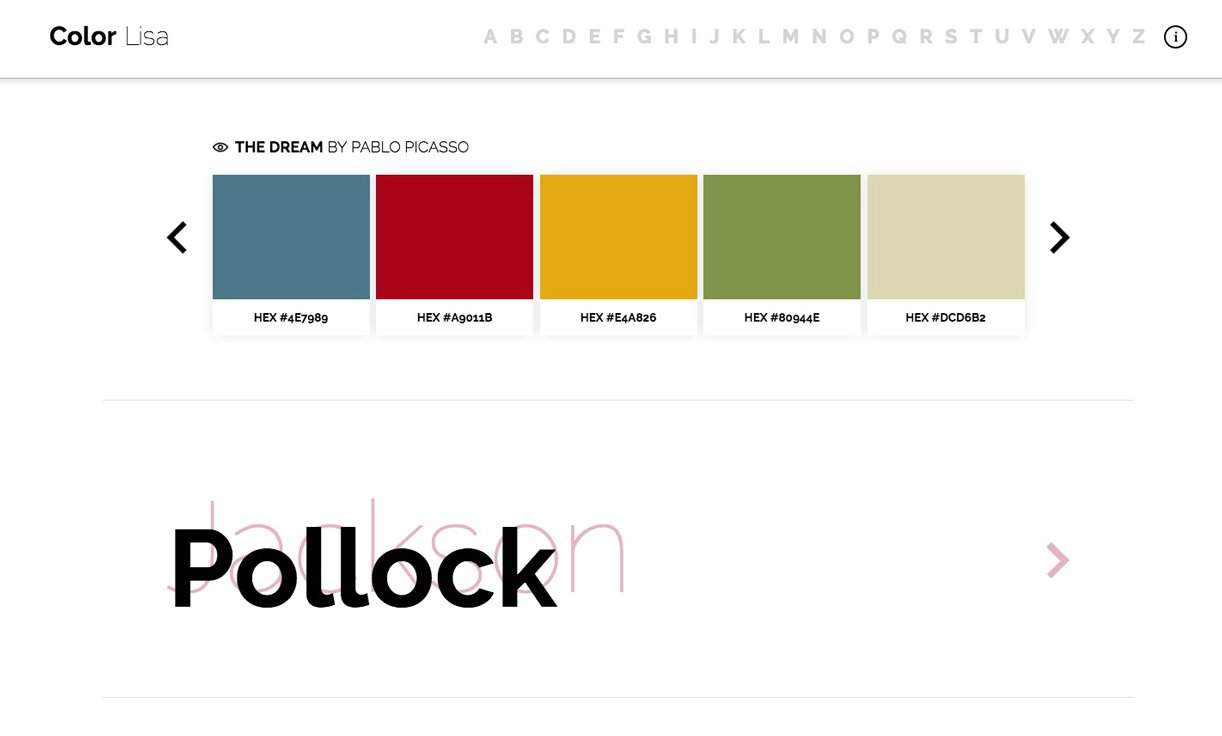 THE DREAM by Pablo Picasso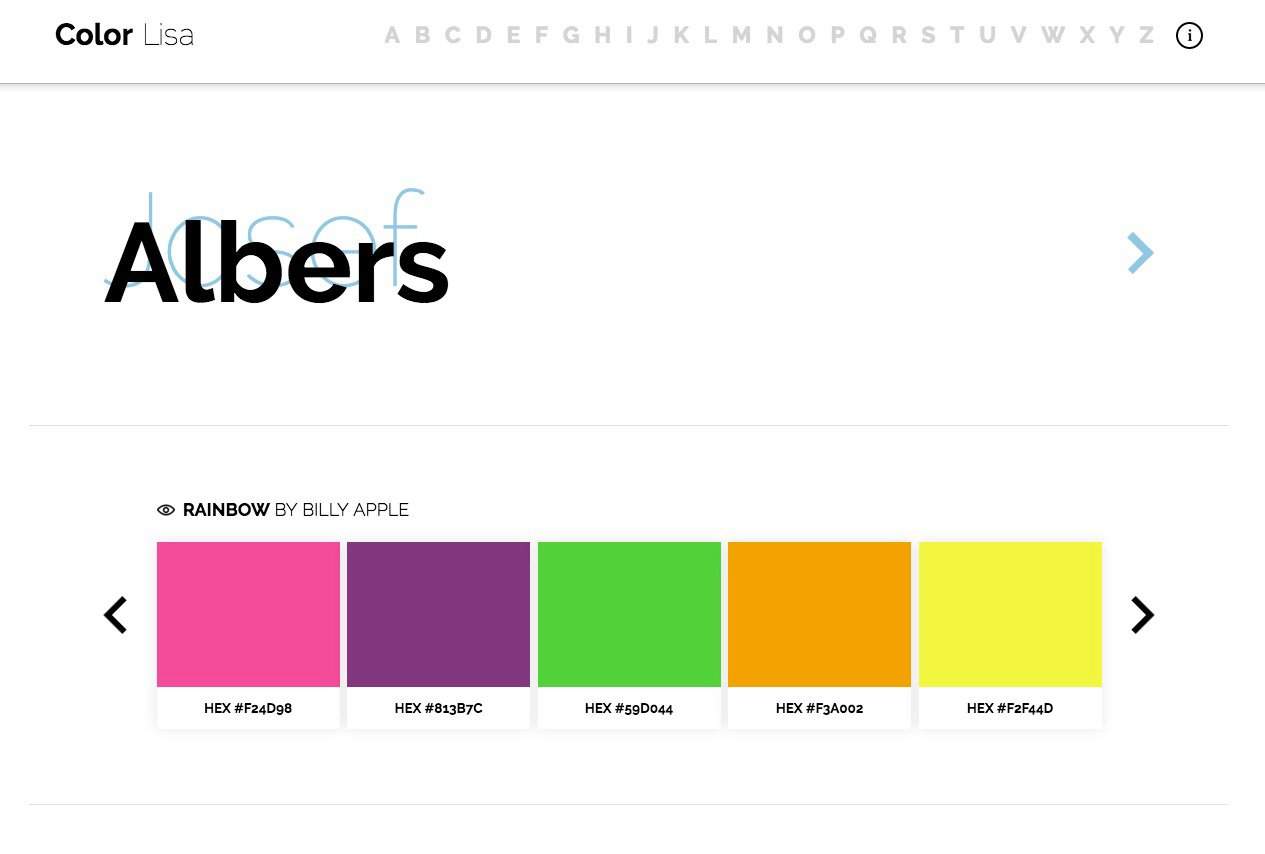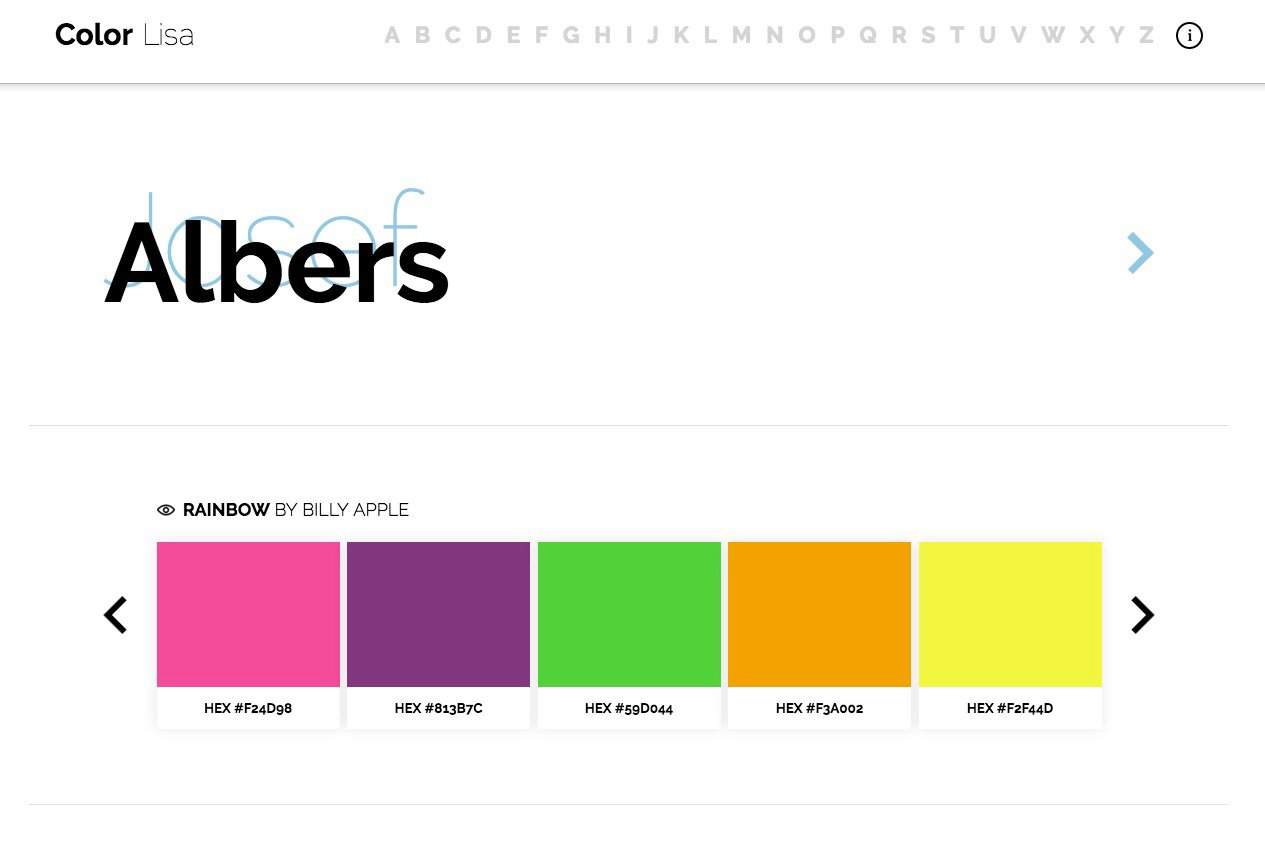 RAINBOW by Bille Apple
Color Lisa is a curated list of color palettes based on masterpieces of the worlds greatest artists. Each palette was painstakingly created by color obsessed designers, artists, museum curators, and masters of color theory. Palettes are constantly being added to help keep your designs colorful and fresh.

Color Lisa was made by Ryan McGuire, an artist, photographer, designer, and lover of color. Fun fact about Ryan: he drives a bright green (HEX #A5C955) and orange (HEX #E9AF42) 1971 VW Beetle he turned into a dinosaur. Questions, guest curator requests, and praise :) can be sent to [email protected].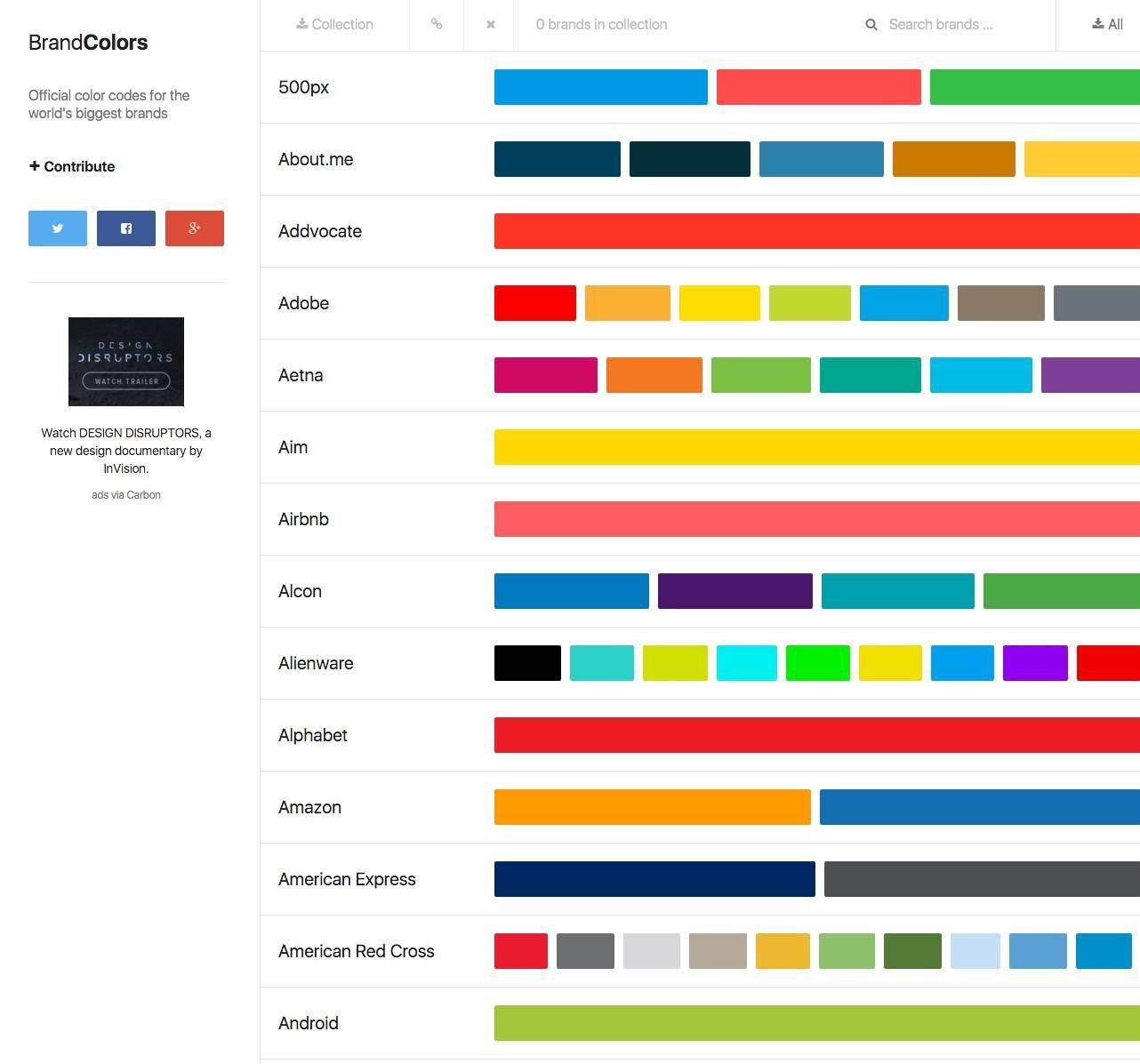 BrandColors: Official color codes for the world's biggest brands
BrandColors looks pretty, but it actually serves quite a useful and interesting purpose for any collecting color codes by curious graphic designer.
BrandColors boasts an impressive directory of major brands whilst referencing their distinctive brand colours as a tabbed colour swatch.
But that's not all.
You can add as many brands as you like to a 'Collection', which you can then export out said brand colours to various file formats, including: ASE (Adobe Swatch Exchange), CSS, Sass, LESS and finally, Stylus.
This makes using these referenced colour swatches a real breeze.
As an example, I 'collected' the color swatches of About.me and Adobe, then exported them to CSS and ASE. you can see the CSS format below opened up in Coda, and the ASE file was imported into a new swatch collection in Photoshop, also below.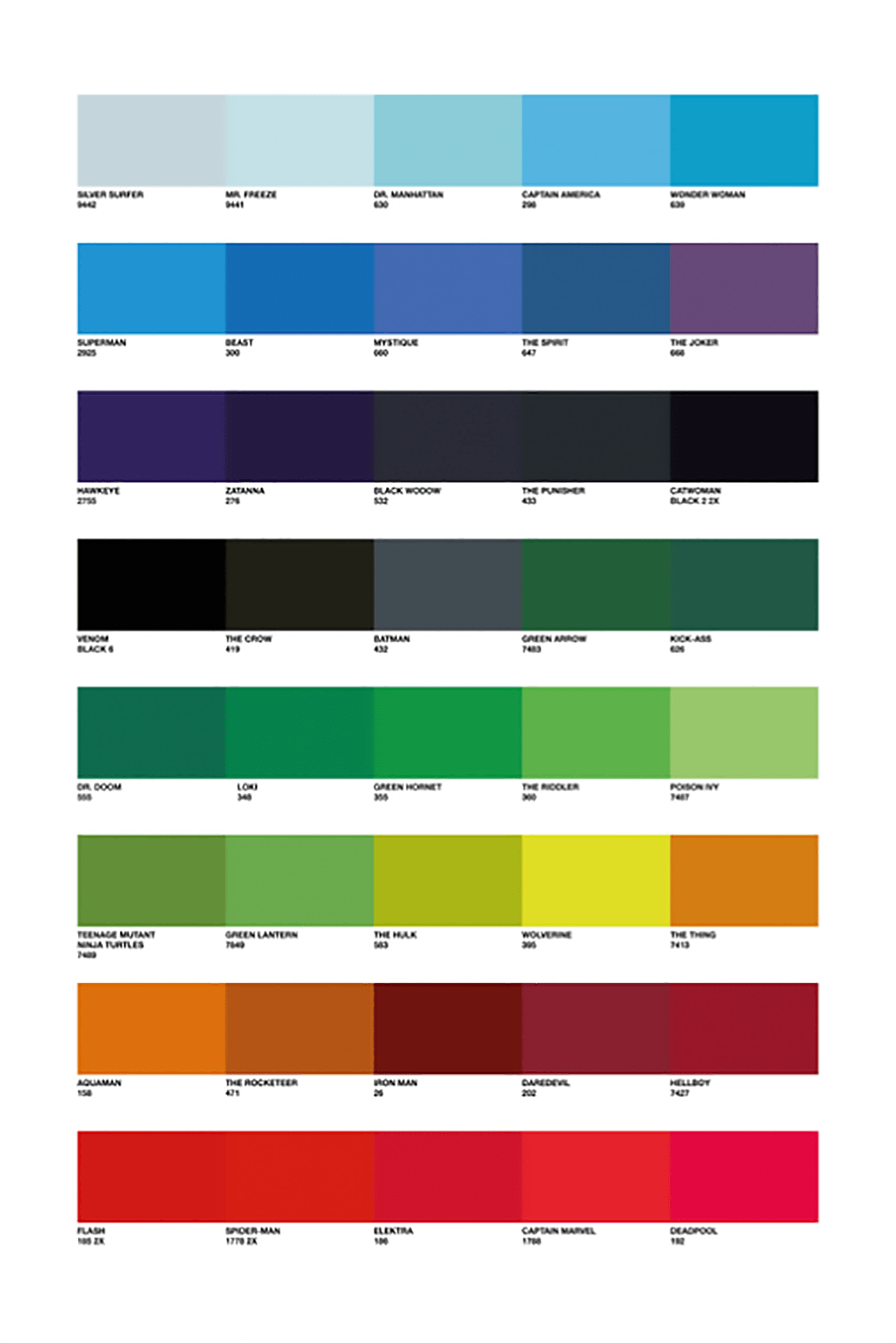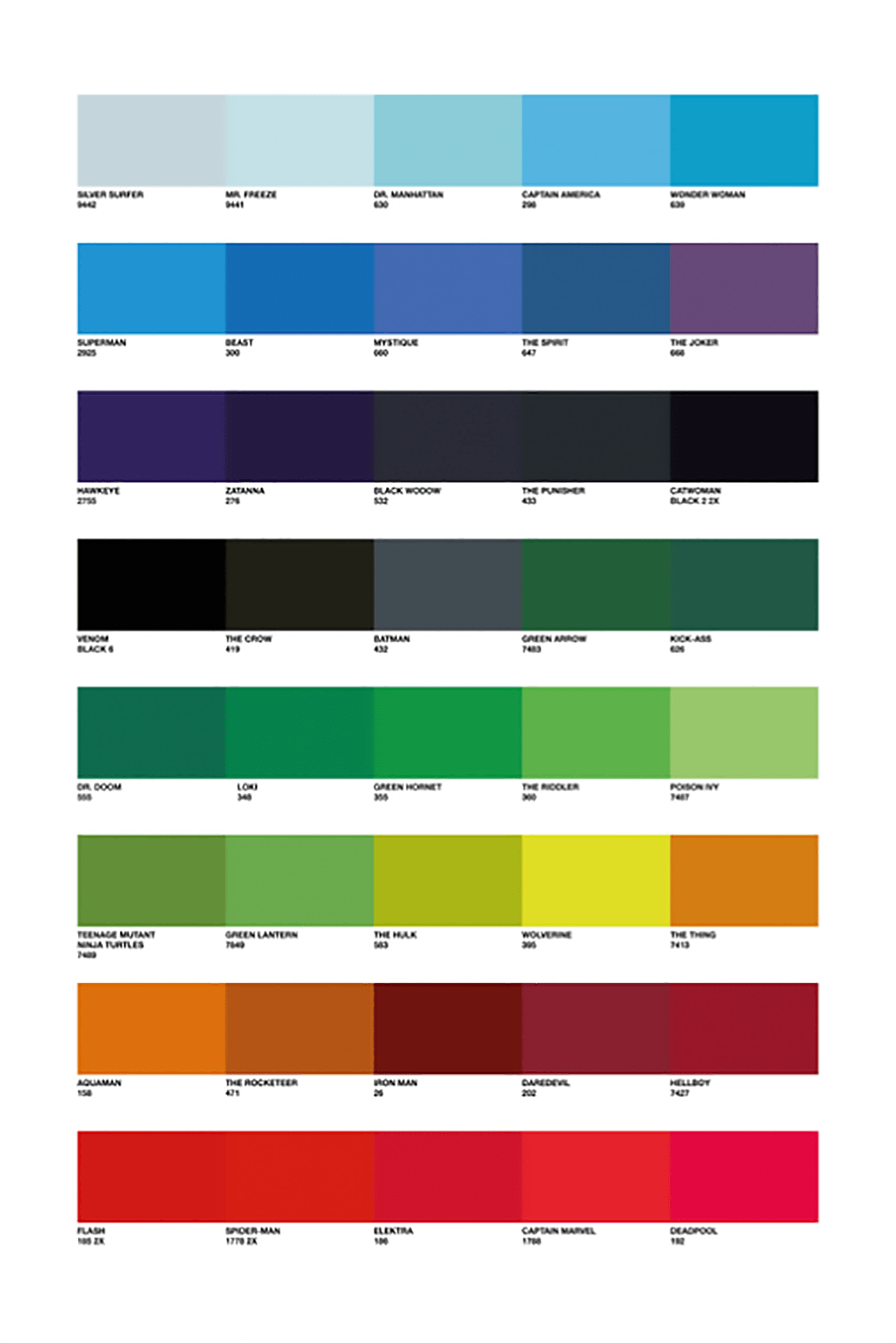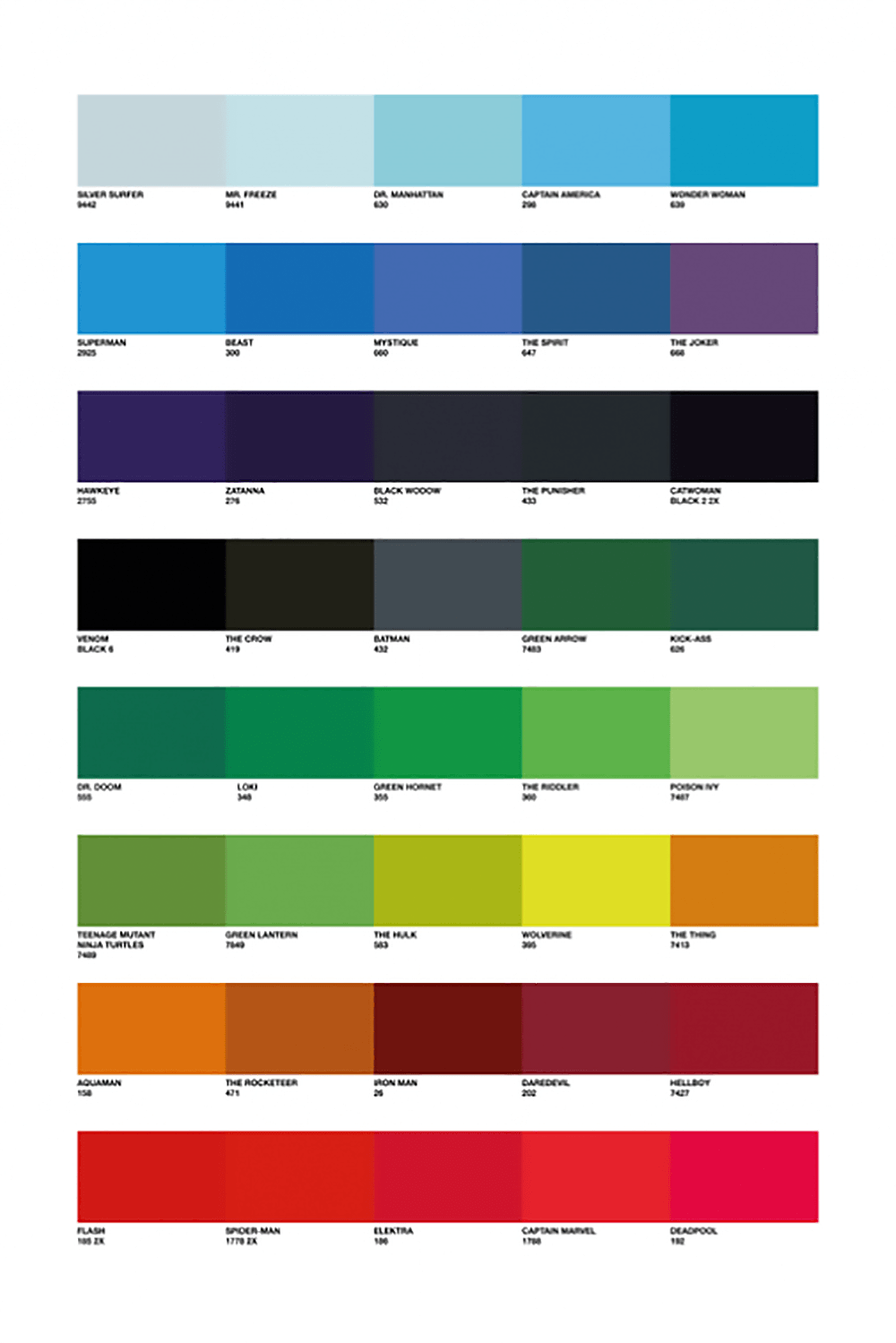 40 Pantone Superhero and Villains Color Swatch Poster
Some time ago I posted: 9 RGB Inspired Posters for Superhero's by Gidi Vigo, which was a pretty simple, but rather neat idea.
Gidi then had the idea of expanding this idea of linking Pantone colours with those representative of many more comic book superheros and villains.
So in this next poster, Gidi has created one poster with 40 individual Pantone swatches that are neatly tied in with the colours best associated with comic book superheros and villains.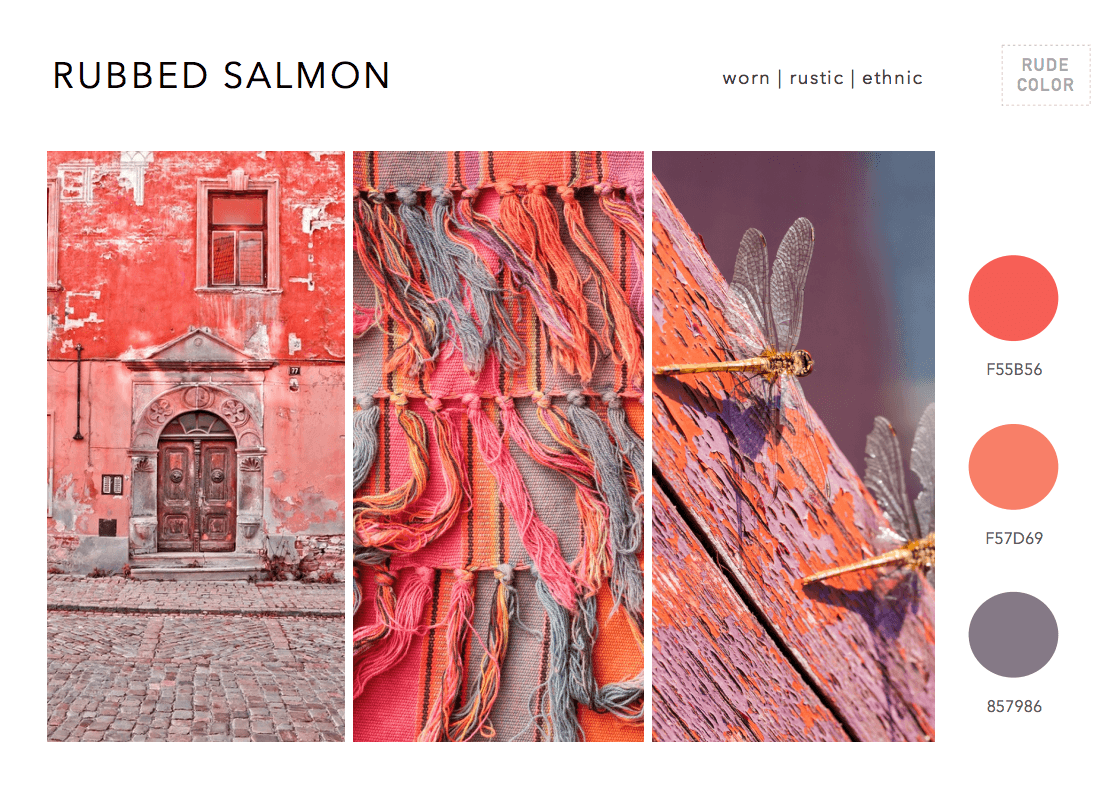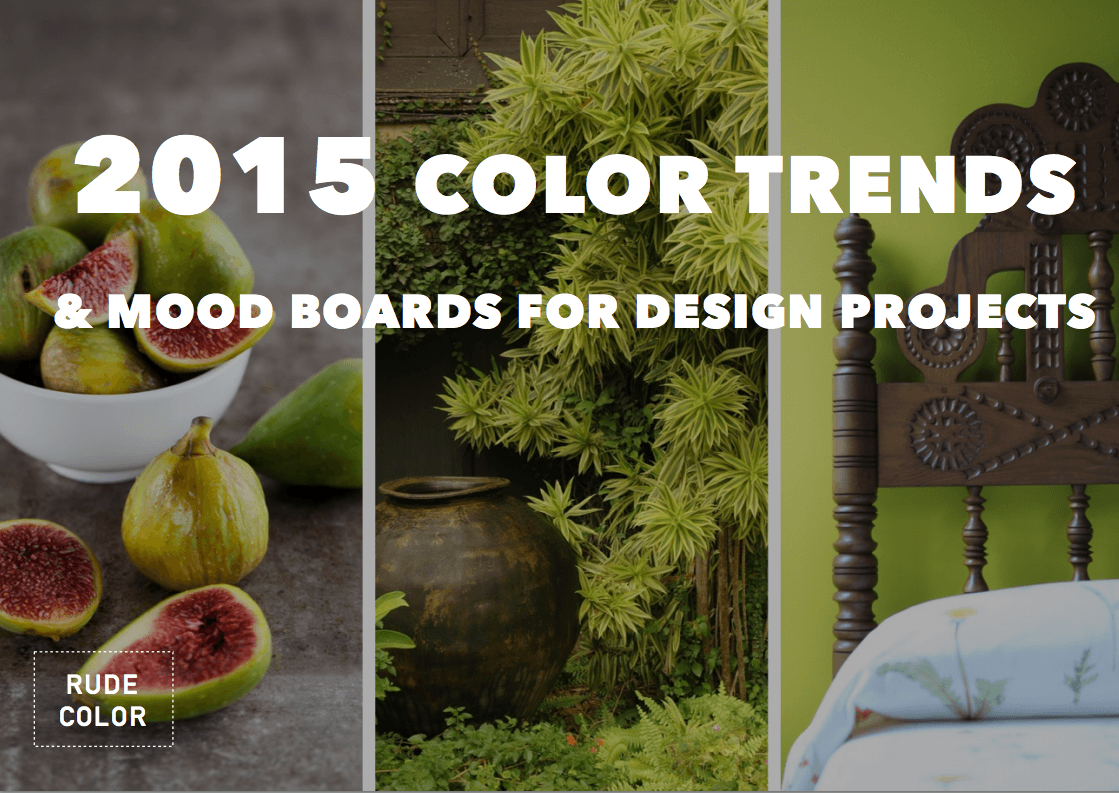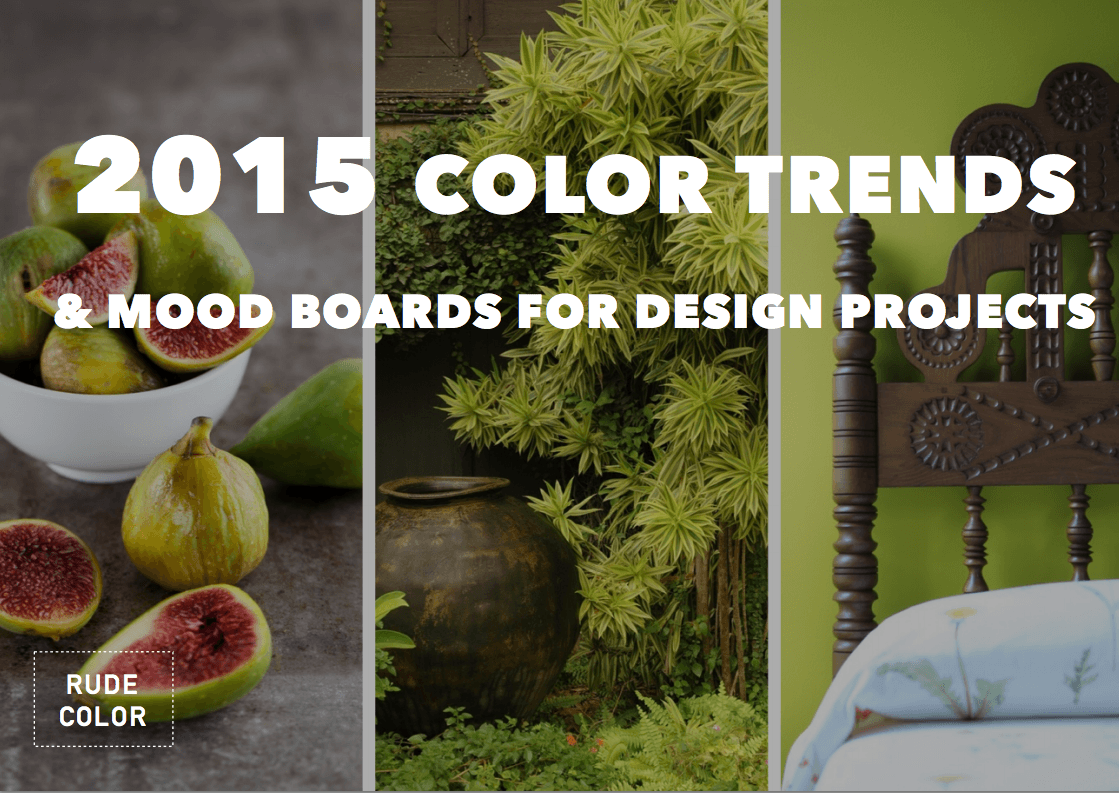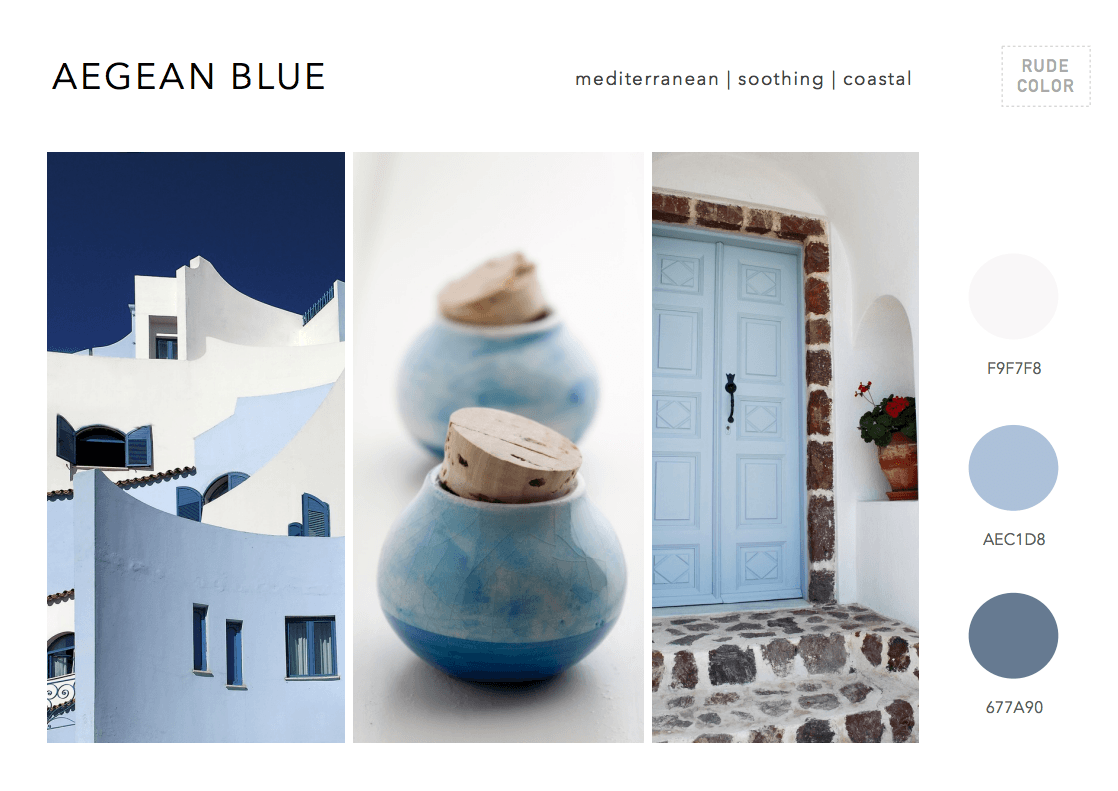 The Rudecolor 2015 Color Trends Mood Boards, is a wonderful color resource that I've really enjoyed looking through.
Something about the simplicity of the 3 main referenced colours on each page, along with the 3 photographs, provides a useful visual reference to how each hue might/could be used.
>> Just fill in the details here and download the PDF.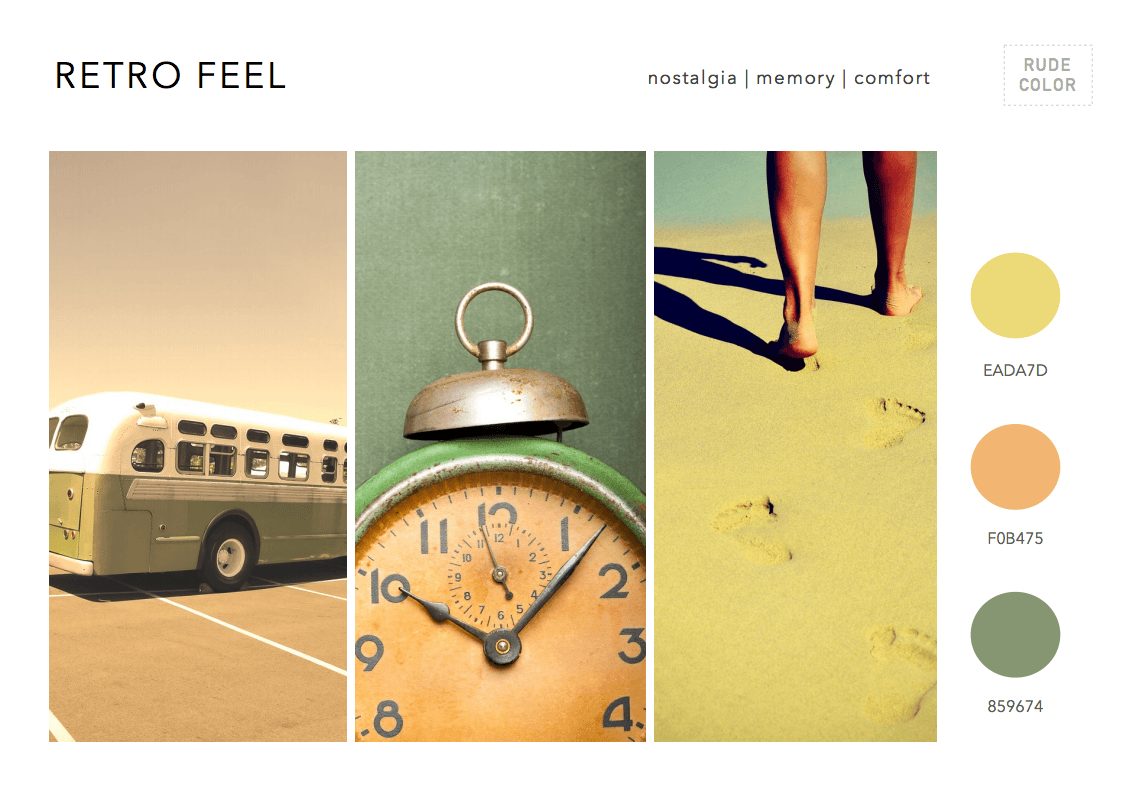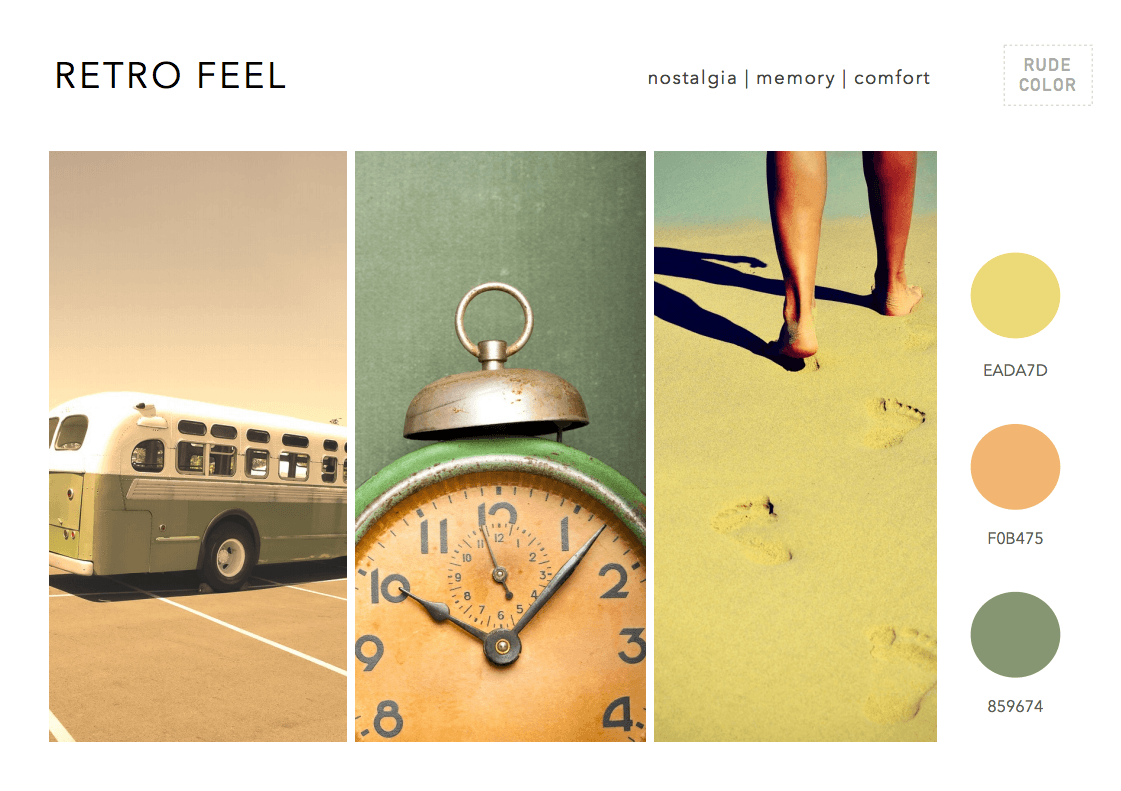 Seeing the colours in various contexts, although not a new idea by any means, is particularly useful, and just far more engaging than a clinical swatch book.
Each page is based on a color theme, such as: Aegean Blue, along with 3 keywords that best sum up the overall mood of the combined colours, such as: Mediterranean, Soothing, Coastal, etc.
Rudecolour: "2015 COLOR TRENDS & MOOD BOARDS FOR DESIGN PROJECTS is your free copy from RudeColor for instant color & design inspiration this coming year. At rudecolor.com, we are passionate about helping designers with information and resources to arrive at the right color schemes using tools such as mood boards and color trend forecasts.

In 2015, we see a return to raw, primitive tones of scorched earth and baked bisque. This is the result of large segments of consumers adopting a conscious and grounded lifestyle. At the same time, an increase in travel has brought an influx of Aegean and ethnic influences showcased in cool blues and colonial reds. Ecology plays a significant role in modern lifestyles and is represented by fresh greens and weathered browns. Nostalgia and the memory of simpler times is still prevalent with vintage pastels and retro hues.

To showcase each color trend, we have presented them in a mood board format. Each mood board showcases reference images, keywords and color schemes with hex values – as a quick and ready reference for any design project. In our experience, mood boards are a great tool for creative collaboration and can be shared with colleagues and clients to indicate a design direction."
Rudecolour have made this 28 page PDF, freely available as a downloadable PDF. Don't let the fact you need to add it to a 'basket' and go to 'checkout' fool you, it's free as the air you breathe.
>> Just fill in the details here and download the PDF.
The following images show a few pages from the PDF: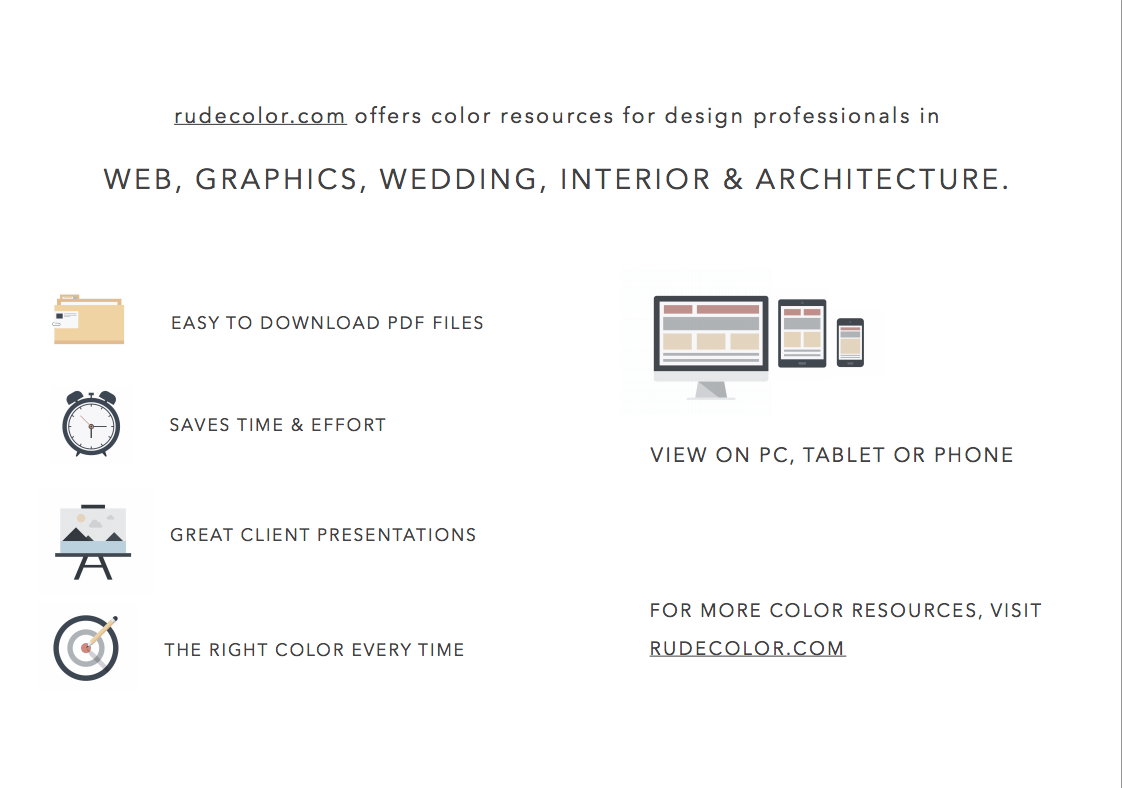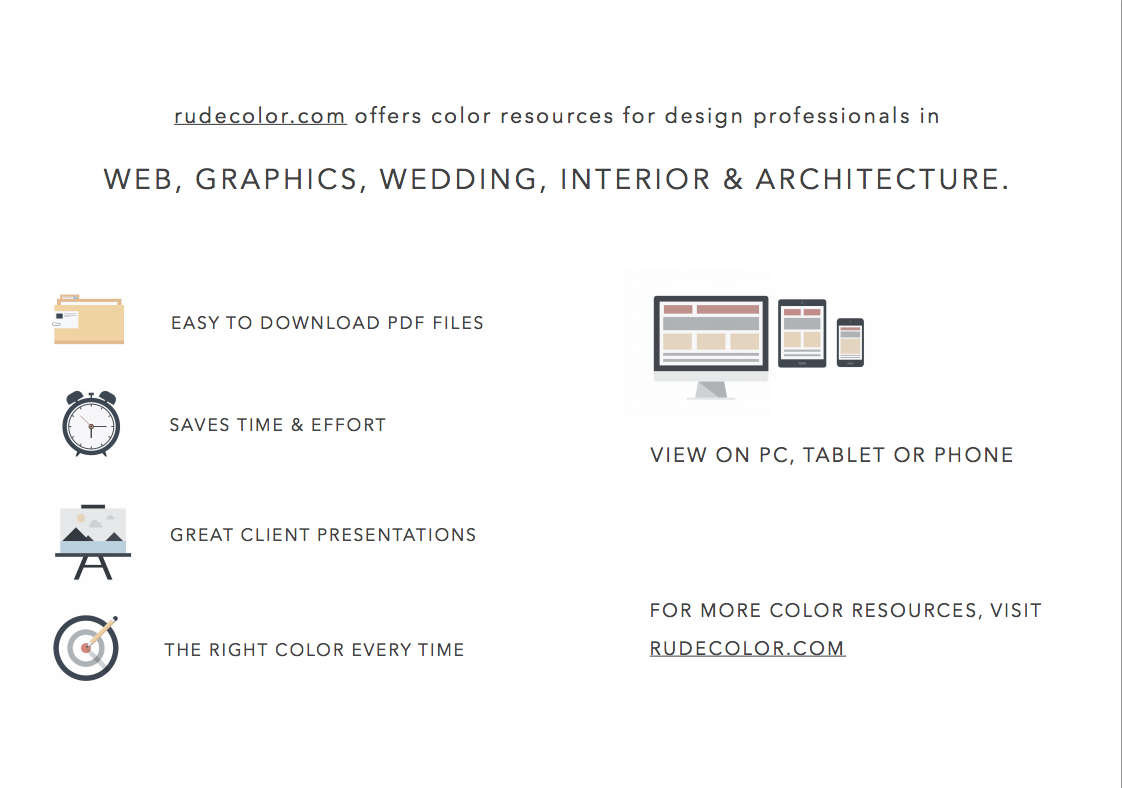 © 2006-2017 All Rights Reserved The Logo Smith
Logo Designer & Brand Identity Design Studio, with 25 Years Experience.
Graham Smith: 10 Badgers Copse, Seaford, East Sussex, England.
Tel: +44 (0) 7816 527 462 Email: [email protected]